Former NFL Star Shannon Sharpe - Full Details of His Relationship History!
Published Tue Dec 10 2019 By Matthew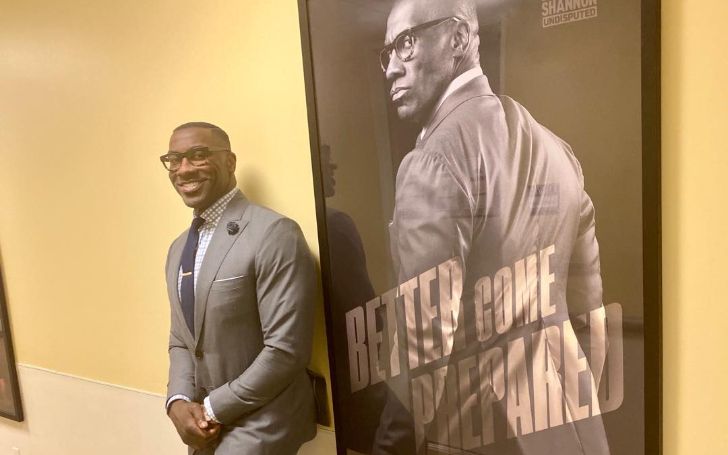 Shannon Sharpe is yet to be married; Learn about Sharpe's broken engagement and everything before!
Shannon Sharpe, the 'Skip and Shannon: Undisputed' co-host, is a former American football tight end. The former NFL star was first drafted by 'Denver Broncos' in the 1990 NFL Draft. He later went on to become 3 times Super Bowl champion XXXII, XXXIII and XXXV.
Regardless of his successful career as a footballer and TV co-host, the former Denver Broncos tight end has struggled when it comes to his love life.
Broken Engagement with Ex-girlfriend Katy Kellner
Shannon Sharpe met Katy Kellner, a fitness instructor while working out in the 'Thousand Oaks Gym' in 2013. The duo's passion for fitness kept them close and the romance built up over time. After two and a half years of dating and falling deeper in love, the couple felt it was time to make it official and subsequently got engaged in 2016. With this, the assurance of Sharpe getting married was almost promising.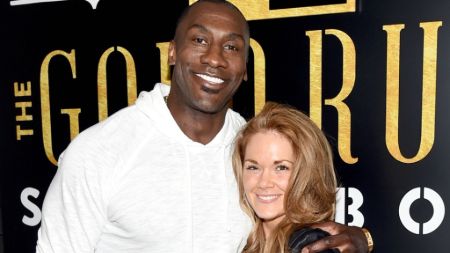 Sharpe with ex-fiancee Katy Kellner.
Source: Rich Athletes
The relationship, however, was not meant to last as the couple's blissful time together came to an end before the fitness enthusiasts could get married.
Katy Kellner Pregnant with Another Man
Neither Sharpe nor Kellner ever spilled information as to why they ended their engagement. Shortly after the two split up, the fitness trainer posted her picture revealing a baby bump. Soon the internet began speculating if the child belonged to Sharpe. But before any conclusion could be drawn to the hot gossi,p Katy removed the post from her Instagram and made her account private.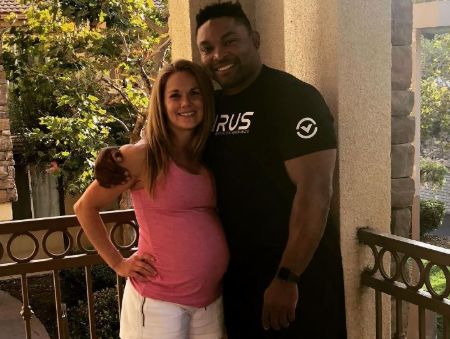 Katy Kellner Pregnant with Marlon Byrd's Child.
Source: Wiki Birthday
Later Sharpe's ex-fiancé revealed that the bun in her oven was put there by Marlon Byrd, the man who ran 'Float Fitness Studio' with her. Katy gave birth to a baby boy named Jayden in December 2018.
Shannon's Celebrity Crush Nicole Murphy
Any Sharpe fan who follows him on Instagram or Twitter can tell that Sharpe has an obvious thing for Eddie Murphy's wife Nicole Murphy. The former tight end continuously tweeted about his interest in Eddie's wife.
Shannon even went far enough to defend Nicole's steamy photo of her kissing Hollywood director Antoine Fuqua poolside at a hotel in Ischia, Italy on Twitter.
See: Who is Georgia Steel? Who is She Dating at Present? Detail About Her Affairs And Relationship!
Sharpe's dream relating to his celebrity crush first came to life when he met up with her at a Flywheel class. He posted a photo of them together captioned, "Those that know won't tell. Those that tell won't know." on November 20 of 2017.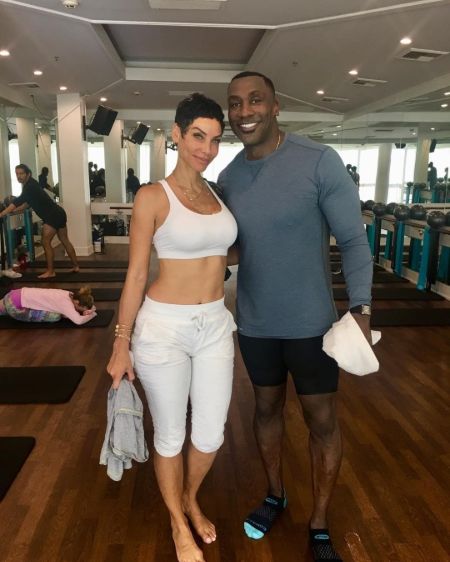 Shannon Sharpe with Nicole Murphy
Source: Shannon Sharpe's Instagram (@shannonsharpe84)
Overridden with joy, Shane celebrated this meeting as he enjoyed a victory cigar on his show Undisputed that very morning.
The Controversy with Michelle Bundy
Back in 2010, when the 51 years old former star's career as NFL analyst for CBS Sports was at its peak, a rather attractive woman named Michelle Bundy came forward claiming that Sharpe had sexually assaulted her and threatened her life. She went on to accuse Sharpe of stalking her and placing her under surveillance.
Sharpe was Accused of Sexual Assault in 2010.
Source: Bleacher Report
Bundy filed a restraining order against Sharpe in Atlanta court on September 9, 2010. Anyhow, the temporary restraining order was dismissed about a week later and Bundy herself was accused of fabricating her claims. Sharpe took a leave of absence from his NFL analyst position at CBS Sports during the controversy.
Also See: Does Sterling Sharpe Have a Wife? Learn Details of His Romantic Life and Daughter!
Shannon Sharpe has endured a lot and yet still he remains single at the age of 51. Maybe the accomplished former NFL star is not as incredible when it comes to his love life.
For more updates about celebrity's love life, please visit Glamour Fame.
-->