French President Emmanuel Macron Greets Spain's King Felipe VI and Queen Letizia With Namaste
Published Fri Mar 13 2020 By Eric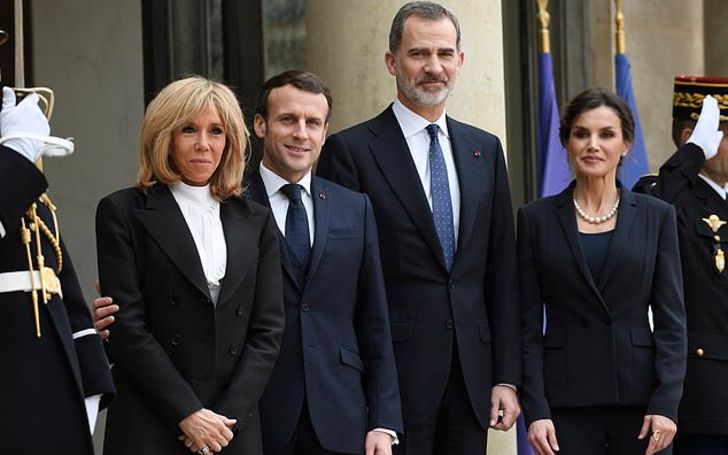 The French President Emmanuel Macron and his wife Brigitte Macron welcomed King and Queen of Spain, Felipe VI, and Letizia with a namaste bow.
As the world is devastated with the pandemic virus, corona, many people are trying any cautions they can use to be safe from the infection. Great leaders all around the world are also using precaution on their daily life to be safe from coronavirus. Recently, French President Emmanuel Macron with his wife Brigitte Macron greeted Spain's King Felipe VI and Queen Letizia Ortiz Rocasolano with namaste on their meeting.
Felipe VI and Letizia Ortiz Rocasolano arrived at the Elysee Palace in Paris, France, March 11, 2020, to meet French President Emmanuel Macron, where they were welcomed by the president and his lovely wife, Brigitte Macron.
French President Macron hosts Spanish King Felipe VI at the Elysée Palace | AFP
A short video of the encounter went viral where we can see the president of France greeting the Spain Highness, Felipe VI with a Hindu namaste, joining his palms together and bowing slightly. Further, president wife, Macron also welcomed the Spanish queen Letizia by blowing a kiss and avoiding any unnecessary hand contact.
Also See: Prince Charles Greets With Namaste in London
The Spanish king and queen were invited to attend a lunch with the French First Couple at the Elysee Presidential Palace prior to the European Day of Victims of Terrorism ceremony, which was started after the attacks in Madrid in 2004.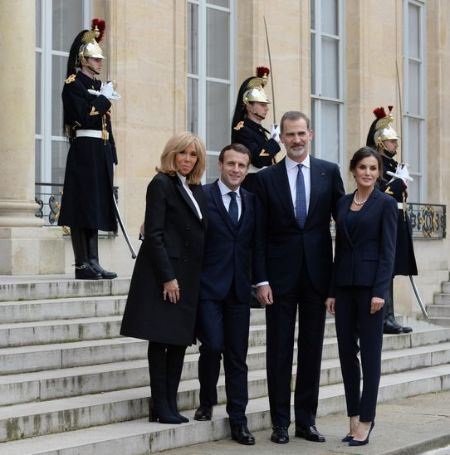 The French First Couple, Emmanuel Macron and Brigitte Macron welcomed the King and Queen of the Spain for a lunch
Photo Source: Yahoo News
While the world is facing a massive crisis due to the COVID-19, everyone in the world is doing everything they could do to avoid getting infected from the coronavirus. As this pandemic virus, the corona has no valid cure until today, people are more frightened than ever, which is making things even worse.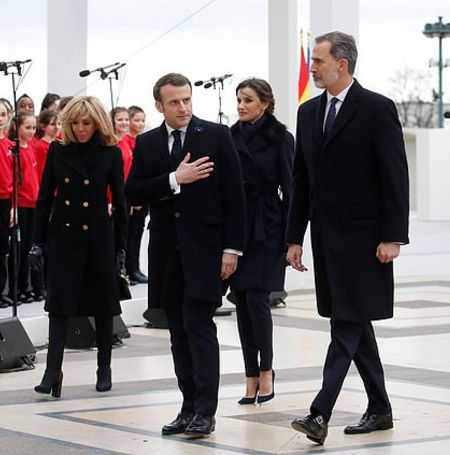 The French President and his wife had a short encounter with the Spain King and Queen for European Day of Victims of Terrorism ceremony.
Photo Source: Daily Mail
According to Reuters, European public health authorities say people should avoid shaking hands to curb the spread of coronavirus, which can be transmitted through skin-to-skin contact. Around 2,124 cases of the virus are confirmed in Spain, whereas in France, there are 1,784 cases related to the COVID-19.
Recommended: Kym Marsh Denies Coronation Street Is In Crisis As 'Six More Stars Plan To Leave
Therefore, greeting each other with the namaste bow and avoiding traditional handshake by the King and Queen of Spain and President of France and his wife is a great way to show the people that everyone should keep themselves away from getting infected from this pandemic virus which has created a huge mess all around the world.
For more trending news visit Glamour Fame.
-->