'Game of Thrones' star Jack Gleeson Is Married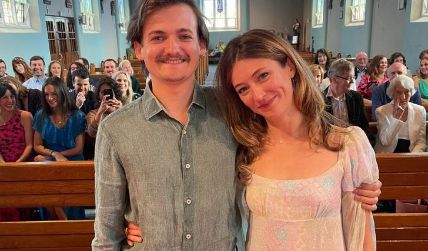 Jack Gleeson marries Róisín O'Mahony: Complete story here!
Game of Thrones star Jack Gleeson, who played the amoral, sadistic heir Joffrey Baratheon in the popular fantasy drama, is now a married man. Gleeson, 30, and his longtime fiancee Róisín O'Mahony tied the knots in a small ceremony over the weekend at The Sacred Heart Church in The Glen, Ballinskelligs, County Kerry, Ireland.
Though the newly married kept things on the low, Father Patsy Lynch posted about the event on Twitter. "Very simple, prayerful and dignified marriage ceremony for Film Celebrity Jason [Jack] Gleeson and Roisin: The Glen Church," Father Lynch wrote alongside a picture of Gleeson and Róisín. The pair's casual wedding was reflected in their ensembles. Gleeson opted for a green button-down and gray slacks, while his new bride sported a colorful patterned sundress.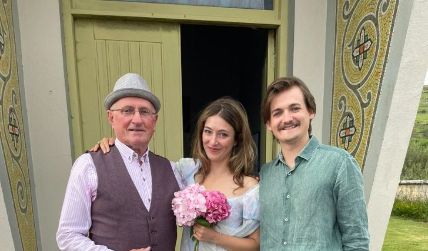 The long-engaged pair tied the knots in a simple ceremony at The Sacred Heart Church in The Glen, Ballinskelligs.
Photo Source: Instagram
Father Lynch revealed more exciting news about the pair's union; he shares that the Saturday ceremony was only a pre-wedding ritual and the actual event will take place in England. "The real ceremony will take place in England, but the family has been holidaying down here in Ballinskelligs, The Glen, for many years, and they have so many happy memories here," the father explains.
Check Out: Leonardo DiCaprio and Camila Morrone Break Up After 4 Years.
Father Lynch further shares, "We had a lovely, prayerful, dignified wedding ceremony. Jack texted me this morning to say that it was such a wonderful, moving ceremony, and afterward, they went for a meal." The Game of Thrones alum and O'Mahony dated for a long time before getting engaged. Gleeson's new bride O'Mahony is also a familiar face on the screen, with credits in Mild Thing (2017), Jekyll and Hyde (2015), and Not a Hero (2015).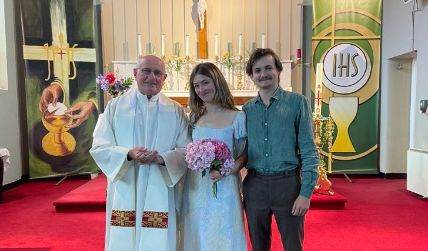 An actual ceremony will reportedly be held in England.
Photo Source: Instagram
A native of Cork, Ireland, Jack rose to stardom playing Joffrey Baratheon, son of Queen Cersei, on the HBO series. Gleeson's character was killed off after three years on the show. Before shooting to fame playing the heinous character, Gleeson had extensive work history but had largely flown under the radar. He started acting as a kid and went on to amass credits in Reign of Fire, Batman Begins, Shrooms, A Shine of Rainbow, and his latest, Out of Her Mind.
Gleeson has been on a hiatus since getting killed in 'Game of Thrones.'
Source: Looper
Jack's appearance in Out of Her Mind marked the actor's return to television; Gleeson has been on a hiatus since playing one of the most hated characters on GOT. Explaining his leave from acting, the 30-year-old said, "I just stopped enjoying it as much as I used to. And now there's the prospect of doing it for a living."
Gleeson, who's since founded the Collapsing Horse Theatre Company and has taken part in independent theatre, adds, "When you make a living from something, it changes your relationship with it. It's not like I hate it, it's just not what I want to do."
Stay connected to glamour fame for more.
-->