Game Of Thrones' Missandei Star Nathalie Emmanuel Says Emilia Clarke Inspires Her
Published Sun Aug 04 2019 By Travis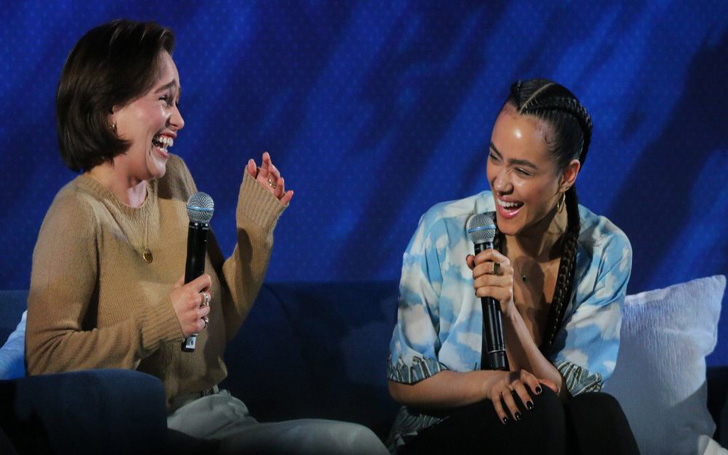 Nathalie Emmanuel not only made a show with Emilia Clarke, she made a life-long friend.
George R. R. Martin said before there is no lead character in his story and on the show, Game of Thrones, it was about an ensemble working together to breathe life into the characters from the books. And when many actors work together there is certain camaraderie among the actors; the acting gig becomes more than a job and people become lifelong friends. It was the case with Missandei star Nathalie Emmanuel and Emilia Clarke.
Missandei was the beloved advisor to Daenerys Targaryen and also her best friend, which made her sudden and controversial death in the show even more painful. The actress met her demise in the show, but she walked away from the role with a dear friend for her lifetime.
Nathalie recently talked with People magazine where she spoke about her friendship with co-star Emilia Clarke and how much she inspires her. Emilia recently revealed she went through two surgeries to correct two separate aneurysm growths in her brain.
In this week's issue of People, Emmanuel said, "Emilia, as a friend and colleague, is just such a joy. I really have thoroughly loved working with her. I loved learning from her. And we just check in with each other every so often."
The two seemed like they bonded really well on the sets of Game of Thrones. Working in close proximity to each other for an extended period of time is either going to make you hate each other, or you become great friends, for the two, it was the later. Emmanuel also talked about what it was like seeing Emilia at work after her brain surgery, "I remember coming back to work and hearing about [her surgeries] and being like, 'Wow, it's just so crazy, and there you are, ready to go back to work.' She's such a beast. As a woman, she really picks herself up and keeps going."
Having a brain surgery is brave enough, but then you show up to work, and it is a right sentiment, saying she is a beast. Emmanuel also was inspired by the actress and talked about how proud she feels of her. Nathalie said, "She's really inspiring, I'm so proud of her. And then what she's chosen to do with that experience, to help other people, is so amazing and I'm just incredibly happy for her and how important her work is."
Missandei was captured by 'Euron' after his attack on Daenerys and her dragons. She was brought back to King's Landing and was beheaded at Cersei's order. It was a brutal death for such a sweet character, and Emmanuel talked about how it felt knowing her fate for the first time. She said, "I basically cried my eyes out when I read [the script]. To be honest with you, I was sort of expecting it to an extent, but I've expected it with every season. And I think that finally, I was like, 'Oh, she's gone. That's sad because of how much I love her and how much I love playing her."
Watch: Missandei's death scene
Before Missandei died, she said one last thing to Daenerys, "Dracarys!" one last call for her to burn everything down. Nathalie loved how her character went out, "She definitely went out with strength, and she went out with a ferocity that we probably hadn't seen from her before," she said. "I was very proud of her journey throughout the show."
Daenerys also met her end at the hands of Jon Snow, and whatever you may think of the finale (we thought it was shit), still Nathalie believes it was a fitting end to the story. No matter how we feel about how the show ended, the actors particularly enjoyed their time together, and most of them became lifelong friends, which was the case for Nathalie and Emilia.
-->