Game of Thrones Showrunner Reveals Theory Behind Arya Stark Sex Scene
Published Tue Apr 23 2019 By Eden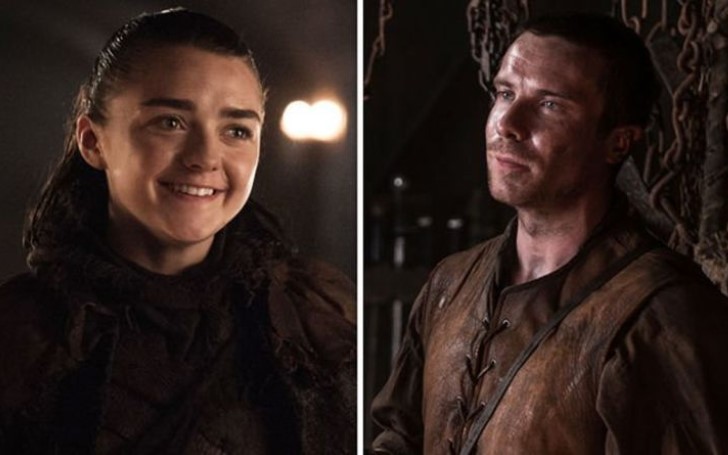 Fans were shocked by the sex scene between Arya Stark and Gendry in the second episode of Season 8.
Fans got weirded out by the sex scene involving Arya Stark (Maisie Williams) as they have seen her grow up from aged 11 in season one.
The majority took to Twitter to vent their frustrations as they questioned whether she was old enough for such scenes.
Following such reactions, showrunner David Benioff finally spoke about what the scenes represent and why they included it.
Watch: Game Of Thrones Season 8 Ep 2 - Arya and Gendry Sex Scene
Speaking to The Hollywood Reporter, David said: "For us, what was interesting about this episode was that this is our last night together, and I think everyone would face the end in different ways.
"Some characters want to make love for the first time because they've never done it before, and other characters are getting drunk and singing songs.
"Everyone faces [the end of the world] in different ways. But they're all facing it and that's why this episode was so important to us because it's all these characters that we've been following for so long and now they're facing a common enemy."
You Might Like: 'Game of Thrones' Star Maisie Williams Accidentally Drops a Major Spoiler on Jimmy Fallon Show
Essentially it was all about creating firsts in a season that is bidding farewell to so many of the characters.
Meanwhile, Arya actress Maisie also explained what the scenes mean for her character: "It was really interesting because it's a very human relationship for Arya. This is something she's stayed away from, an emotion we've never really seen her engage with. David and Dan were like, 'It's the end of the world, what else would you have her do?'
"This may be is a moment where Arya accepts death tomorrow, which she never does — 'Not Today.' So it was that moment where she says, 'We're probably going to die tomorrow, I want to know what this feels like before that happens.'
"It's interesting to see Arya be a bit more human, speak more normally about things people are scared of."
The latest episode provided fans the final glimpse of the calm before the storm. The Battle of Winterfell next week is supposed to be the biggest battle in the history of television.
-->