How was Genevieve Gallen Relationship With Her Husband Verne Troyer Prior To His death?
Published Fri Nov 08 2019 By Travis
Genevieve Gallen was married to Verne Troyer once. How was their married life?
Genevieve Gallen was born on 20 December 1972 in Detroit, Michigan, to her parents, who were pretty open-minded when it came to exploration and education. From a young age, she enrolled in various programs to learn different skills which would allow her to be independent and strong in her life ahead.
When she was only a little girl, music found its way into her heart, and she learned classical piano, jazz, and various other musical forms. But music was not the only thing that interested the young mind of Genevieve. She was also an attentive scholar and used her musical brain and her smarts to endear herself into the hearts of her teachers.
Genevieve Gallen was born and raised in Detroit.
Source: Instagram
Genevieve soon started to go to Mensa School of Geniuses, where she finished her early education and graduated will great grades. She soon enrolled in the Center for Creative Studies College of Arts and Design and graduated with a degree in Graphic Design and Illustration Fashion.
Read: Is Melissa Gilbert Currently Married? Her Relationship History Here!
But education was not enough for her; vocational education was also extremely important for Genevieve, which is why she was so taken by yoga. After her college degree was tucked away safely, she joined the Yoga Institute of San Francisco, where she learned Iyengar yoga, Pranamay, anatomy, and physiology, then finished her education with a certificate for a yoga instructor.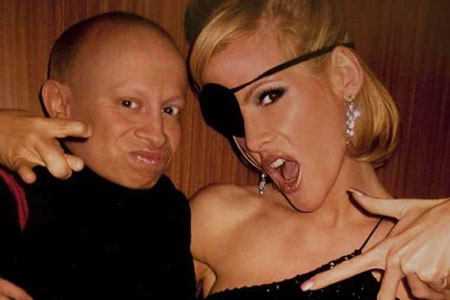 Genevieve Gallen is known for her relationship with Verne Troyer.
Source: Viral IQ
As her education and training in different forms were all over the place, the same is the case with her employment opportunities. She was a real estate agent, actor, and store manager, and she even worked as a Playboy model. But out of all her accomplishments and qualifications, the one thing people know Genevieve by is her relationship with Verne Troyer.
Genevieve Gallen's Relationship with Her Husband, Verne Troyer
Verne Troyer was a beloved actor who rose to prominence after his appearance as 'Mini-Me' in the movie 'Austin Powers: The Spy Who Shagged Me.' Verne played the villain in the film, and to thing day, his performance in the movie is celebrated. The actor also appeared in various other films and TV shows, but people always remembered him as 'Mini-Me.'
Genevieve and Verne Troyer met around 2001-2002, and there was a connection between the two. The two feet eighth inches tall actor was in a relationship with a woman double his height as Genevieve stood at about five feet six inches tall. But the height was never an issue for the two who loved one another and even walked the red carpet together.
Genevieve Gallen and Verne Troyer met after the turn of the century.
Source: Star
They both grew comfortable with one another, which is why they decided it was time to legal stamp their relationship and get married. On 22 January 2004, the couple tied the knot and exchanged their vows to what they considered to be a life-long commitment to one another.
Don't Miss: Neil Jones Splits From Sienna Hollen After Planning to Move in Together!
Well, the commitment did not even last more than 24 hours, as on 23 January 2004, Genevieve filed for an annulment of her marriage to Verne. The couple was together for more than two years, and what was supposed to solidify their relationship was the downfall of their coupling.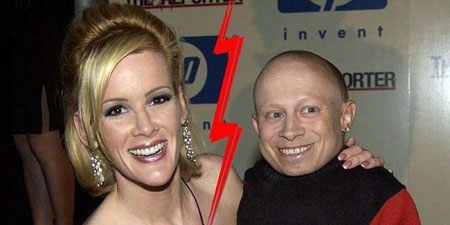 Genevieve Gallen and Verne Troyer split after one day of marriage.
Source: Famous People
The reason given for the annulment of the marriage was Verne's sex addiction and his tendency to abuse alcohol and engage in domestic violence, and after the wedding was annulled, there were questions as to why she even decided to get married in the first place. The whole thing was a mess, and both parties left the entire fiasco tainted.
Before you leave, make sure to head on over to our Entertainment section for all the latest news and gossip on your favorite celebrities. Also, do not forget to visit Glamour Fame to be in the know of all the happenings in the world of show business.
-->