Georgina Rodriguez Brings Smiles On The Faces Of The Intellectually Disabled At The 'Fundación Esfera' While At Madrid
Published Fri Sep 06 2019 By Sea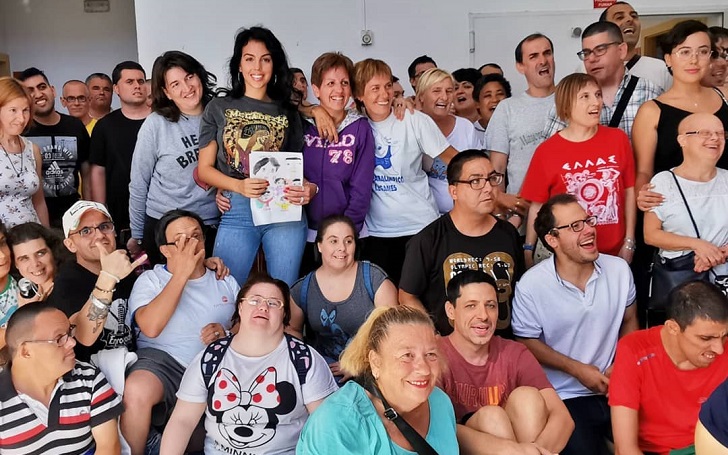 Tears of joy rolled down when Georgina Rodriguez entered the doors of the Foundation Sphere while her visit to Madrid.
It was beautiful to see the intellectually disabled jump for joy as they got to meet one of their biggest celebrities in Cristiano Ronaldo's girlfriend, Georgina Rodriguez. The Spanish model paid a visit to the Fundación Esfera, Madrid, which assists children & people with certain physical & mental challenges by providing with their education and health needs.
The 25-year-old paid a short visit to the private, non-profit organization, but the brief arrival of a coveted celebrity made it all the worthwhile. Everyone was super-excited to see her, even though it was all planned and they knew of her arrival.
Watch: Georgina Rodriguez Enters the Foundation Sphere in Madrid
The Portuguese soccer star's girlfriend took advantage of the fact of being in Madrid to go cheer up the less fortunate, and get to know some of the most "affectionate and pleasant people in the world." She found out about it through a friend whose mother works at the organization. She was well-received by the people who waited for him at the doors on Thursday, September 5, and shared all the excitement on Instagram.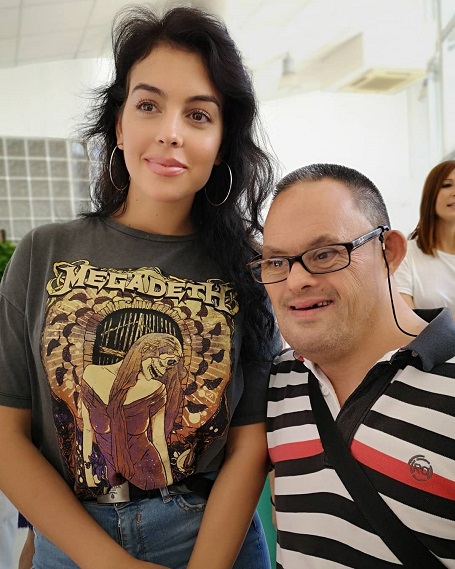 Just an effort to put up a smile on the faces of the intellectually disabled.
Source: Georgina Rodriguez, Instagram
"Hoy he visitado a mis chicas de la @esferafundacion (Foundation Sphere)💚❤️ No hay seres más cariñosos y agradables en el mundo. Me han hecho sentir muy feliz. En esta fundación trabaja la madre de una amiga y siempre que puedo les mando algún dulce para alegrarles la tarde, pero hoy aprovechando que estoy en Madrid he querido pasar a conocerlos a [email protected]. ¡No he podido ser mejor recibida! Estoy feliz y emocionada. Quiero agradecer a los trabajadores de esta fundación su gran labor, que como bien dicen ellos "es duro y muy gratificante al mismo tiempo". Tenemos que estar para los que lo necesitan realmente. 🌹💕💖😇 #love"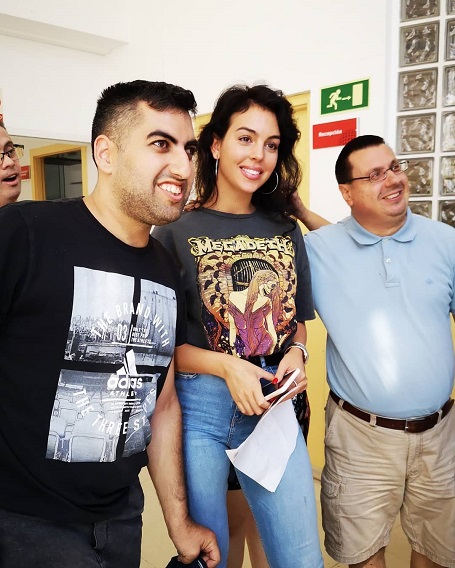 Smiles, smiles, smiles.
Source: Georgina Rodriguez, Instagram
The mother-of-one knows what bringing a smile is about as she cares for all four children of Ronaldo in their home in Turin, Italy. She has her own share of life with a history of her father and knows people who have nothing need someone to support them through their troubles. For all the efforts that the workers of the foundation offer to those people, she is extremely thankful. They too believe it is "hard and rewarding at the same time."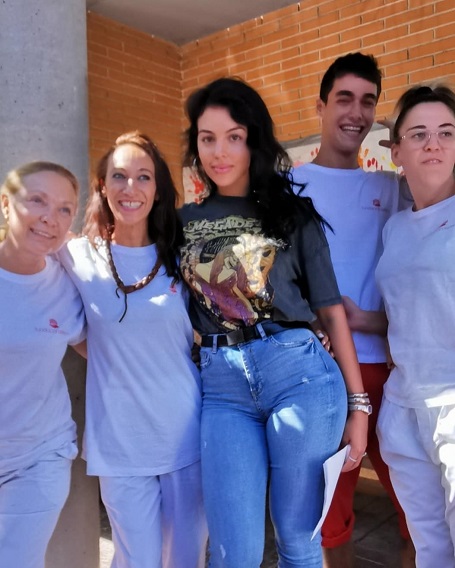 Gio is thankful for the workers and volunteers at the organization.
Source: Georgina Rodriguez, Instagram
It is not the first time Gio was involved with the organization as she admits she often sends sweet messages for the people there and promises to help cheer them up whenever she can. She was hugely excited & happy for feeling loved by so many people. As a matter of fact, a child-fan drew a pretty sweet picture of the Ronaldo family which Gio posted on Instagram.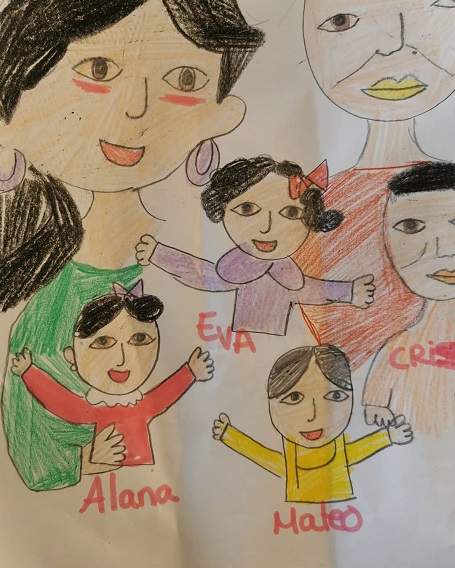 Georgina is shown as the head of the family for her sweet nature.
Source: Georgina Rodriguez, Instagram
It almost makes you cry as the sweet photo shows all the members in the Ronaldo household, despite the two not being married yet. This must be another push for the two to just go with it.
"Today I visited my girls from @esferafundacion 💚❤️ These are more affectionate and pleasant people than any other in the world. They made me feel very happy. The mother of a friend works in this foundation and I gave them as much love as I can for the afternoon, but today taking advantage of the fact that I am in Madrid I wanted to get to know them all. I could not be better received! I am happy and excited. I want to thank the workers of this foundation for their great work, which as they say "is hard and very rewarding at the same time." We have to be for those who really need it."
Gio is not shy of supporting people like these and attends various fundraising events and Galas for children around the world. She was part of the UNICEF Summer Gala on August 9 this year that raised €3.5 million for the less fortunate children. Her humble nature is often seen at home where she gets along with all her children, and it is reflected outside her home as well.
Meanwhile, the Foundation Sphere was founded in 1986 by the 'Asociación de Padres AFANDEL' (the Association of Parents AFANDEL established in 1976), and throughout its history, has created specialized resources and services aimed at the care of people with functional diversity, with different needs for support and personal & social idiosyncrasies. It is located in Leganés, Madrid, and are always looking for volunteers to work at the shelter. They readily accepted anyone willing to support them, from wherever they are.
-->