Cristiano Ronaldo & Georgina Rodriguez Engaged? When Will This Football Legend Pop The Question?
Published Wed Sep 04 2019 By Sea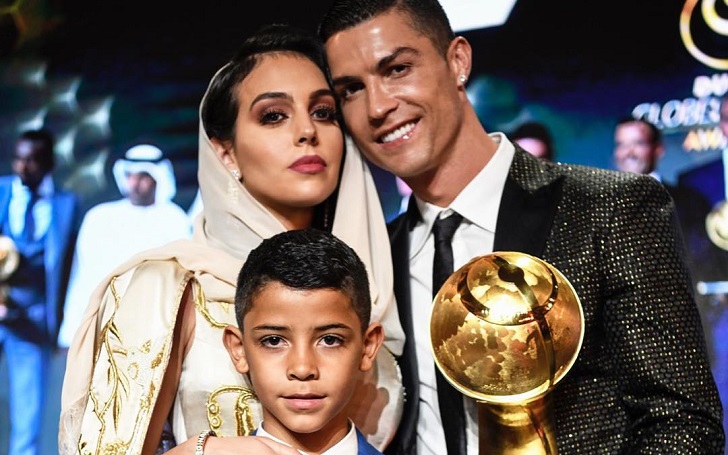 Desperate to see Cristiano Ronaldo and his wifey girlfriend in wedding dresses?
Spanish model, Georgina Rodriguez recently called his beau, Cristiano Ronaldo, her husband... Fans were like, whoa! In their mind at least, it was via an Instagram story that she shocked her fans. They are neither married nor engaged at the moment, if you want the concrete answer. Well... According to them only. They might be covering it up. Let's just wait.
Reports were flying back since November 2018, that the duo was engaged and even claims that said Gio tried on some wedding dresses. It turned out to be complete hogwash as she came forward to set the record straight in February 2019. But when is the big question from Ronaldo coming? Everyone wants to know.
We all want the official engagement announcement.
Source: Georgina Rodriguez, Instagram
Let's wind back for now. November 2018, a Portuguese newspaper, Correio da Manhã (The Morning Mail) reported that Ronaldo "has already asked her to marry him..." and after a while media started saying Gio said 'yes' to it. A source even stated that she "had tried on some wedding dresses."
The rumors could be partially because people wanted them to get married soon following the rumors, or only predictions about a possible wedding in their near future. But what made them go all out for the wedding ship was the rings both of them were seen sporting.
The couple was seen wearing matching Cartier rings during a romantic dinner at Zela in London at the time and went on Instagram story with a photo that displayed her wedding finger with a ring on it. Ronaldo's finger was also ringed, but it was difficult to say if it was a wedding ring. During the World Cup 2018 in Russia too, Gio flaunted a £615,000 diamond ring on the very finger.
There's the ring.
Source: Georgina Rodriguez, Instagram Story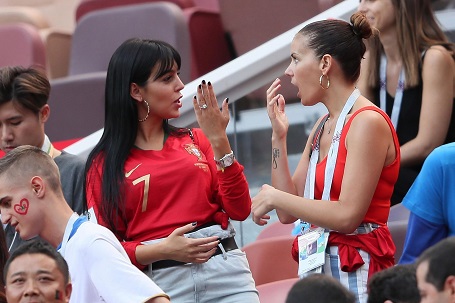 That oughtta shock you.
Source: BackGrid
See, Ronaldo wore a ring to the same dinner as well.
Source: Georgina Rodriguez, Instagram
People still believe they are ready to hold a wedding and are engaged. To convince such people, Gio went on an interview with Hola! Magazine, Spanish sister of Hello! Magazine, to explain the situation. She had just lost her father, Jorge, to the aftermath of a painful stroke that left him bedridden for the past three years.
The 25-year-old could not stress it enough, "For now, he has not asked me to marry him." It doesn't, however, mean they don't plan to go through the altar. She further explained how the both of them have priorities and responsibilities at the moment, and she would absolutely love to be his wife.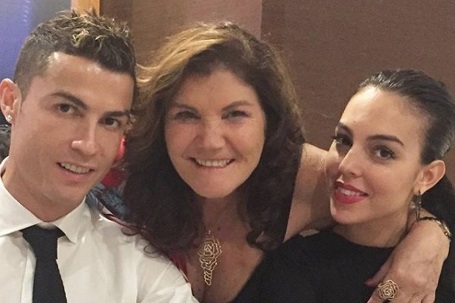 Apparently, Ronaldo's mother approves of Gio.
Source: Instagram
Even Ronaldo's mother, Dolores Aveiro, want Gio to be her daughter-in-law, despite trying to break up his previous relationships. She admits it's time for him to "stop and think and shape your life". It was back in June 2018, which was when the first engagement rumors started hovering (you know with the ring at the World Cup as well).
She is the mother of my grand-daughter. So she is my future daughter-in-law. She's not my daughter-in-law yet. She's a future daughter-in-law. She's a very cool person.
Gio has taken the care of three earlier kids of Ronaldo from his mother's hands already though, and is also the mother to the fourth kid, Alana Martina, born in November 2017. When she is already that involved in Ronaldo's life, as far as being a housewife in Turin, Italy, it's not strange why Dolores likes her.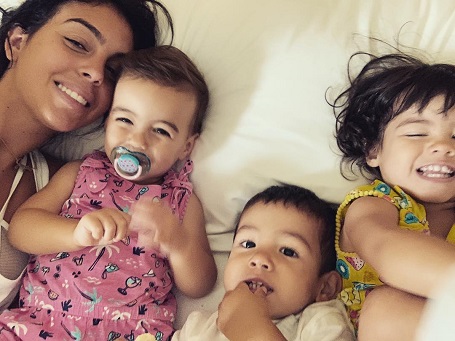 The children love being around Gio.
Source: Georgina Rodriguez, Instagram
We do too. She is such a good mother and a partner that Ronaldo doesn't need to look elsewhere. The fans so want to ship these two for a wedding. And it's likely too. Apart from already calling him her husband, Gio loves all the children immensely, while expertly balancing her modeling career.
Gio is exotic and all when it comes to showing off her curves for various events, campaigns and cosmetics promotions, but when family matters nothing is bigger than the togetherness she has with the members. To keep their relationship spicy, she admitted to sleeping in sexy lingerie every night to bed. Where would Ronaldo find another someone like that now?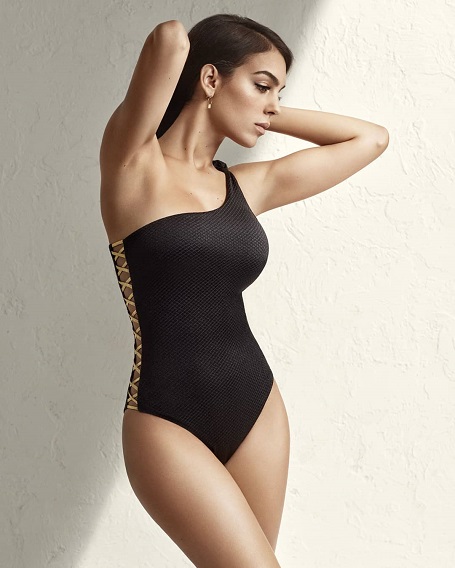 Gio knows how to keep Ronaldo on his toes.
Source: Georgina Rodriguez, Instagram
The pair first met at a Gucci store in Madrid where Gio was working as a sales assistant, and their second meeting was at a Dolce & Gabbana event in 2016. Later that year, they began dating. Despite not being public about it until 2017, media got to know about the flame. They were spotted in Disneyland Paris in November 2016 with Ronaldo wearing an absurd disguise. An effort for the moment.
For now, these two are quite busy with their respective career, and we all know it. Ronaldo goes to train every day for his club, Juventus, and besides looking after their home, Gio needs to focus on modeling as well. It might not be convenient to push into a marriage just yet. They do have summer for themselves though. Traveling is what they do for their vacations, and maybe this time, Ronaldo will finally pop the question. They got time to arrange for it. Come on, we all want her to be the one.
-->