Georgina Rodriguez Looked Sensational As She Stripped Off For A Sizzling New Campaign With Lingerie Brand Yamamay
Published Wed Aug 21 2019 By Sea
Georgina Rodriguez is undoubtedly the star of the show as she shows off the exotic lingerie by Yammay for their new campaign.
If Cristiano Ronaldo's the only one you've seen strip off for an underwear campaign, then hold your breath for his model girlfriend. The exotic lingerie brand, Yamamay, is launching yet another campaign for the 'Everybody Collection' and Georgina Rodriguez is nothing less than sensational in the promotion video.
The 25-year-old Spanish model shared the clip first with her 12.5 million followers on Instagram. The fans are going crazy for her even more. She dances alongside four other women as they start off with their skin-color lingerie and then toggle with a sizzling black one with tights throughout the clip.
Watch: Georgina Rodriguez in a Sizzling New Campaign for Yamamay
The model, who outshone everybody at the UNICEF Summer Gala earlier this month, announced a week ago that she would be doing a new campaign with Yamamay. She started another dance class since then to appear in the advert and completed the shooting within the week.
The caption translates to,
"I'd love to announce that there's one more campaign I have the honor of being an ambassador for @yamamayofficial 💥💌 !!! It was wonderful to relive the dance classes, that have made me so happy since I was a child, during the whole project I had the feeling to the surface.🧚🧚💛💛
Thank you so much #everybody ❤️❤️❤️"
The devoting mother campaigned with Yamamay before in late March as well, in which she looked absolutely confident for her first one with them. This same week, she also was busy with Sephora España and Sephora Italia for promoting Fenty Beauty in Italy and Spain. She revealed her favorite product from the cosmetics brand owned by Rihanna during the process.
Watch: Georgina Rodriguez's first Yamamay Video-shoot
It's amazing and admirable how Gio manages to balance her private career along with family life and other aspects of the Portuguese football star's life. It's no wonder how she has accumulated such a grandiose amount of personal wealth from her modeling career.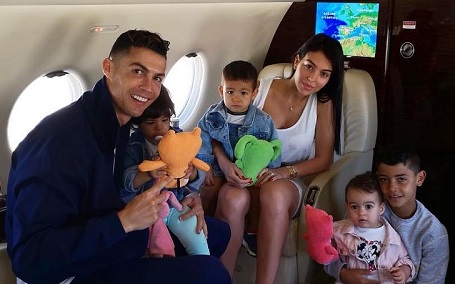 Source: Georgina Rodriguez, Instagram
Gio loves all four children of her boyfriend and is not afraid to boast her love for the kids and him. It is safe to say there is no friction between the two and likely won't be for a long while. It means Gio could be the one Ronaldo will pledge to be with for eternity.
-->