Gordon Ramsay's Son Jack Scott Ramsay - Does He Have a Wife?
Published Sun Dec 08 2019 By Travis
gFor the past three decades and more, Gordon Ramsay's been hard at work cultivating an image of himself as one of the top chefs of the world. Over the past two decades, audiences have come to know of the genius and the anger of the celebrity chef who made over $180 million from his career as a chef and also television presented.
Gordon is also celebrated for his ruthlessness in the kitchen and when it comes to critiquing food. Funny and ruthless at the same time, Gordon Ramsay is probably the only chef in the world who can give the biggest of celebrities a run for their money in any part of the world.
Jack Scott Ramsay is the eldest son of Gordon Ramsay.
Source: Instagram
But as much as he is mean to the people, or pretends to be mean to the people on various people when it comes to his family, it is the stark opposite of the image he created for the TV audiences. Ramsay and Cayetana Elizabeth Hutcheson got married in 1996, and soon the children followed. The couple is responsible for five kids, and one of them is Jack Scott Ramsay, who is not fazed by the glamor of his father.
Jack Scott Ramsay was recently praised for his inherent lack of entitlement when it comes to his father's wealth. The actor and sports enthusiast want to be his own man, and Gordon is proud of his son's choice. But no matter how much he tries to move away from his dad's fame, the spotlight seems to find the actor wherever he goes.
Jack Scott Ramsay and Holly Ramsay are twins.
Source: Instagram
Jack's Instagram page is followed by over 250k followers, and his life is of great interest to the masses who want to know if the son of Gordon Ramsay is currently dating or still single. Like most other celebrity kids, the personal lives of the kids are of great importance to the viewing audience.
Jack Ramsay pictured with his father, Gordon Ramsay and sister.
Photo Source: Instagram (gordonramsay)
Not to mention, Jack has made his parents even prouder after he made it into Royal Marines school in October 2020. Jack's proud dad shared a photo of his son in a marine uniform on his Instagram. In another photo, Jack can be seen alongside his chef dad and sister with a large smile on their faces. "Can't tell you enough how proud I am of this young man Jack Ramsay you've made me feel like the proudest father today congrats on joining @royalmarines what amazing achievement," wrote Gordon in the caption section.
Is Jack Scott Ramsay in a Relationship? Does He Have a Wife?
For the longest time, the people wanted to know if the eldest son of Gordon Ramsay was dating anyone. Well, no matter how much the Ramsay's were in the public's eyes, their personal life was almost always shielded except for Gordon Ramsay and his wife, Cayetana.
Still, even after all the secrecy, there was an image of Jack Scott Ramsay kissing a girl. The girl who was identified later as Martha was said to be in a relationship with Jack. For the longest time, they were said to be together, but we went through the Instagram page of Gordon Ramsay's son and also his Facebook page, and Martha is nowhere to be seen.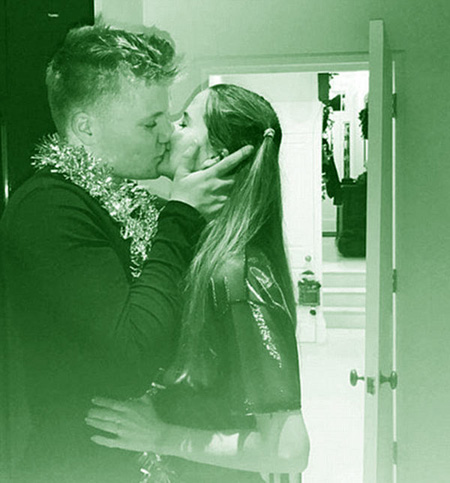 Jack Scott Ramsay was in a relationship with his girlfriend Martha.
Source: CU
It seems the couple is no longer together, and Jack purged the pictures of them together from all his social media platforms. The two made a great couple, but most of the time, young love never tends to last.
As for Jack Scott Ramsay's wife is concerned, none of the Gordon Ramsay kids are married. They are all in their teen years or barely of legal drinking age; Oscar is not even a year old for that matter. All the Ramsay kids are focused on their education, and no one is in a particular hurry to get married just now.
Also Read: Is Gregg Sulkin still together with his girlfriend or dating someone new?
Before you leave, make sure to head on over to our Entertainment section for all the latest news and gossip on your favorite celebrities. Also, do not forget to visit Glamour Fame to be in the know of all the happenings in the world of show business.
-->