Greg Gutfeld Net Worth - Find Out How Rich the American TV Producer is
Greg Gutfeld is a famous American television star who hosts a Fox News show under his name, ' 'The Greg Gutfeld Show.' Besides that, he is an author and also a renowned blogger. The multi-talented television host is often referred to as 'Political Pundit' for his late-night talk show turned into politics and his insights on it.
Gutfeld shows the meaning of talent at its best, he not only a producer, comedian editor, journalist, but he is also an author who's written a total of eight books, of which most of them are best-selling ones. The artist is one of the top-notch personalities of America. With all fields that Greg's been a part of, it only natural for fans to ponder over the American TV producer's wealth and riches.
So, let's get an insight on just how rich Gutfeld really is.
From Early Life to Education of Greg Gutfeld
Gregory John Gutfeld, better known as Greg, was born on 12 September 1964 in San Mateo, California. Greg, as a child, was raised in a Catholic upbringing; however, he strictly denies the fact due to a rough past incident. His parents are Jacqueline Bernice "Jackie" (née Cauhape) and Alfred Jack Gutfeld.
Greg Gutfeld graduated from the 'University of California' Berkeley.
Photo Source: Fox News
Gregory graduated from a Catholic school in San Mateo called 'Junipero Serra High School.' Following that, he completed a BA in English from the 'University of California' in Berkeley. Later on, in 2009, Gutfeld mentioned that he faced a sudden change in his political thinking while he was attending UC Berkeley. In an interview, he mentioned, 'I became a conservative by being around liberals, and I became a libertarian by being around conservatives.
Guide To The Career of Greg Gutfeld
The TV personality kicked off his career by scoring an internship with conservative writer R. Emmett Tyrrell as an assistant at 'The American Spectator.' After that, he worked as a staff writer, editor, editor in chief in various companies like 'Prevention Magazine,' 'Rodale Press Magazine,' 'Men's Health,' 'Stuff,' and many more.
The hosts of the show, Fox News show, 'The Five.'
Photo Source: US News
Along with it, Greg also pursued his interest in writing books along with his career. Some of them made their way to be a hit number as best selling books. His books are 'Not Cool: The Hipster Elite and Their War on You,' 'How To Be Right: The Art of Being Persuasively Correct,' 'The Gutfeld Monologues.'
You May Also Like: David Goggins weight loss - Find Out How He Lost 106 Pounds in Three Months
With Gutfeld's success, soon, he became the panelist on a political discussion show, 'The Five,' which later earned him his show, 'The Greg Gutfeld.' Currently, the journalist only hosts his own show, which gave him his current surge of popularity.
Gutfeld's Net Worth And Salary
From all the astounding career, political insight, and not to miss eight published books, it's pretty clear the stacks of greens are loaded for the political pundit. It has only increased in the years of his career.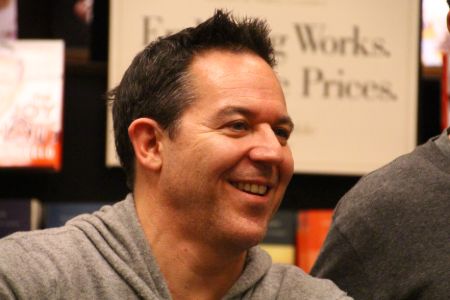 Greg Gutfeld was honored with the Barbara Olson Award from the American Spectator.
Photo Source: Wikimedia
As of 2020, Gutfeld is earning a handsome salary of $2 million annually, and his net worth is a whopping $8 million. The author is considered as one of the prized personalities out there and his political segments where he is a registered Libertarian and a self-described non-religious personality.
Also, See: Kathy Ireland Net Worth - How Rich the American Entrepreneur is?
Follow Glamour Fame for more of these content.
-->