Greekgodx Weight Loss - Full Story on His Transformation, Diet and Surgery!
Published Thu Dec 19 2019 By Travis
The streaming business is getting tougher and tougher to get into if you are starting because of the oversaturation of streamers and wannabe players. But one of the techniques players use to get ahead and make a name for themselves is by stream sniping. The way it works is a player watches the livestream of a game, and while playing the game themselves, they go hunting the famous players of the game by watching their position beforehand.
It is an unfair advantage to players, but there are a lot of players who use this technique, which is also cheating, to be exact. One of the players who made his name in the streaming business by the method of stream sniping is 'Greekgodx,' whose real name is Dimitri Antonatos. The players started in the gaming community by stream sniping and slowly started to gain his own followers on Twitch.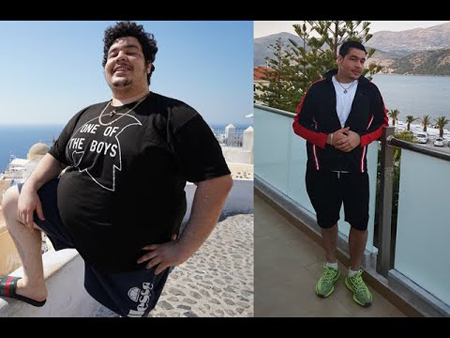 Greekgodx worked his butt off to get from 370 pounds to below 300 pounds in a year's time.
Source: YouTube
But Greekgodx is not only known for his gaming exploits and promoting stream sniping. The player is also known for his body size. Greekgodx is a large man, and he was even larger about two years ago. The gamer once shared a photo where the weight scale showed him slightly above 370 pounds, but now he is below 300 pounds. So, how was Greekgodx weight loss possible, learn all the details.
Greekgodx Weight Loss – The Gamer Lost over 70 pounds in About a Year
Greekgodx weight loss journey started in 2018 and by April of 2019 he lost more than 70 pounds of weight.
Source: Twitch
In the 2018 Greekgodx told his subscribers on Twitch and followers on other social media platforms, he was going to lose some weight in the coming year. He started to stream his exercise routine on Twitch, which once included the amazing Hakuna Matata treadmill-running live stream fail.
Dimitri was focused on getting his weight down, and the dedication and control resulted in a lot of fat burning. By the end of spring in 2019, the Twitch streamer shared an image on Twitter, showing how he was below 300 pounds after a year of hard work. He started with a bodyweight of 369.4 pounds, and by 28 April 2019; he was 299.2 pounds.
It was massive progress for someone so huge, losing 70 pounds is no small feat, but Greekgodx was not happy with just barely being in the below 300 pounds mark. Dimitri said, "I'm not happy until I reach 250 pounds, because I've still got fat everywhere. I'm still 300 pounds, nonetheless. It's not like I'm a skinny guy now."
Also Read: Kelly Marie Tran Weight Loss Story - Did She Shed Some Pounds?
Dimitri is still working out, but he is yet to share his progress and update the fans whether he was able to reach his goal of 250 pounds. Greekgodx will most probably share another before and after picture in April of 2020, where he will most likely post a 250-pound progress picture.
Greekgodx Weight Loss Diet and Exercise – Careful Planning and Execution Caused the Weigh Loss
Keto diet was the main ingredient to the weight loss exploits of Greekgodx, also exercise played an important role as well.
Source: Business Insider
When it comes to losing or burning fat, there are two main paths you can take, either get surgery to cut out the fat or get on a diet and stay on it by hook or by crook. Greekgodx did not take the surgery route and instead opted to wean himself off of sugar, carbs, and caffeine.
Greekgodx took on the keto diet route where the carbs were cut off from streamer's diet, and he was off doing treadmill runs, powerwalking, and a lot of physical exertion his body was not used to. The result is there for all to see, but one thing of note, the keto diet does not work with everyone, and the brute carb reduction may cause people to gain weight instead of losing it, so make sure to clear with your doctor before getting on the diet.
Also Read: Joaquin Phoenix Weight Loss Diet For Joker - The Complete Details
Before you leave, make sure to visit Glamour Fame to be in the know of all the happenings in the world of show business.
-->