Guzzle Buddy Net Worth - A Brief Introduction of the Product and It's Worth in the Industry
Published Thu Apr 23 2020 By Eric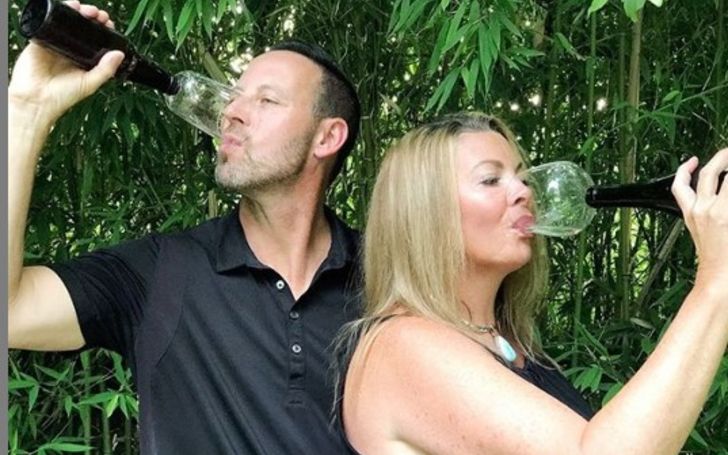 "There's a way to do it better-find it," a quote said by Thomas A. Edison, who made our life bright with his invention. It is true, as there will always be a much better way to perform anything which will help us to improve our lifestyle. The same thing might hit in the mind of Jennifer Sullivan and Randy Rothfus of Guzzle Buddy.
The duo of sister and brother-in-law with their invention changed the way a person drinks their wine. They created a perfect kit for the wine lovers, which solved the problems of filing their wine again and again as it helps you to drink your wine directly from the bottle by plugging an almost bottomless glass on the top of your bottle.
Sullivan and Rothfus innovative product Guzzle Buddy went a direct hit and helped them to generate massive piles of greens. They even successfully persuaded one of the investors (sharks) from the famous show Shark Tank and managed to add a valuable business person in their team. It was more than two years ago, the sister and brother-in-law made their appearance in the show. Now in this article, we will share with you their back story, plus we will estimate their current net worth. Let us begin.
Guzzle Buddy in Shark Tank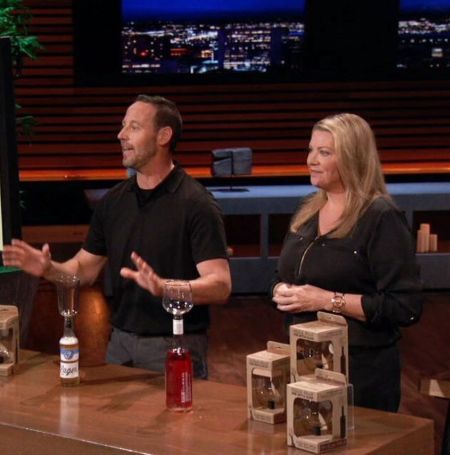 Jennifer Sullivan and Randy Rothfus are the owner of the Guzzle Buddy.
Photo Source: Heavy
The team of Jennifer Sullivan and Randy Rothfus, through their wine kit, Guzzle Buddy, opened new opportunities for both wine lovers and themselves. Their product helped them to accumulate massive earnings, which grossed $1,400,000 within a year.
Also See: Tesla Futuristic Cyber truck Received 146,000 Orders after Fumble Debut
Sullivan and Rothfus even tried their luck in Shark Tank, an American business reality series on ABC, which help investors and entrepreneurs to meet and create some deals for the profit of both parties.
The wine glass that lets you drink straight from the bottle!
In one of the show episodes, the business partner Jennifer and Randy appeared with their hot product Guzzle Buddy seeking a $400,000 investment for a 10% share in the company, according to Gazette Review. They started to give their product introduction, how they can simply use their creation, to make a bottle of wine turn into glass, and drink their wine straight out of a bottle with no problem of refilling.
Recommended: Facebook Buys Beat Games -the Maker of Popular VR Game ' Beat Saber '
The pair demonstrate and explain that their Guzzle Buddy made out of a durable, borosilicate glass, its silicone sleeve fits into most of the beer, wine, soda, and hard cider bottles. As pouring wine is boring, all the wine lovers need to do is plug it and chug it.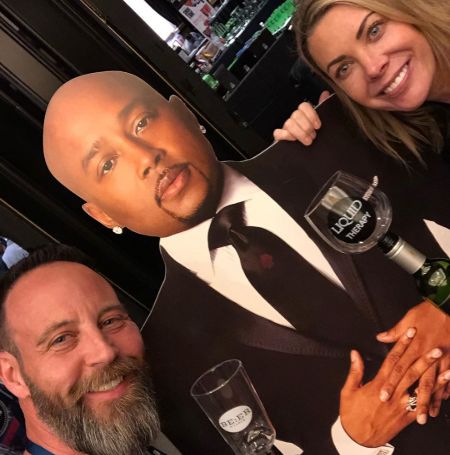 Daymond John made $400,000 investment for a 25% share in the Guzzle Buddy.
Photo Source: Instagram of Guzzle Buddy
Jennifer and Randy's innovative solution for the wine enthusiast succeeds in winning the trust of most of the investors in the show. However, like the creators who come in the show for investment, they also got a counter-offer from the sharks. After some back and forth, throwing counter and re-counter, the sister and brother-in-law team sealed a deal with Daymond John. Guzzle Buddy walked out with $400,000 for a 25% share in the company.
Net Worth of The Guzzle Buddy in 2020
An innovative way to drink with Guzzle Buddy.
Photo Source:Instagram of Guzzle Buddy
Now it has almost been two years the duo of sister and brother-in-law walked out with their first successful deal of $400,000 and are doing pretty well, as they are still in the business doing great in their sale. We can find Guzzle Buddy on their website, where they listed new products for their customers which price starts from $8 and ranges up to $15 per item.
Click To Know: Want a Job at McDonald's? You Can Now Ask Alexa or Google Assistant For Help!
There isn't an actual figure of their income in 2020; however, if we picture their progress from the initial stage before they made their agreement with Daymond. According to them, they garner $1,400,000 from their sales in less than 12 months. If we multiply their growth plus add the $400,000 investment, then Guzzle Buddy estimated net worth comes around $3,000,000.
For more product review or for details on your favorite celebrity visit Glamour Fame.
-->