Gwyneth Paltrow and Husband Brad Falchuk Honor Their Friend Ryan Murphy At His Hollywood Walk of Fame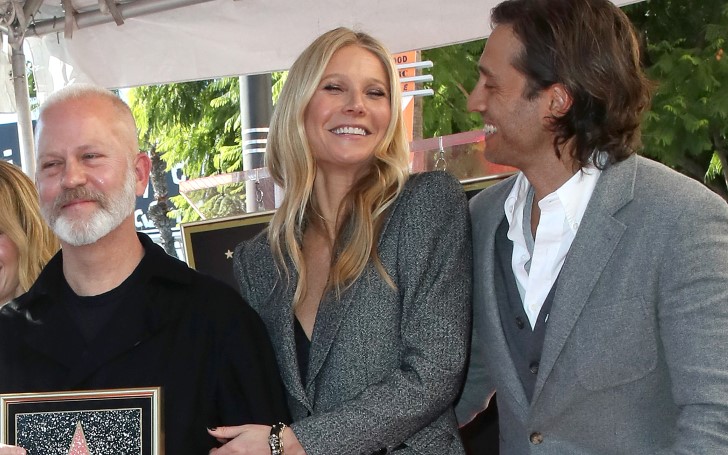 Gwyneth Paltrow & Brad Falchuk honored their matchmaker Ryan Murphy at Walk of Fame Ceremony!
Ryan Murphy was honored through a star on the Hollywood Walk of Fame which was unveiled on Tuesday, December 4th. The star was the 2,653rd since the completion of the Walk of Fame in 1961 with the first 1,558 stars.
The six-time Emmy winning creator of television series such as Glee, American Horror Story, and Nip/Tuck was joined by Gwyneth Paltrow and husband Brad Falchuk who spoke at the podium to honor their friend.
You may also like: Modern Family Actress Sarah Hyland Opened Up About The Death of Her Cousin, Trevor Canaday
As a matter of fact, Ryan was the one in the first place who helped set up the couple when Gwyneth made a guest appearance on the show Glee.
In her speech, Gwyneth said:
"What can be said about Ryan Murphy that hasn't already been said here today, and in every newspaper, magazine, trade publication, blog, podcast, Twitter thread, Instagram, and every chat room?"
She added, Ryan fascinates her and she understands why. "There aren't many things and even fewer people who you can count on to surprise you, to always offer you something truly new, to help you see the world from an angle you never imagined, and maybe even to unwittingly set you up with your husband."
Don't Miss: Saturday Night Live' Star Pete Davidson is Reportedly Dating Again After his Split From Ariana Grande
Likewise, Ana Martinez, producer of the Hollywood Walk of Fame claimed, Ryan Murphy is one of the most creative and brilliant minds in television. "His shows open the doors for people to see things they may have never thought of and invites viewers to his world of exhilarating programming."
Also Read: First Lady Melania Trump Shares That Barron Trump is Interested in Sports
Meanwhile, Ryan was joined at the event by his husband David Miller, as well as several stars of his shows.
-->