Meet Hafþór Júlíus Björnsson's Wife Kelsey Henson — Interesting Facts about the Model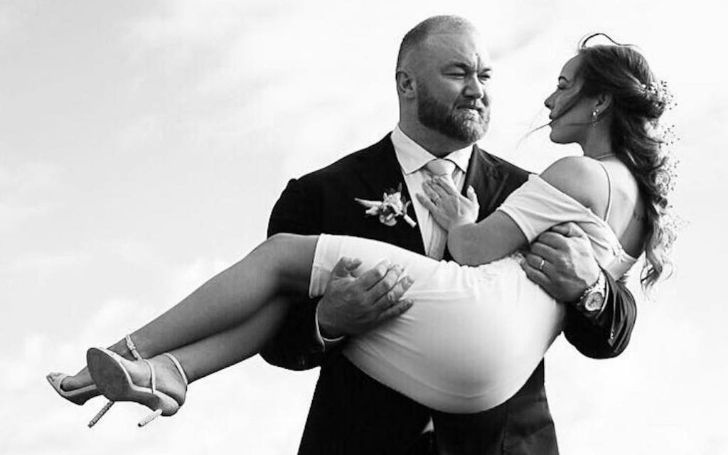 Remember the zombified 'Gregor "The Mountain" Cleganebowl' from 'Game of Thrones'? Yeah, well, Hafþór Júlíus Björnsson is the Icelandic actor who played that very character.
The six-foot nine-inch trouper, regardless of his physique and image, is married to the love of his life, Kelsey Henson. Contrary to the actor's monstrous character shown in the series, he's actually quite lovable and seems to be head-over-heels for wife, Kelsey.
So, who is Kelly Henson, and how did the pair meet? Find out all the exciting details below.
The Caucasian Beauty, Kelsey Henson
Yep, the Canadian beauty is full of pure Caucasian roots. Kelsey Morgan Henson was born on March 5, 1990, in the beautiful city of Alberta, Canada. The blogger and Instagram star is openly private as she doesn't like to divulge into details of her parents or any other stuff.
Kelsey is a Canadian blogger, Instagram Celeb, and a professional fitness instructor.
Source: Instagram
Now, don't you underestimate the white beauty. Being a fitness influencer, she knows what she's doing. Henson earned her certificate of 'Occupational Health & Safety' from the University of Alberta in 2012.
You May Also Like: 10 Shows Looking To Become The Next 'Game of Thrones'
Not only that, she's bagged two construction safety designation of 'National Construction Safety Officer (NCSO)' and 'Health & Safety Administrator (HSA)'. Talk about knowledge, the woman's got plenty.
Waitress Weds an Actor?
Okay, cue the cliché alert. Believe it or not, Henson and Björnsson met at the 'Earls Kitchen and Bar', where his future wife was working for five years. Apparently, the Europe's Strongest Man was in the town for his famous local strongman competition when our lovely former waitress met him at the restaurant she worked in.
The couple married in 2018 after a year of dating.
Source: Hindustan Times
While serving, Kel immediately recognized the GOT actor and went on to ask for a photo with him. The two hit it off instantly, and the rest is history. They dated in late 2017 and ended up getting married in October 2018.
Kelsey's a Professional Gym Trainer
The sporty couple is every bit of invested on their gym life. It's pretty easy when your career matches with your spouse. That's the same case for these two. Together, the couple operates on their passion, the 'Thor's Power Gym.'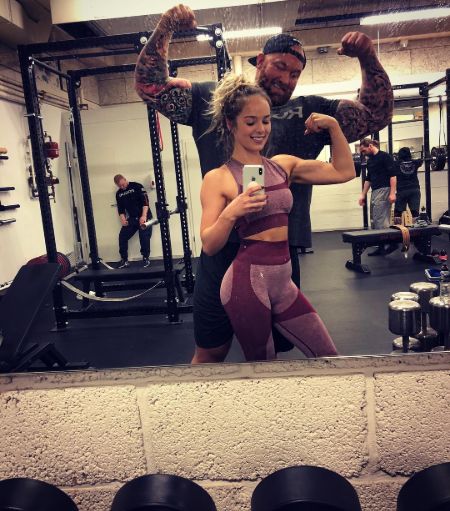 The couple are both fitness enthusiasts.
Source: Journal Post
At the height of 5 feet 2 inches, Kel weighs 53 kg, whereas her man, Hafthor, is of massive 6 feet and 9 inches, weighing 200 kg. The guy is literally 19 inches taller than his partner, though it seems like love can make things happen as the couple is content and happy doing what they love alongside each other.
Henson is Also a Social Media Influencer
Kelsey is an Instagram Influencer with 412k followers. She's an influencer and model who regularly endorses products like 'Wagtail,' '66north,' 'Circle K,' 'Reign Body Fuel.' and her own, 'Thor's Power Gym.'
Kelsey partnered with Legion, a supplement product and promoted it on her Instagram page.
Source: Instagram
Besides that, Henson can be seen posting pictures with her giant husband and their adventures. There are a handful of images of the couple indulging in date night, vacations, and beach trips.
The fitness couple seem to be enjoying the time of their lives by doing what they love. We wish them the very best for their future endeavours.
Also See: Alex Ovechkin Married to Anastasia Shubskaya; Facts about the Hockey Star
If you're looking for more of these news, make sure you subscribe to Glamour Fame.
-->