Who is Haley Pham's Boyfriend, Is She Engaged Now? Let's Find Out About Her Dating Life
Let's find out about Haley Pham's dating life, who is her boyfriend that she is engaged to now.
Haley Pham is a YouTuber who is better known for her lifestyle and beauty vlogs. While most of her videos on the platform are focused around beauty and lifestyle, she admits her biggest passion is dancing. According to the sources, she began dancing at the age of eleven; the following year, she launched a YouTube channel 'SodaPop73.'
Haley Pham was born on December 5, 2000. She is 19 years old as of May 2020.
Photo Source: Haley Pham Instagram
Haley, who was born on December 5, 2000, now enjoys over 958,000 followers on her Instagram, over 684,000 subscribers on her YouTube vlog channel, and over 2.8 million subscribers on her main channel, at the age of 19.
It's pretty clear, she has established herself as a dominant internet personality, with millions of fans following on her different social platforms. While she is famous, there's this one thing we all are curious about a famous personality; We want to know if they are dating someone, so let's find out if Haley is in the dating scene or still single.
Haley Pham Boyfriend, Is She Dating Someone?
Haley Pham is dating her boyfriend, Ryan Trahan, who is a fellow YouTuber.
Photo Source: Haley Pham Instagram
If you are a fan of Pham, then you probably saw the video in 2015, where she jokes about her boyfriend. She introduces a 4-year-old boy, Blake, as her boyfriend. As you know it already, that was a joke, of course, duh! But on a serious point, is she dating someone?
Also See: Becky Lynch Reveals She is Expecting, Who is WWE Superstar's Husband? Find Out About Her Married Life
Well, the answer is "yes," she is dating her fellow youtuber, Ryan Trahan. Ryan and Pham started dating from 2018, and in the following year, the couple started their collaborative channel, "The Traphamily." Their channel has more than 447K followers.
Is Haley Pham Engaged to Ryan Trahan?
Back in 2018, when the couple started dating, we saw Haley uploaded a video of her and Ryan together. On the video, she announced that Ryan Trahan moved in with her on her house. Following year, the couple started a new channel and started documenting their daily life.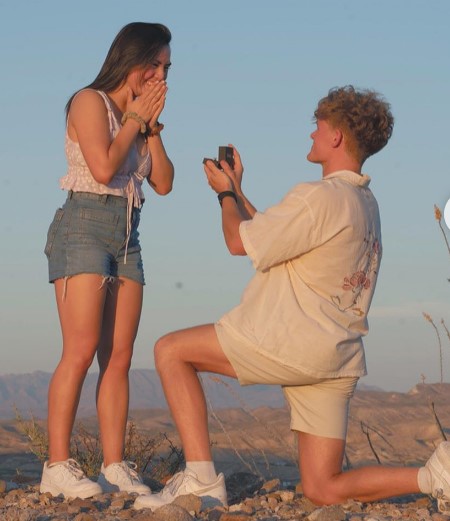 Ryan Proposed Haley! and now, they are engaged.
Photo Source: Haley Pham Instagram
By what it seems, the couple enjoys each other company a lot, and they look like a perfect match for each other. The lovebirds felt the same way and decided to take their relationship a step further and decided to get engaged. On May 18, 2020, the couple announced they are engaged.
Also Read: Jevon King Baby "The Trinidadian Model Welcomes Baby With Diplo" Here's Everything You Should Know
The announcement came from Haley Pham herself as she took to her Instagram account to announce the big news. Pham uploaded a picture of her and Ryan, while Trahan was seen on his knees, proposing Haley. Haley captioned the series of the picture with "we are engaged." followed by a heart emoji.
Ryan Trahan is putting a ring on Haley Pham's finger.
Photo Source: Ryan Trahan Instagram
Even Ryan Trahan uploaded the same pictures on his Instagram with him on his knees, proposing, and another picture saw him putting a ring on Haley's finger. Ryan captioned his photographs with, "I can't wait to build my life with you!" followed by a yellow heart emoji.
Haley Pham engagement ring.
Photo Source: Haley Pham Instagram
Well, there you have it, all your questions about her love life answered (We hope). These two are so adorable together; we can't get enough of them. Hope their love life finds a more meaningful connection in the days to come and hope their relationship lasts forever.
You May Also Like: Who is Doublelift's Girlfriend? Is He Dating Someone in 2020?
For more information on your favorite celebrities' lifestyle, stay tuned to Glamour Fame, and don't forget to sign up for the newsletter.
-->