What is Heather Storm from Garage Squad Doing These Days?
Published Sat Feb 29 2020 By Sea
Heather Storm is a genuine car-lover. She got the interest in herself from her father's wish for her to be "independent and hands-on with tools." Now, she wants to be an inspiration to young girls who have an interest in cars, which is not something you learn more often.
While 'Garage Squad' is already on its way to Season 7, we can't help wonder where the charismatic Storm went after years of being with the team. It's as if she disappeared from the screen completely. But for her social media followers, she'll let them know what she's been up to.
Why Did Heather Storm Leave 'Garage Squad' Despite Wishing "It Could Have Lasted Longer"
During a press release in early April 2019, MotorTrend announced that Heather would no longer be associated with 'Garage Squad' and that Cristy Lee, who hosted 'All Girls Garage' would be replacing her.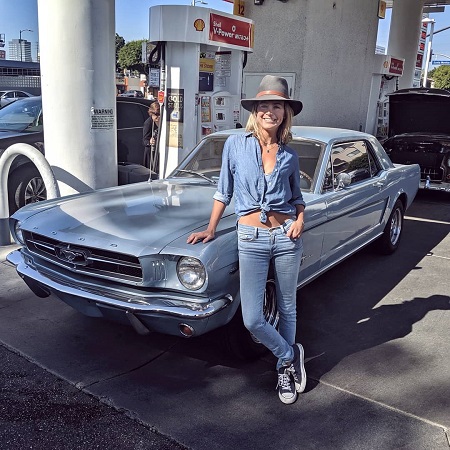 She's still got the Mustang with her.
Source: Heather Storm, Instagram
The news came as a surprise for fans anticipating all three hosts to return for the new season. Storm herself took to Facebook after that to reason her fans from the show. People were even ready to give up 'Garage Squad' if she wasn't in it.
In a lengthy-captioned post, she apologized to her fans that they didn't hear the news from she herself first rather than from the news sections. She talked about how amazing her 4-year time was as an experience.
Check Out: Have You Seen Jonah Bobo Around? Where Is the 'Zathura: A Space Adventure' Star Now?
The hostess also shared she had new projects lined up, specifically, hosting another show, 'Drive Yourself Local'. But there was one particular thing she mentioned at the beginning of the caption, "Honestly I wasn't aware MotorTrend was going to make that announcement this week."
This led to some believing she left the show because she had to, that she was let go by the executives. But the truth is only something she knows. The announcement was a surprise, not the fact that she'd left the show long before that.
Heather Storm Now – She's Currently Discovering Her "Truth"
As for what she did afterward, she went on to host her own show 'Drive Yourself Local', as mentioned before. She was cruising in her '65 Mustang still. She also appeared as a host in a couple of other TV projects in 2019, 'Car Fanatics' and 'Awesome Autos'.
Recommended: Where is 'When Calls the Heart's Beloved Star Daniel Lissing Now?
As for right now, she's still taking road trips in her car as she so often does. And she plans for her trips every time. So she's just taking time away from everything, the glitz and glam of being a celebrity. Her most recent Instagram post is strong proof of that.
Alongside a selfie, the gorgeous Storm writes, "Sometimes it's important to take a break from your routine life. Sometimes you need strip down and remove every bit of comfort to discover your truth."
Storm is currently rediscovering who she really is.
Source: Heather Storm, Instagram
"Sometimes the path you are on is leading you into the unknown. And sometimes you realize all you need to do is slow down, tune inward and trust you know the way," she continues. "You are exactly where you need to be. Now go create and live fully by being the best version of you."
There's some sound advice there. Don't worry though, we're sure she'll return to TV soon again.
Stay tuned and connected to GlamourFame for more Entertainment content.
-->