The Untold Story of Helene Boshoven Samuel — Heidi Klum's Daughter
Published Wed Jan 29 2020 By Sea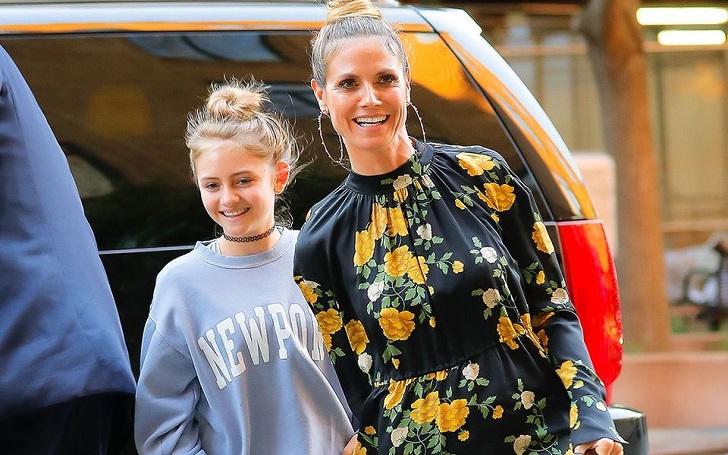 Who is Helene Boshoven Samuel? Know untold stories about Heidi Klum's oldest kid!
Being a celebrity is one thing. Being a celebrity child... Well, it's the same thing. You're already a celebrity. But there are some things not many people know about these celebrity kids.
Heidi Klum's modeling career was on a high when her first daughter, Helene Boshoven Samuel, was born in 2004. The German-born got her start after appearing in the 'Model 92' competition. By the end of the millennium, she'd gotten her share of the glam world.
Before Helene was born, Klum was actually married to hairstylist Ric Pipino in 1997. But they did not have any children before they divorced in 2002, presumably because she was still young in her 20s. But then came along the father of her first child, who she started dating in March 2003.
Helene Boshoven Samuel's Name Changed a Couple of Times Before Getting Settled after Adoption
The current 'America's Got Talent' judge dated Italian businessman Flavio Briatore, who was the biological father of Helene, in 2003. But Helene was not born Helene Briatore.
Flavio Briatore is Helene's biological father.
Source: Getty Images
In December 2003, Klum announced her pregnancy. But some time later, she and Briatore split up, and he was not present during the birth of his daughter. When Helene was born, she was named Helene Klum.
You better believe that Helene Samuel is already grown-up at 17.
Source: Splash News
The measure Heidi took to give her child her last name came from a resolution she had because of their split. It was not a casual goodbye since they split because Heidi discovered he was unfaithful to her.
After Heidi's Marriage to Seal, He Adopted Helene and Finalized Her Last Name
After the separation from Briatore, Heidi found solace in legendary British rock singer Henry Olusegun Adeola Samuel, aka Seal, while she was pregnant with Helene. He was the one present during the birth of Heidi's first daughter.
It was a marriage that lasted the longest for Heidi Klum.
Source: Getty Images
Heidi Klum and Seal then got married on May 10, 2005, after Seal proposed on a glacier in Whistler, British Columbia. The same year, their first child together (Heidi's second), son Henry Günther Ademola Dashtu Samuel, was born. Their second child, son Johan Riley Fyodor Taiwo Samuel, made way into the world in 2006.
On October 9, 2009, the couple's third and last child together, Lou Sulola Samuel, was born. But the same year, Samuel got two legal daughters. In an interview with UK's Mirror in December 2009, Seal announced that the adoption of Helene Klum was officially complete. She was then legally named Helene Boshoven Samuel.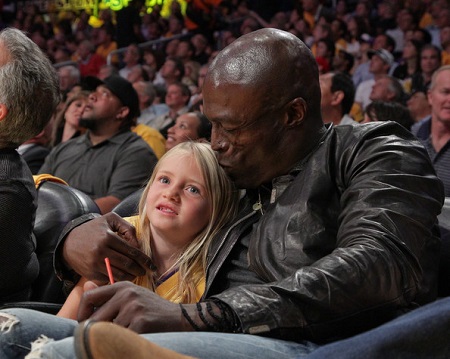 Seal raised Helene as his own.
Source: Noel Vasquez, Getty Images
On why he decided to adopt her, Seal stated, "All it means is that both Heidi and I wanted her to have the same last name as the rest of us…It was about Leni. I don't want her to feel different because I know what that's like, being a kind of stepson. And I don't want that dynamic for my little girl."
Despite the adoption process, he said nothing had changed in the Samuels home. But in 2012, they announced that they were separating after a happy seven years together. Their divorce was finalized in 2014.
You need to know: The relationship between the late legendary singer Karen Carpenter and husband, Thomas James Burris!
The Victoria's Secret Angel's first German model took a break from dating as she was busy judging in 'America's Got Talent' since 2013. When she did get back to the dating scene in 2018 with current hubby Tom Kaulitz, she took a break from the show for the 18/19 season. But after the secret legal marriage to Kaulitz (engaged in December 2018) in February 2019, she got back to the hot-seat of the show for the 2019/20 season.
Noticed the Nickname, Eh?
Life with Samuel was great for Heidi, as well as for the middle-school graduate. Heidi often stated that Briatore was not that involved in Helene's life (more below) and that "Seal is Leni's father."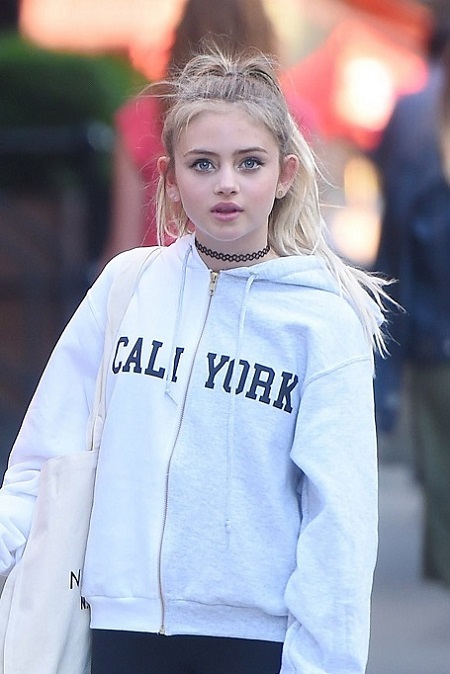 Seal's step-daughter became his legal daughter in 2009.
Source: NTV
Heidi's first daughter is called with the name Leni Samuel rather than Helene. The nickname was reportedly given around the time after Heidi married Seal.
Briatore Was Cool with the Adoption
When Seal announced the adoption, he told Mirror he talked to Leni's biological father. He praised the former 'Benetton Formula One' racing boss for handling a "really difficult" situation for him. "[He] was a gentleman about the whole thing. I have a tremendous amount of respect for him."
Despite Heidi's Claim, Briatore Says the Relationship among the Parent Trio Was Great
Yeah, Heidi said Briatore didn't have much of an involvement in their daughter's life. It is partly true as the businessman claimed, "The distance between us was unbridgeable." Heidi was living in Los Angeles, and Briatore was living in London during the adoption process.
While Heidi may have her reasons for saying Briatore was not a part of Leni's life, he said Leni spoke to her biological father on the phone for "two hours a day." But for him, "It wasn't enough. She needed to stay with her mum."
On matters of adoption, Briatore was mature about it. He told Italy's Il Corriere Della Sera in 2016, "Leni is my natural daughter, but the three of us happily agreed that it made more sense if Seal adopted her, because a child needs to grow up in a family."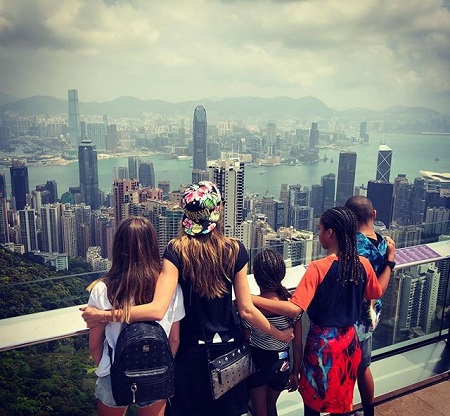 Briatore was content with Seal adopting Helene.
Source: Heidi Klum, Instagram
At the time, he said he'd made peace with the situation. "It's hard to miss a baby that you never see. But I know that Leni is not an abandoned child. Leni is part of Seal's family and Nathan is part of mine."
Also see: 17-year-old superstar Brighton Sharbino is everything Hollywood needs!
There's another name popping up. Despite all the monetary scandals he's been in, Briatore also did manage to be involved in another relationship. He married Italian fashion model Elisabetta Gregoraci in 2008 and had a son, Falco Nathan Briatore, in 2010.
Back in July 2018, Leni met her biological father after a long time and embraced each other during an outing at the Cala di Volpe hotel in Porto Cervo, Italy. Heidi was reportedly there with her entire family, her parents, and the other three kids. Since she was in a speculated relationship with Kaulitz at the time, the meeting was thought to be a one-time thing only.
Leni Is Not Completely Following in Her Mother's Footsteps... Yet
As is apparent from the two walking side by side, Leni's got what it takes to reach her mother's height. But if she has such an interest is something else.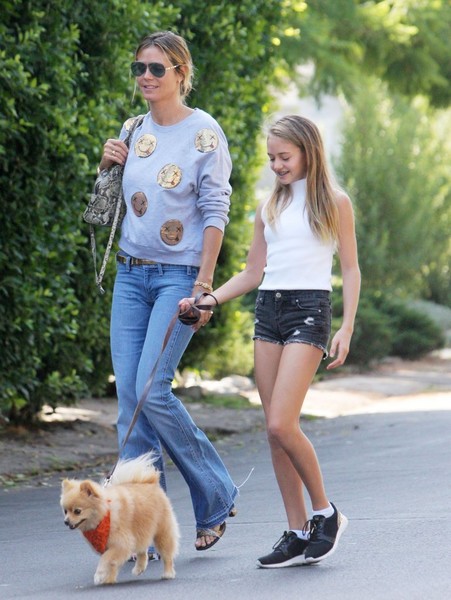 Leni could be a model, but she isn't deciding that yet.
Source: FameFlynet Pictures
In an interview with Hello! Magazine in 2018, the mother-of-four talked about Leni's interest in dancing. While it's not what Heidi herself set out to do, there is that certain intent in the 14-year-old to get into the glam world.
The 48-year-old also stated she would not push her kids to do something they don't want to, even if they're good at something she thinks they should do.
On Leni and the kids' future, "She wants to dance right now. I'm letting her do what she wants to do. I'm not putting any seeds in my kids' heads of what they should do. I want them to come up with their own things. They are not really stage kids."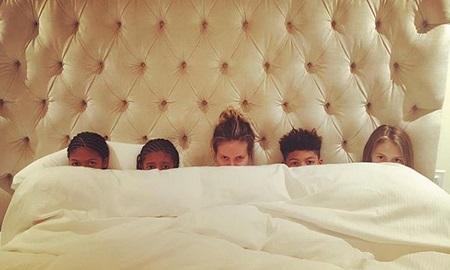 Heidi is letting her kids get the spark on their own.
Source: HELLO!
When the kids do decide what to do and tell her, she says she will be happy to be their manager and start looking for management companies for them. "If they ask me one day, and they want to pursue it, I'm going to look into a modeling agency for them, but no one is asking."
There's still time for the teenager Helen Samuel to decide on what to do. But everyone out there wants to see her grace the world her mother was successful at.
Stay tuned and connected to GlamourFame for more Entertainment content. Keep checking out for more.
-->