Helicopter Crash Victim's Husband Says Wife Christina Mauser Was Set to Celebrate Daughter's Fourth Birthday
Published Wed Jan 29 2020 By Sea
In a recent interview with CNN, heli-crash victim's husband pours his heart out while mentioning they were about to celebrate their youngest daughter's fourth birthday.
Christina Mauser was one of the victims of the Heli-crash traveling with Kobe Bryant as the team's assistant basketball coach. While everyone is grieving the loss of the superstar and his daughter, the members of the other victims are also trying to survive their losses one day at a time.
In an interview with CNN's Anderson Cooper on Tuesday night, Christina's husband, Matt Mauser, got emotional as he explained how they were supposed to celebrate their youngest daughter's fourth birthday the next week.
"My little one, her birthday's next week, that's the hard part. I'm trying to navigate that," Matt stated. "I'd walk in and she would call for mom... and now I walk in, she doesn't call for her.... I think she gets it, she knows we're grieving."
Christina also leaves behind a 9-year-old son and an 11-year-old daughter with Matt.
While trying to be strong for the children, Matt knows the kids can sense the sadness in him and also burst into tears with him. "The first day was brutal. I woke up this morning and I said, 'I'm okay,' and then I walked out and I started to cry. And then I saw my kids and I started to cry."
"My son... he has outbursts... I hold him and I hug him and I kiss him," he continued. "I give him a hug for mom and a hug for me. I just cope, day-by-day."
Christina was a gentle yet determined soul indeed.
Source: Facebook
Matt then went on to explain how Christina's basketball talent was what amused him and made her fall in love with him when they met, while also praising Kobe for having recognized her enough to recruit her.
"Kobe had seen her skill. Kobe was incredible at recognizing talent," Matt continued on to Cooper. "When we started dating, I have a basketball hoop in my front yard ... I thought I was pretty good and I got on the driveway with her and I had never experienced anything like Christina. She was quick, strong, powerful, she could dribble in, penetrate, come back and shoot."
Matthew Patterson, Christina's older brother, also poured his grief to CNN's Chris Cuomo on Tuesday. "It's just completely crushing. Every ounce of my being is destroyed. She was the best — the best player, the best human, everything."
While being determined in everything she tried, like researching every little detail about every little disease out there, Christina worked at Harbor Day School in Corona del Mar, California, from 2007 to 2018.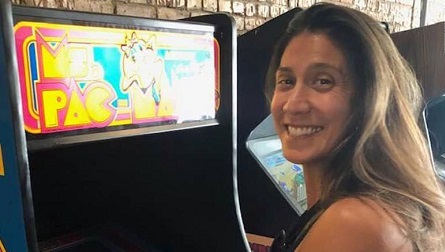 Christina had a "deadly 3-pointer".
Source: Matt Mauser
According to the school, "An outstanding basketball coach and player, Mrs. Mauser helped lead Harbor Day's eighth grade girls' team to their first ever championship. She was a loving wife, mother, educated and friend to many."
After seeing her talent, Bryant recruited her to help coach another team in the Mamba Academy. His daughter, Gianna, 13, played in that team, so she was under Christina's wing. Moreover, Mauser's oldest daughter played in Bryant's basketball academy team named the "Little Mambas".
It's hard to console a family who's just lost their most precious being. All we can do is give them our strength to take on the challenges ahead and the ones to slowly move past it with all the good things that can be taken. Our condolences.
Stay tuned and connected to GlamourFame for more updates.
-->