Hilary Duff Drops A-Bombs On Her Instagram Post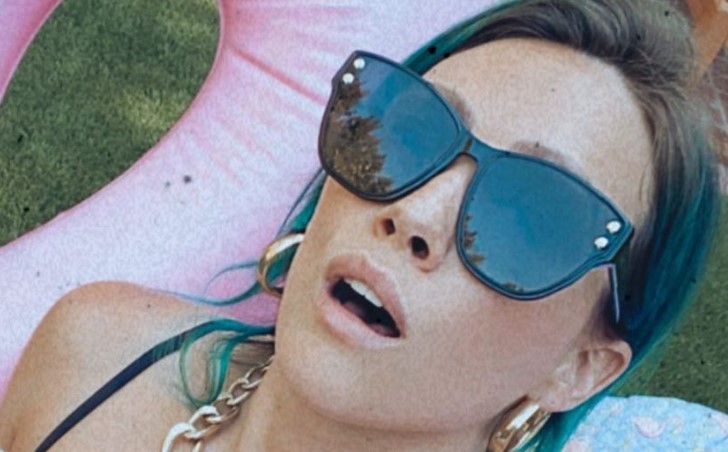 Lizzie McGuire actor Hilary Duff lashed out people during her time out on the 4th of July.
It was the 4th of July; people went out to celebrate the big day with their family and friends, while this time around, there was some restriction due to coronavirus pandemic.
Similarly, Lizzie McGuire actress Hilary Duff was out with her family (husband, Matthew Koma, and 1-year-old daughter, Banks Koma.) It was a lovely time for the actress for sure, but something really ticked her off.
Also Read: 'Days of Our Lives' to Resume Production in September
The star didn't take too long to take to her social media account, as she did, the actress started to lash out at people and drop A-bombs. So the reason was simple, Duff saw a bunch of people, whom she saw during her time out on July 4, walking around without masks.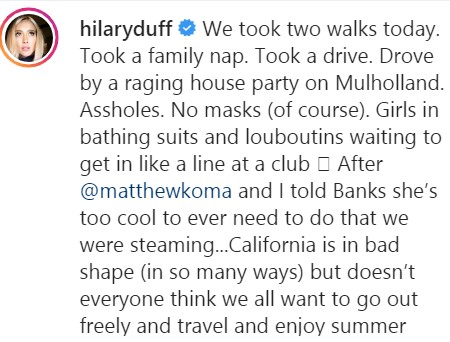 Screenshot of her post's caption.
Hilary uploaded a beautiful family photo; however, her caption was really something. Duff wrote, "We took two walks today. Took a family nap. Took a drive. Drove by a raging house party on Mulholland."
The actress continued, "A**holes. No masks (of course). Girls in bathing suits and Louboutins waiting to get in like a line at a club After [Matthew Koma] and I told Banks she's too cool ever to need to do that we were steaming...California is in bad shape (in so many ways), but doesn't everyone think we all want to go out freely and travel and enjoy summer."
A beautiful family photo, post on Hilary's Instagram.
Duff added, "It really seems like Americans just don't care about each other...somehow this pandemic has turned into a political stance between parties... that's a head-scratcher for me. Other countries have come together in a beautiful way to contain or be COVID free. It's embarrassing that we are worse than ever because people need to party, and Karens won't wear masks!"
Wear masks, people. It's not just about you; it's about you and the people around you. Please be responsible. We totally agree with Hilary!
You May Also Like: The Former 'The Voice' Contestant RaeLynn Announces New EP
For more information on your favorite celebrities' lifestyle, stay tuned to Glamour Fame, and don't forget to sign up for the newsletter.
-->