How Long Nathan Schwandt Is Dating Internet Celebrity Jeffree Star? Are They Planning To Get Married?
Published Tue Apr 23 2019 By Chester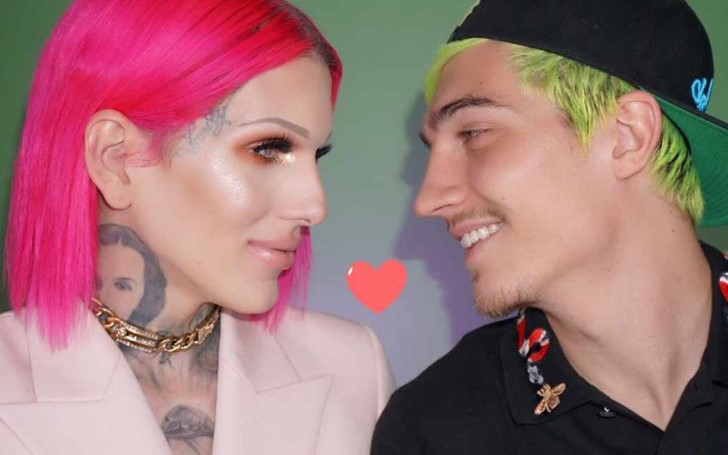 The power couples of the modernizing society, Nathan Schwandt and Jeffree Star are more than just lovers but an example to the modern generation with no barriers in sexuality and importantly an inspiration idol to LGBTQ community.
Many of you might be unfamiliar with the popular Internet power couple, well let us start with a brief introduction - Jeffree is an American Internet celebrity, makeup artist, model, entrepreneur, and singer who has a successful youtube channel and some hit songs like 'Lollipop Luxury', 'Prom Night' and so forth.
Likewise, Nathan is also a media personality, precisely a youtube Vlogger who came into limelight after being featured in the and 'fun and entertaining' youtube channel 'jeffreestar' with his partner Jeffree.
Internet celebrity Jeffree Star (Left) and Nathan Schwandt (Right) initially met each other via social media app Instagram in 2015.

SOURCE: We hear it
The channel is subscribed and followed by more than 14 million people where the duo uploads their fun and entertaining videos along with makeup tutorials and reviews.
You may like: Top 5 Best Hydrating Facial Mist
So many of you might be anxious about how it all started and what are their future plans as a couple and so forth. Well, we got every detail for you.
How Long Nathan Schwandt Is Dating Internet Celebrity Jeffree Star?
Well, initially the love birds met or introduced themselves on Instagram after Nathan Schwandt display messaged Jeffree.
In an episode so-called Boyfriend Q&A, the duo shared about their first meet along with the journey towards their eternal love.
Soon they started texting each other which later turned into phone calls and after a few months, they decided to meet in person. After knowing each other for quite some time, the two finally met in the Airport of Los Angeles, USA.
Soon as the two met in person for the first time they felt a special connection between them. 'It felt like we have met for years and we've known each other for years, it was crazy and my heart was racing' Nathan shared.
Recommended: Makeup And Skincare Empties For 2019
They have been together for 4 years now since their first meet in 2015. At the time Star was single from the past seven years and Nathan was the one to win Jeffree heart.
Are They Planning To Get Married?
Well not now, as Jeffree indicated in another episode of the Q&A: Part 2 with partner Nathan Schwandt. Check out the exclusive video where the 'love birds' answers their personal question relating to their future plans and motives.
The 33-years-old Jeffree replies when she is asked about their marriage in Q & A round expressing,
"The marriage question is kind of like sexuality… there's no point to label anything. I'm not opposed to marriage later in life but right now a piece of paper is not going to change my love for this cool man."
In one tweet, Star wrote about marriage. "And no I'm not getting married, just expressing some thoughts haha 'love' is something I never thought I'd find until I met Nate, 😍" Starr wrote. That tweet was on Valentine's Day 2017.
Star furthermore added, "I'm always creating art, working on my cosmetics brand, hanging out with my 3 Pomeranians or being a wifey with Nathan (haha) Sometimes I forgot to take a BREAK FROM LIFE for a second!!" The couple seems more focused on their career for now. However, their words clearly describe that marriage is just a term and they are more than husband and wives.
Must see: Is Donald Trump A Time Traveller? A Person Claims To Have Found All The Proof!
So, guys did you enjoy the fun and rare chemistry between the two? Well, as long as they are happy and satisfied leaving no harm or disgrace to society or anyone, we all have the freedom to do our desired thing. Well, we came up with the topic because still domination and criticisms are the burning subjects in our society. So let's not judge one in the perception of gender, sexuality or color. Let's unite and be one.
-->