Hummingsong's Australia's Got Talent Performance Left The Judges In Tears
Published Mon Aug 12 2019 By Eden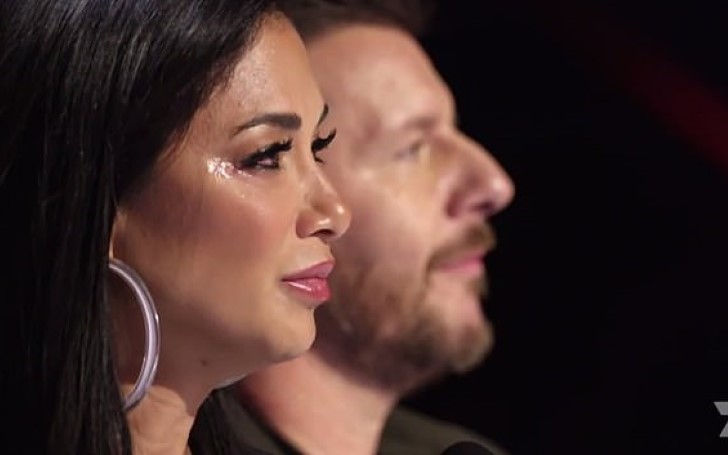 Judges left in tears following an incredible Hummingsong performance.
Not a dry eye in the house at Australia's Got Talent studio on Sunday night.
The inspirational 'Hummingsong' Choir left Lucy Durack, Nicole Scherzinger, Shane Jacobson and Manu Feildel, all four judges in complete awe through a remarkable audition.
On a funny note, there were so many singers in the choir that not all of them fit onto the audition stage. As a result, some spilled out right in front of the judges.
Nicole (whose former band member Melody Thornton recently suggested it's best if The Pussycat Dolls are left in the past) said, "I'm a little speechless because I've never seen anything like this."
Manu who happens to be a judge on cooking show 'My Kitchen Rules', joked he wasn't cooking the singers lunch. Whilst Lucy added, "It's so overwhelming," Meanwhile, Shane began crying before the audition even began.
Watch: Hummingsong Choir Bring Shane To Tears | Auditions | Australia's Got Talent 2019
Anna Humberstone, the lead singer of the group explained the choir is a platform for women to sing together whilst raising money for women and children escaping domestic violence.
Another singer added, it's hard for people to speak up about domestic violence sharing her own experiences because she herself was one.
The singer said, "The choir has helped me become visible and I broke a silence that was never to be broken. Knowing that I'm accepted and that it's alright to be me. I got so much support and I've even had people tell me now that because I have become visible and spoken that they're going to do it too, which is wonderful."
The group consisting of over 100 women aged between 19 and 83 then delivered a powerful performance of 'Somewhere Only We Know' by Keane.
The inspiring group of women performed their hearts out; Nicole couldn't help herself sing along from the audience while the other judges began to cry. Moreover, the show host Ricki-Lee Coulter looked mesmerized from the side of the stage.
Unsurprisingly, Hummingsong received a standing ovation from the entire audience upon the completion of the song. Nicole was the first to judge the performance stating, "When they say there's power in numbers! That was so unbelievably powerful. It was quite spiritual for me."
Lucy added: "That was one of my favourite, most beautiful experiences. It was just such a gift for all of us watching here and at home. So thank you from the bottom of my heart, every single one of you."
Shane left speechless by the performance said he wished his family were there to witness the audition. As expected, the choir group advanced to the next round of the competition receiving a 'Yes' from the all four judges.
The choir members later took to social media to share their experience. Singer Lisa Joy hoped the performance inspired the viewers and wrote, "Perhaps a few people last night, women and men, watched our segment and drew from it the strength and courage they need to make the first step to leave a relationship that is hurtful to them or to their children. As communities, we can support each other, lift each other up and celebrate life and love."
Member Kylie Grewal said: "This community of women that I belong to is the real deal. Genuine friendships, support, fun, laughs; all brought together through the sheer joy of singing together. Find yourself a local choir people! Loved being a part of this experience. Thank you Australia's Got Talent and Hummingsong."
Another singer, Lynne McGrath, added: "I have the privilege of being a member of this wonderful choir."
-->