Godness of Pop Cher Broke Up With Her Boyfriend, Alexander Edwards
Get all the details about Cher's break-up with her beau, Alexander Edwards.
Cher aka Cherilyn Sarkisian is an American singer and actress. Born in 1946 in California, Cher rose to fame in the 1960s as part of the musical duo Sonny & Cher.
Over the years, she has sold over 100 million records worldwide and won numerous awards, including an Academy Award, a Grammy Award, and multiple Golden Globe Awards.
Cher has also made a successful transition to the big screen, appearing in films such as "Moonstruck," "Mask," and "Mermaids." Despite her many achievements, Cher remains a beloved figure in popular culture, known for her outspoken personality, bold fashion choices, and enduring appeal.
Goddess of Pop Cher Broke Up With Her Boyfriend, Alexander Edwards
it's official! The iconic singer, Cher, is single again after breaking up with her music producer boyfriend, Alexander "A.E" Edwards.
The couple parted ways a few weeks ago, but the split was amicable. This news came as a shock to fans who had been following the couple's romance for the past few months.
The pair's recent appearance was during the Versace fall/winter 2023 fashion show. Alexander and Cher were seen engaging in public displays of affection.
The 76-year-old was photographed kissing and cuddling Alexander while enjoying the runway show, showcasing the depth of their love and affection for each other.
Beginning of Romance
The two lovebirds first sparked rumors of their relationship when they were seen on a date night in West Hollywood in November 2022.
It didn't take long for Cher to confirm their romance, as she posted a picture of Alexander with a red heart emoji. Since then, the couple had been spotted together at various Hollywood events.
At the 2023 Grammys parties, where they had been publicly displaying their affection for each other. Cher had also expressed admiration for Alexander's skills in the studio, highlighting his creativity and ability to produce exceptional work.
As a fellow artist, she recognizes the excitement that comes with creating something special and acknowledges Alexander's talent in achieving that. However, everything has an end. Despite so much love and connection they finally called it quit.
Who is Cher's Ex-Boyfriend, Alexander Edwards
Alexander Edwards is a name that has been making waves in the music industry in recent years. A talented musician, producer, and composer, Edwards has been steadily making a name for himself.
With his unique blend of creativity and musical expertise, he has won the hearts of many. With a career that has spanned over a decade. Edwards has worked with some of the biggest names in the music industry, including The Game, Usher, and Chris Brown.
The singer has also made a name for himself as a skilled producer and has contributed to several hit tracks. That includes "Loyal" by Chris Brown and "New Flame" by Usher.
Despite his impressive resume, Edwards is known for his humble and down-to-earth personality, endearing himself to fans and collaborators alike. With his star on the rise, there is no doubt that Alexander Edwards is a force to be reckoned with in the world of music.
Alexander Edwards Previously Dated Amber Rose
Prior to having a wonderful romance with Cher, Alexander was dedicated The couple first went public with their relationship in 2018 and have been going strong ever since.
Rose, a model and actress, and Edwards have been spotted at numerous events and public appearances. They never forget to display their love and affection for each other.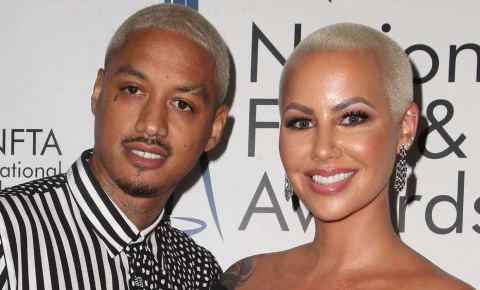 In 2019, they took their relationship to the next level by announcing that they were expecting a child together. The duo later welcomed their first child, Slash Edwards into the family.
Despite the ups and downs of their public lives, the couple has remained committed to each other and their growing family. However, everything has an end.
In early 2021s the pair parted ways without a trace. Many of their fans were surprised after the celebrity duo split.
Cher and Sonny Bono's Romance in the 1960s
For sure, Cher is one of the most loved and admired actresses and singers around the world. Despite standing in her mid-seventies, Cherilyn is taking the world with her talents.
Prior to having an eye-catching romance with Edwards, the Take Me Home singer is married and divorced twice. Cher and Sonny Bono were a famous musical duo in the 1960s.
They are known for their hit songs and variety show, The Sonny & Cher Comedy Hour. The couple were married in 1964 and had one child together, Chaz Bono.
Divorced
Their on-stage and off-stage relationship was complicated and tumultuous. Sonny was the songwriter and producer of their music, while Cher was the lead singer and face of the duo. However, behind the scenes, Sonny was controlling and abusive towards Cher.
The couple divorced in 1975, after 11 years of marriage and multiple attempts at reconciliation. Despite the end of their romantic relationship, they continued to work together professionally and remained close friends until Sonny's untimely death in a skiing accident in 1998.
Cher has since spoken openly about the abuse she suffered at the hands of Sonny and the difficulties of their relationship, but also acknowledges the impact they had on each other's careers and their place in music history.
Second Husband, Gregg Allman Died in 2017
Cher and Gregg Allman were a couple in the 1970s, known for their tumultuous and brief marriage. The couple met in 1975 while Gregg was going through a divorce and Cher was going through a separation from Sonny.
They were married in Las Vegas in 1975, but their relationship was plagued by drug and alcohol abuse, infidelity, and constant fighting. The former pair shares one son Elijah Blue Allman who is an American singer.
They separated and reconciled several times before finally divorcing in 1979. Despite the turmoil of their marriage, Cher has spoken fondly of Gregg and their love for each other. She has credited him with introducing her to Southern rock and blues music, which had a significant influence on her later work.
Gregg passed away in 2017, and Cher paid tribute to him on social media, describing him as a "great musician and a beautiful soul."
For More Contents Stay With Glamour Fame
-->