Is Garth Brooks Married? Know About Garth Wives and Children
Garth Brooks is an iconic American country music singer, songwriter, and entertainer. Born on February 7, 1962, in Tulsa, Oklahoma, Brooks emerged as a dominant force in the genre during the 1990s. With his energetic stage presence, heartfelt lyrics, and charismatic personality, he revolutionized the country music industry and achieved unparalleled commercial success.
Brooks has sold over 170 million records worldwide, making him one of the best-selling music artists of all time. Known for his dynamic live performances, he has won numerous awards, including multiple Grammy Awards and Country Music Association (CMA) Awards. Beyond his musical achievements, Brooks has also been involved in philanthropic efforts and remains an influential figure in the country music scene.
Take A Look at Garth Brooks's Married Life
Grammy-winning country singer Garth Brooks is happily married to his wife of seventeen years, Trisha Yearwood. Trisha, an acclaimed country singer and cookbook author, is also a prominent figure in the country music industry. The couple, considered a powerful duo, has been married since 2005.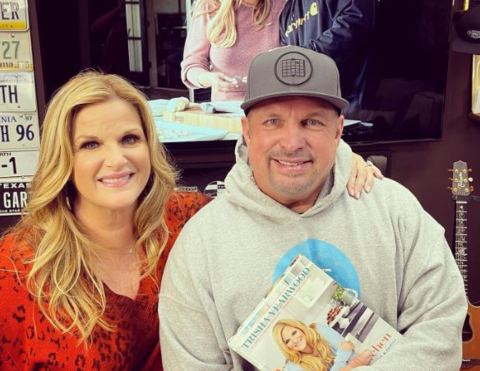 Trisha Yearwood, 58, is known for her iconic hits like "She's in Love with the Boy," "Walkaway Joe," and "Believe Me Baby (I Lied)." With three Grammy Awards, three ACM Awards, and numerous other esteemed accolades, Yearwood has established herself as a celebrated artist.
Both Garth and Trisha have achieved remarkable success in their respective careers, making them a neck-to-neck match in terms of professional accomplishments. Despite initial concerns and skepticism from others due to their busy schedules, Brooks and Yearwood have managed to navigate their personal and professional lives successfully.
How Did Garth Brooks and His Wife, Trisha Yearwood?
Garth Brooks and Trisha Yearwood initially connected through their shared profession and developed a friendship in the 1980s. However, at the time they first met in 1988, both of them were committed to other individuals.
Despite their respective relationships, Garth and Trisha maintained their platonic bond while simultaneously nurturing their rising careers.
Match Made in Heaven?
Trisha Yearwood and Garth Brooks began dating after their respective marriages ended, and they eventually tied the knot on December 10, 2005. Following years of a blissful relationship, the country duo decided to make their love official.
Since their marriage, Garth and Trisha have collaborated on multiple occasions, showcasing their musical talents together. They openly celebrate each other's achievements and support one another through the challenges they face, keeping their personal moments private.
When asked about their secret to a successful marriage after many years together, Yearwood shared their approach with fans. The couple plans their day in a way that ensures they always have quality time for each other at the end of the day.
Garth Brooks and Trisha Yearwood have built a long-lasting and meaningful married life together. It's worth noting that Garth had a previous marriage before his union with Yearwood.
Who is Garth Brooks's Wife, Trisha Yearwood?
Trisha Yearwood is an acclaimed American country singer, author, and television personality. Born on September 19, 1964, in Monticello, Georgia, Yearwood has made a significant impact on the country music industry with her powerful voice and heartfelt performances.
She gained widespread recognition with her debut single "She's in Love with the Boy" in 1991, which became a chart-topping hit. Yearwood's impressive discography includes numerous successful albums, including "Hearts in Armor" and "Thinkin' About You."
Beyond her music career, Yearwood has ventured into other creative endeavors. She is a bestselling cookbook author and has hosted her own cooking show, "Trisha's Southern Kitchen."
15 Years Long Married Journey Ended With First Wife, Sandy Mahl
Garth Brooks had a previous marriage before finding the love of his life. The country singer was married to songwriter Sandy Mahl, whom he met in the early 1980s when his career was just beginning to take off. They took their time courting each other and eventually married in 1986.
After their marriage, Garth and Sandy moved to Nashville and started a family. They welcomed three daughters, Taylor, August, and Allie, during their 15-year-long marriage. Despite keeping much of their personal life private, sources suggest that the strain of Brooks' demanding career played a role in their eventual separation.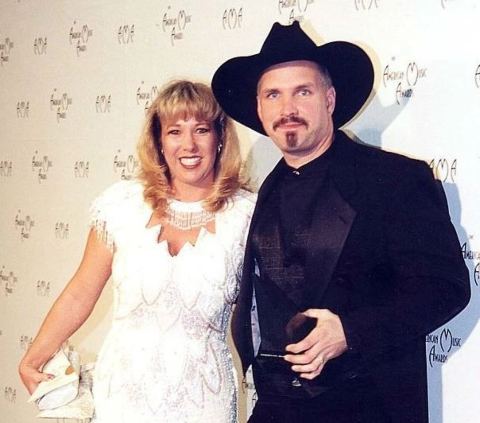 Garth's growing success often kept him away from home for extended periods, which gradually took a toll on their relationship. However, in the documentary "Garth Brooks: The Road I'm On," Sandy Mahl expressed that they still maintain a beautiful friendship despite their split.
Ultimately, Garth Brooks' first marriage may have ended, but it laid the groundwork for his future and the path that would lead him to his true love.
Garth Brooks's Daughters Are Following His Footsteps
Garth Brooks, a two-time Grammy winner, does not have any children with his wife Trisha Yearwood. However, he is a proud father of three daughters from his first marriage.
Garth's oldest daughter, Taylor, was born in 1992 and was named after singer James Taylor. She graduated from Vanderbilt University in 2020, showcasing her own accomplishments.
August, the second-born, entered Garth and Sandy's lives in 1994. August went on to work at a law firm and later became a mother herself. She had a daughter and another child with her high school sweetheart and now ex-husband, Chance Michael Russell.
The singer's youngest daughter, Allie, was born in 1996 and is the only one to follow in her father's musical footsteps. She released her debut album, "Stones," in April 2021, marking her own entry into the music industry. Allie has been married to teacher Jonathan Roberts since 2018, continuing to pursue her own path alongside her father's legacy.
Seek Glamour Fame
-->