Is Kate Phillips Married? Who is her Husband? Detail About their Married Life and Relationship
Do you love watching series? Which is your TV series? If You loved watching Peaky Blinders, this next actress could be familiar. Her name is Kate Phillips, a phenomenal British actress. Phillips has a wide range of fame due to her way of acting and dedication. Kate's deeds have helped to amass several important roles in various blockbuster movies and series. Some of her acting credits include The Aftermath, The Alienist, The English Game, The Crown, and so on. Currently, she is playing the role of Wendy in the American comedy series Atlanta.
Also, Phillips portrayed the role of Eliza Scarlet in Miss Scarlet and The Duke in 2020. Now Let's dig into her personal life and learn more about her. Here is everything you need to know about the popular British actress, including her love life.
Is Kate Phillips Married? Who is her Husband? Detail About Kate's Married Life and Relationship
English actress Kate Phillips is often part of the huge limelight through her mesmerizing appearances. So, her fans and media often wonder about her love life and affairs. On the other hand, the actress loves to keep everything private and rarely spokes regarding her life.
Despite that, it has been confirmed that War & Peace actress is a happily married woman. However, her husband's name and face are still a mystery due to her nature of privacy. Kate has spoken regarding her husband in the past but has set limits in every statement.
Kate thrives in the spotlight; however, her husband prefers to lead his time away from it. In every award show, she is seen, either single or with her co-stars. We may see her with her partner exchanging romance publicly. But for now, we can only assume who that guy might be.
Recommended: Who is Helen McCrory's Husband? Learn About Her Married Life Here
Peaky Blinders Actress Kate Phillips is Mother
Although Kate Phillips has successfully kept her personal life a mystery, it has been confirmed that she is now a mother. She and her husband have been in love for over a decade and share an outstanding connection. Phillips and her husband recently welcomed their baby boy; however, his name and face are still a mystery. Back in February 2021, she openly strolled her baby in London alongside her close friend in a casual dress.
In the chilly weather of London, she wrapped herself in a dark blue pea coat paired with yellow gloves. She stepped out in the street by covering her blonde hair with a pink hat and blue scarf. Her little one was also wrapped in warm outfits alongside a blanket to defeat the cold weather. This was the first time the actress publicly walked around the baby.
In an interview, Phillips opened up regarding her relationship with the kid. The Crown actress even admitted that she was worried she would love less to her baby more than her cat. She added Jennifer Lawrence's fear regarding welcoming a child struck a chord,
"I remember walking with one of my best friends at nine months and being like, 'Everyone keeps saying that I will love my baby more than my cat. But that's not true. Maybe I'll love him as much as my cat?'"- Jennifer Lawrence
All her statements went false as she loves her son to the fullest, like every mother. On July 2022, she shared a glimpse of her child on her Instagram account, where she captioned Moana and stickers. Two great loves.
A Short Bio on The Crown Actress, Kate
Five feet four-inch tall actress Kate was born on 21st May 1989 in England, UK. She is in her mid-thirties and is living her life to the fullest. There is no information regarding her family. Despite that, her parents were very much supportive and often indicated her family as an inspiration.
The actress attended Leeds University and graduated from there. Later she joined The Guildhall School of Music and Drama to study acting in London. From there, she professionally started her career by appearing in several dramas.
After graduation, she returns to Leeds to appear in The Crucible at the West Yorkshire Playhouse. Since then, there has been no turning back for the actress, who started appearing in several blockbuster movies and series.
Phillips Faced Controversies While Playing Wolf Hall
In 2015, the British actress played the role of Jane Seymour in Wolf Hall, an adaptation of two of Hilary Mantel's novels. That particular role was offered to her while she was still studying at Guildhall School. While airing Wolf Hall, there was some mild controversy among some historians.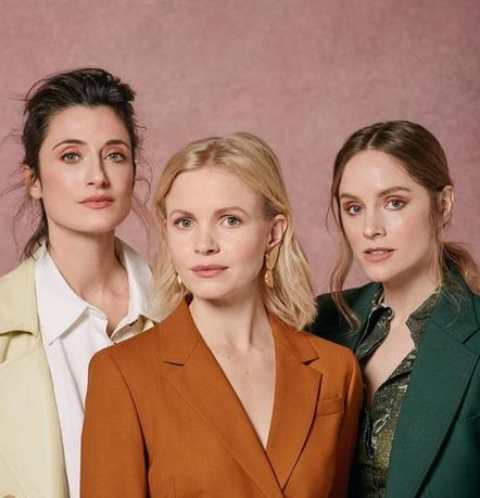 They stated that Kate was too pretty to play the role of Henry VII's third wife. Despite that, many critics praised Phillips's performance and even named her Star of Tomorrow. After that, she secured appearances in Peaky Blinders, Downton Abbey, The Crown, and so on.
Net Worth of Kate Phillips
The talented actress, Kate Phillips, is in her early 30s. Despite her young age, she has appeared in various movies and series. Her incredible performance has helped her to amass a huge amount of name and fame. As of 2023, she holds a net worth of $800,000, which she amassed through her incredible career as an actress.
Being an important cast in every appearance, she is paid a huge amount of remuneration. Her Starred series, Peaky Blinders, was one of the highest-earning series. In 2019, her film Downtown Abbey amassed a total of $194.7 Million under a budget of $20 Million. Currently, she is involved in two series, Atlanta and Miss Scarlet and The Duke.
Her estimated annual income is over $100,000 per annul through her involvement. The British star is now living a lavish lifestyle. As she is young and talented, she will surely increase her fortune.
Also, See: What is Daryl McCormack's Net Worth? Learn About His Wealth and Earnings Here
For More Content, Visit Glamour Fame
-->