Is Rebel Wilson Single or Married? Know About Rebel's Relationship History
Rebel Wilson is an Australian actress, comedian, writer, and producer known for her vibrant personality and comedic talent. Born on March 2, 1980, in Sydney, Australia, Wilson rose to prominence with her breakthrough role as Fat Amy in the hit movie "Pitch Perfect" and its sequels. Her natural comedic timing, quick wit, and fearlessness in delivering hilarious performances have made her a beloved figure in the entertainment industry.
Wilson's career spans various film and television projects, and she has earned critical acclaim and numerous awards for her work. Beyond her acting prowess, she is admired for her confidence, resilience, and empowering messages promoting self-acceptance and body positivity.
Who is Rebel Wilson Dating Now?
Wilson, best known for her roles in "Pitch Perfect" films, revealed in May 2022 that she had found love in a same-sex relationship. Sharing a picture of herself and designer Ramona Agruma, Wilson expressed her realization that she had been searching for Mr. Perfect but ultimately found happiness with Miss Perfect.
Since then, the couple has embarked on a series of exciting adventures together. They enjoyed a romantic trip to Italy, cheered for tennis legend Serena Williams at the U.S. Open, and enthusiastically celebrated their first Halloween as a couple.
Throughout their journey, Wilson and Agruma have shared glimpses of their joyous moments on Instagram, captivating their followers with their adorable relationship.
Welcoming Child With Girlfriend, Ramona Agruma Via Surrogacy
The actress Rebel Wilson and her girlfriend, designer Ramona Agruma, expanded their partnership by launching a joint business venture called R & R Club. This exclusive capsule collection offers a range of luxurious loungewear.
As their eventful year came to a close, Wilson made another thrilling announcement—she had become a mother. Through the journey of surrogacy, Wilson welcomed her daughter, bringing immeasurable joy and love into her life. In an emotional caption, she expressed her overwhelming affection for her "beautiful miracle."
Both Wilson and Agruma have been open about their experiences of motherhood, emphasizing the transformative and positive impact it has had on their lives. The arrival of their baby has brought profound changes and a newfound focus on the well-being of their child.
Engaged in Disneyland
After fueling engagement rumors multiple times in the past year and consistently denying the speculation, Rebel Wilson and Ramona Agruma finally confirmed their engagement earlier this year.
The enchanting proposal unfolded at Disneyland in California, where Wilson reportedly took the initiative to get down on one knee. The couple, now engaged, is said to be planning an intimate ceremony to celebrate their love and commitment.
While details of the wedding remain private, their engagement marks a significant milestone in their relationship, capturing the excitement and anticipation of embarking on a lifelong journey together.
Know About Rebel Wilson's Fiance
Rebel Wilson's soon-to-be wife, Ramona Agruma, may not be directly associated with showbiz, but she has her own ties to the industry. Agruma is the founder of DeLys, a high-end jewelry brand that boasts a clientele of celebrities.
Her expertise in the field has also led her to become the brand ambassador for Bee Goddess, a renowned Turkish jewelry company. However, Agruma's accomplishments extend beyond the realm of jewelry. She is also the founder of Lemon Ve Limon, a sustainable fashion company.
While Agruma has made significant strides in the business world, her relationship with Rebel Wilson has garnered considerable attention. Agruma has shared her experiences of navigating a personal life in the public eye, highlighting the challenges that come with newfound fame and visibility.
Relationship History of Pitch Perfect Actress, Rebel Wilson
Throughout her career in the entertainment industry, Rebel Wilson has experienced a range of romantic relationships, some of which were less than ideal. The actress, known for her role in "Pitch Perfect: Senior Year," has openly discussed putting up with things she wouldn't have tolerated in her past relationships.
Her first high-profile relationship came with actor-producer Mickey Gooch Jr. Their brief romance began while working together on the set of "How to Be Single." Following that, Wilson had a short-lived relationship with stuntman Aden Stay in 2017. After these low-key affairs, the actress experienced her first major public relationship with businessman Jacob Busch.
Wilson and Busch's on-off relationship included public appearances, red-carpet debuts, and international travels. However, they announced their breakup in early 2021, with Wilson humorously confirming the news by stating she was a "single girl headed to the Super Bowl."
Rebel Wilson Movies, Series, and Awards
Rebel Wilson's career has been a journey of comedic brilliance and versatile performances. Starting in the Australian entertainment industry, Wilson made her mark with roles in popular shows like "Pizza" and "The Wedge." However, it was her breakout role as Fat Amy in the "Pitch Perfect" series that catapulted her to international fame. Her hilarious and confident portrayal of the character endeared her to audiences worldwide.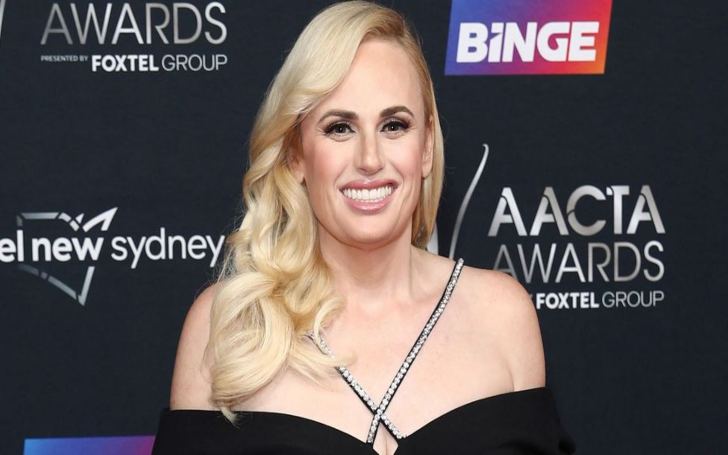 Wilson's comedic prowess extended beyond film, as she showcased her talents in movies like "Bridesmaids," "The Hustle," and "Isn't It Romantic." Her ability to deliver sharp wit, physical comedy, and relatable characters made her a sought-after talent. Wilson also demonstrated her singing and dancing skills in the film adaptation of the musical "Cats."
In addition to acting, Wilson has written, produced, and hosted various projects, demonstrating her multifaceted abilities. Her charismatic personality and quick wit have made her a popular choice as a host for award shows.
Visit Glamour Fame for More Content
-->