'The Umbrella Academy' Officially Gets A Second Season
Published Fri Apr 05 2019 By David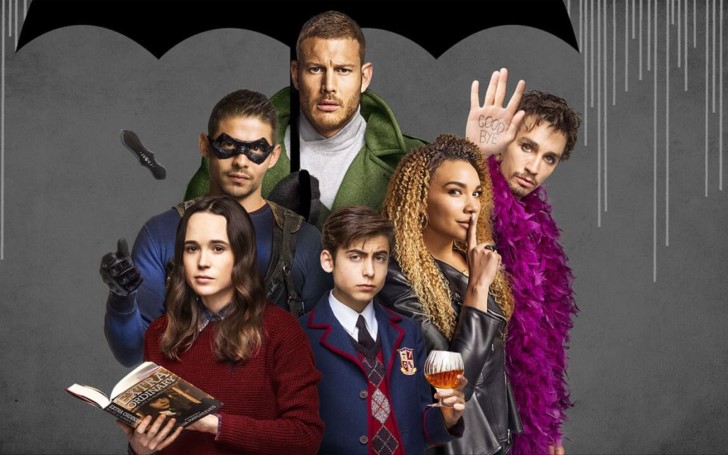 Netflix's The Umbrella officially gets its second season.
On Tuesday, Netflix officially announced the second season for its hit superhero series, "The Umbrella Academy". The show's season 1 cast members Ellen Page, Tom Hopper, David Castañeda, Emmy Raver-Lampman, Robert Sheehan, Aidan Gallagher, and Justin H. Min are all tapped in to reprise their roles for the follow-up season. Steve Blackman is also set to return as showrunner. The upcoming installment, which will consist of 10 episodes, is apparently reported to begin its production this summer in Toronto.
"The Umbrella Academy" is originally based on the comic book series of the same name created and scribed by Gerard Way, whereas the franchise is illustrated by Gabriel Bá, and published by Dark Horse Comics.
Hello.

Season 2.

Goodbye. pic.twitter.com/0P5VRQlP1j

— Umbrella Academy (@UmbrellaAcad) April 2, 2019
The first season begins from the year 1989, when 43 women around the world simultaneously give birth, despite none of them showing any sign of pregnancy until labor begins. Seven of the children are adopted by eccentric billionaire Sir Reginald Hargreeves (Ashley Madekwe), who turns them into a superhero team and gives the name, "The Umbrella Academy".
Also Read: Kiernan Shipka's New Netflix Horror Film 'The Silence' Based on an Acclaimed Novel is a Terrifying Mix of 'The Birds' and 'A Quiet Place'
Hargreaves marks the children with numbers rather than names but they eventually get their titles through their nanny robot mother, Grace, namely Luther, Diego, Allison, Klaus, Number Five (the only designated name given throughout the whole season), Ben and Vanya. While employing six of his children to fight against the crimes, Reginald keeps Vanya apart from her other siblings' activities, since she is the only one who doesn't possess any supernatural abilities.
In the present time, Luther is an astronaut, Allison is a famous actress, Vanya is a violinist, Klaus is a party animal with a drug addiction, Ben is a ghost only able to talk with Klaus, and Diego has gone on to become a rogue who is also shown as a character having an especial preference to trouble.
Recommended: Will There Be Season 3 of Netflix Documentary 'Making a Murderer'?
The estranged siblings learn their foster father, Reginald has died and gather for a funeral. Number Five returns from the future, revealing that a global apocalypse is about to happen. Meanwhile, the reunited brothers and sisters try to disclose the secret of their lineage whilst struggling with each other's divergent personalities and abilities.
Along with Way, Bá, and Blackman, The Umbrella Academy is exec produced by Jeff F. King, Mike Richardson, and Keith Goldberg. As for Netflix, the series is primarily ventured by Universal Content Productions.
Watch all the superhumans from the Umbrella Academy
The show has been generally well-received by critics, with the first season gaining a 76% critical approval rating on Rotten Tomatoes.
Don't Miss: Chilling Adventures of Sabrina's Star Appears To Confirm The Show's Biggest Theory
"The further it goes, the more 'The Umbrella Academy' strives to ladle on distinctiveness, as if simply being a superhero show disconnected from the Marvel and DC universes were not enough. The ultimate irony of this show is that for all its studious quirk, it's actually fairly tame, relative to a TV universe that lately includes shows about a spree-murdering bookstore clerk ('You') and an idyllic, sex-crazed village trapped in the 1980s of the mind ('Sex Education')," writes the TV critic of Variety, Daniel D'Addario.
-->