Raven Lyn Corneil - Some Facts to Know About Twitter CEO Jack Dorsey's Ex-Girlfriend
Tech Bros dating hot model is nothing new at this time of the era. Take it from the biggest of all Elon Musk himself. Or how we could we forget Snapchat CEO Evan Spiegel, dated and now married Miranda Kerr.
But the Twitter CEO, Jack Dorsey, amidst his busy schedule, also found time to meet someone special and is not afraid to show that person to the public. In a recent turn of events, something interesting, but expected, things happened.
CEO of Twitter, Jack Dorsey, was dating a 23-year-old model named Raven Lyn Corneil. The two are making a lot of buzzes, so let's just dive into the facts about Jack's ex-girlfriend and their relationship in a nutshell.
So, Who is Raven Lyn Corneil?
Well, we hate to do this, like to introduce someone as someone else's ex-girlfriend or ex-wife. But since some gain the prominence that way, we can't really do anything about that either.
Raven Lyn Corneil appeared on Sports Illustrated Swimsuit Magazine in 2017.
Photo Source: Dirt
So, if you ask us, who Raven Lyn Corneil is, she was the girlfriend of Jack Dorsey. However, she is more than just an ex-girlfriend of some tech billionaire. When we dug into the facts of the 23-year-old model, we found she is a Sports Illustrated model; she was popular, but not as much as she is now after dating Jack.
Also See: Jordan Edward Rogers - Some Facts to Know About Kenny Rogers and Wanda Miller's One of the Twin Sons
Further reports has it; the model was born on January 9, 1995, in Minneapolis, USA. The model of African-American, Puerto Rican, Irish and Native American descent, after enjoying some success as a model, she has settled as an Instagram influencer, where she boasts impressive followers count of 306K.
Her single posts gets an average of 15,000 likes, which basically tells she has a pretty strong fan base. Moreover, the model is working under two different modeling agencies, 'Storm London,' and 'Premium Paris.'
A little About Raven Lyn Corneil and Jack Dorsey's Relationship
The exact information of how and when they meet is still a missing piece from the puzzle; however, the two went public about their relationship in 2018. The first time two appeared together was at a Harper's Bazaar party During New York Fashion Week.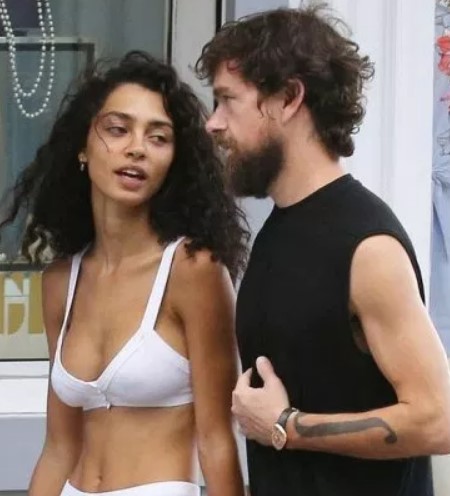 It is estimated Jack Dorsey and Raven Lyn Corneil dated for a year.
Photo Source: Dirt
To date, it's still unconfirmed for how long the couple dated, when did they exactly meet, and found love in each other. The only thing known about the two is, their love really peaked at one point of their life; the former couple almost got hitched.
We suppose it's well-known to the fans and followers of both Jack and Raven that Twitter CEO got his girlfriend house worth $4.2 million, and some luxury items like cars. The tech billionaire also gifted his then-girlfriend Mercedes-Benz G63 AMG worth $150,000.
But after dating for a couple of months, the two went on their separate ways. Just like how their relationship started, it's also unknown how they split up. The news of their breaking up came in mid-2019.
You May Also Like: Sam Heughan Girlfriend - Find Out if the Scottish Actor is Dating Someone
For more information on your favorite celebrities' lifestyle, stay tuned to Glamour Fame, and don't forget to sign up for the newsletter.
-->