Jordan Edward Rogers - Some Facts to Know About Kenny Rogers and Wanda Miller's One of the Twin Sons
Published Wed Apr 08 2020 By Eric
People on this earth are born with no plan or aim. Because of this, they have no idea what they will do. However, on the way, they collect tons of experience and grab some ambition. Those who dream big and work hard make their vision a reality. Additionally, they become successful in garnering tons of attention from their work, plus even after their death, they manage to leave their wealth and fame for their spouse and children. Jordan Edward Rogers is also one of many who attracted attention because of his famous father, Kenny Roger.
Indeed, you read it right, Jordan is the young son of the American singer, songwriter, actor, record producer, and entrepreneur Kenneth Donald Rogers. Edward's dad Kenny passed away, which boosted curiosity towards Rogers's family. Because of this, many people on the internet are searching for details about their wives and kids. Now you might be confused when you read "wives," so to clear the confusion, let us tell you Kenny was married five times in his life. Stay until the end of the article to learn about Jordan.
Jordan Rogers is The Twin Son of Kenny Rogers and Wanda Miller Rogers
As we already mentioned, Jordan Edward Rogers is the young boy of the late Kenny Rogers. Kenny welcomed Jordan and his brother Justin Rogers with his fifth wife, Wanda Miller Rogers.
As per Country Rebel, Jordan's parents Kenny and Wanda shared a great love story. And their tale makes us believe that nothing can escape from fate. Would you believe that Rogers fell for Miller at first sight?
Wanda first met her late spouse in a restaurant where Kenny was on a blind date searching for a new life partner, and Wanda was a host at the same place. They were destined to know each other, as at first glance, the late star Rogers fell in love with Miller. He was supposed to bond with some girl on a blind date but got attracted to Jordan's mom, Wanda.
Also, See Ashley McBryde tattoos and Their Meaning.
After ending his blind date, Jordan's late dad called the restaurant and asked for Wanda, 26 years old. At first, Miller didn't believe it. But later on, she returned his call after being convinced by her co-workers. Further, their chemistry matched pretty well, and the couple took marital vows on June 1, 1997.
Jordan Has a Twin Brother and Four Step-Siblings From His Father Previous Marriages
Jordan Edward Rogers' father, Kenny, always gave more priority to his career. And thus, it resulted in the legendary singer spending less time with his family. Due to that reason, Edward's dad always winded up upending his marital relationship.
Thankfully, Kenny met Wanda Miller Roger in search of a life partner who would understand his values and affection towards his passion.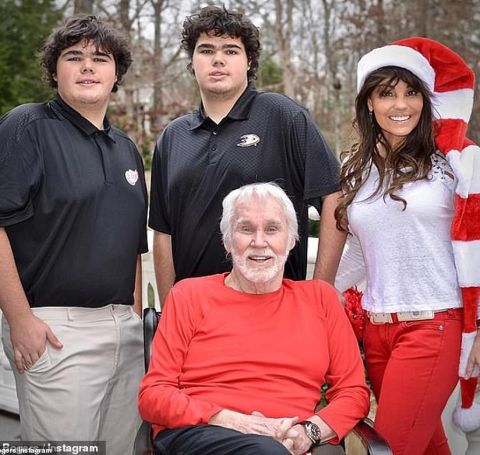 As we explained earlier, Young Rogers's mother, Wanda, was the fifth wife of his old man. As a result, he has four elder siblings in the family after his twin brother, Justin Rogers. The twins took their first breath on July 6, 2004.
According to Heavy, Jordan's eldest sibling is the only daughter, Carole Lynne, born from his father's first wife, Janice Gordon. The pair were together from 1958 to 1960.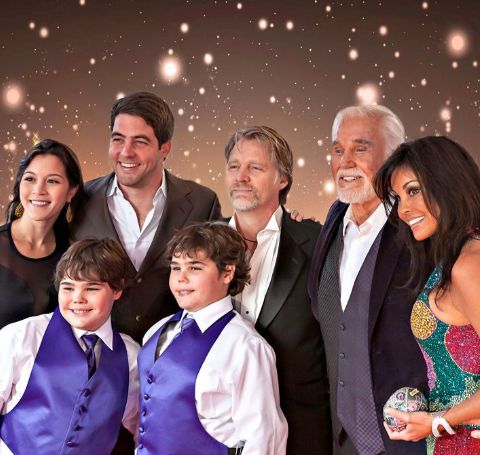 Edward also has a big brother, Christopher Cody Rogers. Christopher is making his career in the Entertainment biz like their pops. Moreover, many know Cody for his work as a director and actor. He is the son of Kenny from his fourth wife, actress Marianne Gordon.
Recommended: High Fidelity Star Nadine Malouf - Some Facts to Know About the Actress
Subsequently, Jordan also got another step-brother, Kenny Rogers Jr., from one of the wives of his late dad, Kenny. However, there are no siblings in his family from his father's second marriage.
The Late American Celebrity Rogers Broke His Heart Thinking He might Not Be Around For His Twins Justin and Jordan
Jordan Rogers late dad, Kenny Rogers, pointed out that it broke his heart to know he might not make it to see his young twins going college in his interview with Independent.
Jordan Rogers Late Father Kenny Rogers - The Gambler
Late Rogers stated,
"Should I bring a child into the world when I know I probably won't be there to share, for example, their 21st birthday?... Someone will be talking about his or her child going to college and it breaks my heart... I knew I wouldn't be there at the prime of their lives. But it's that half-full/half-empty thing because I get so much joy out of my children now, and they are such a blessing to Wanda and me..."
You Might Also Like Jim Nantz net worth - Complete Breakdown of His Salary and Income.
Though 81, Kenny never made enough time for his children from his early marriages. He tried to close those gaps by giving more time to his twins, Jordan and Justin. Edward Rogers late father stopped touring in 2016 to create more beautiful memories with his mother, Wanda, and his twin brother, Justin.
Even Jordan's mother began to spend more time at home, which helped their family to enjoy much time together. Wanda Rogers's Instagram post contains several photos of Jordan and his family sharing precious moments side-by-side.
For more updates and facts related to celebrities, feel free to visit Glamour Fame.
-->