High Fidelity Star Nadine Malouf - Some Facts to Know About the Actress
Published Tue Apr 07 2020 By Bran
Find some of the intriguing facts about High Fidelity Star, Nadine Malouf.
The gorgeous Nadine Malouf is all set to win over hearts across the globe from her appearance in the Hulu series, 'High Fidelity', in 2020. Famous for her works in 'The Volunteers' and 'Odd Mom Out,' there is no doubt that the diva is well-settled in the entertainment industry.
While Nadine Malouf played the recurring role of Cameron's pregnant wife, Nikki Brooks, fans definitely seem to adore the beauty of her versatility in acting. With about a decade in the entertainment industry, she garnered a lot of fame and fortune to establish herself quite well. So, without wasting much time, let us get some interesting details to know more about the actress.
Malouf Holds Dual Citizenship
Nadine Malouf was born on Melbourne and spent her childhood there.
Photo Source: Nadine Malouf
Yes, you heard it right. Nadine Malouf was actually born in Melbourne, Australia, where she spent most of her childhood. Later, she moved to New York, United States, where the table turned rapidly, and she embarked upon her career. Thus, she holds dual citizenship of both the established countries and often visits her birth city.
Recommended: Some Interesting Facts to Know About American Columnist Katherine 'Kat' Timpf
It was at the States where Nadine began her academic journey after joining The Franklin School to perform arts. Later, she received her BFA degree from Syracuse University's Drama Department. Since she always wanted to pursue a career as an actress, she went to the right place, The Royal Academy of Dramatic Arts, in London, which is responsible for producing some of the best actors of recent times.
Nadine Malouf Developed Her Career in Broadway
As a graduate from the Royal Academy of Dramatic Art, Nadine Malouf started upon her career from broadway. Surprisingly, the talented diva's portfolio reads more theatrical works rather than the on-screen records. The actress previously worked in broadway shows like 'Exile,' 'Oh My Sweet Land,' and 'Queens' in several theaters such as Cherry Lane, Play Company, and Lincoln Center, respectively.
Nadine Malouf went to RADA ,London to pursue a career in acting.
Photo Source: Nadine Malouf
The Australian-American citizen displayed some of her finest acting works in Les Miserables in the 25th Anniversary on a National tour as she played the role of a young whore. Besides, the actress is quite active in the stage works even though she is well-accomplished on television with several performances in New York City such as the recent, 'Dead Are My People.' Her broadway performances are often the reasons which got her in several TV shows such as Mona Mansour's The Vagrant Trilogy.
Prefers Living A Lowkey Life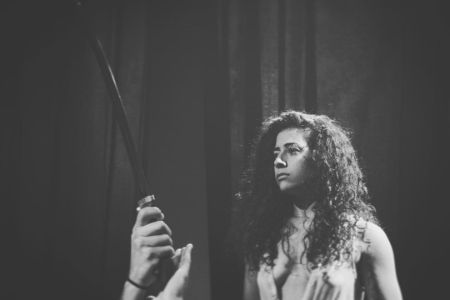 Nadine Malouf prefers to live a lowkey and private personal life.
Photo Source: Nadine Malouf Instagram
Unlike most of the celebrities in the glamour world, Nadine Malouf prefers living a private life, away from all the media hype. Surprisingly, she has less than 600 followers on her Instagram handle. Contrary to most of the artists, Malouf's feed doesn't comprise of flashy photoshoots, but it's a simple profile with her timely travels and pictures.
Also See: Evelina Maria Corcos - Some Facts to Know About Debi Mazar's Daughter
The High Fidelity cast doesn't prefer to be anywhere near the media with interviews. However, she has a website named after her, which gives all the information regarding her latest accomplishments and professional endeavors for the ones who are interested.
Malouf is Multi-Lingual
The Australian-American television actress Nadine Malouf is quite an enthusiast when it comes to learning new languages. With her primary background, it is quite apparent how English remains her first language. However, the High Fidelity star can also speak European languages such as French and Italian. Not just that, Malouf is still at the primary level and knows a little Arabic.
Nadine Malouf can fluently speak English and also knows French and Italian.
Photo Source: Nadine Malouf
The theatrical actress often practices her vocal skills since she regularly participates at several New York reading workshops. Therefore, with the right attitude to learn and delve new experiences, the High Fidelity cast holds the potential to reach the very top of Hollywood, and only time will tell if she does or not.
Nadine Malouf Made her On-Screen Debut in 2011
The star from High-Fidelity made her on-screen debut way back in 2011 in a feature film, titled Shame. Although the start was quite small, since she played a minor role of a girl under the guidance of Director Steve McQueen, it inevitably led to bigger things on her way. Furthermore, the movie did quite well on the box-office, earning around $20 million.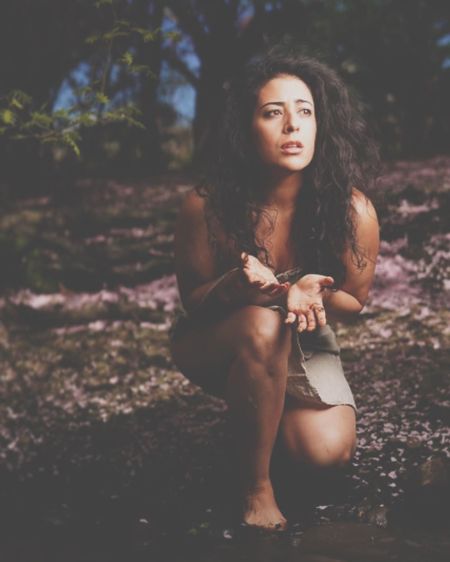 Nadine Malouf is on the recurring cast of the second season of High Fidelity.
Photo Source: Nadine Malouf Instagram
Kudos to an impressive resume from the broadway and the movies, she went on to feature on 'Static Shock Blackout', a short film in 2012. Moreover, the Malouf went on to appear in HBO's 'High Maintenance' and NBC's 'Mysteries of Laura' in the past few years.
Also See: Facts about Nathan Schwandt; Jeffree Star's Boyfriend
Nadine also got the golden opportunity to be one of twenty-five chosen to perform with the 'Les Miserables' cast at the 85th Annual Awards in 2013.
For more news and updates about your favorite stars, please stay connected with us at Glamour Fame.
-->