Jake Paul Losses His First Loss Against Tommy Fury! Fury Vs Paul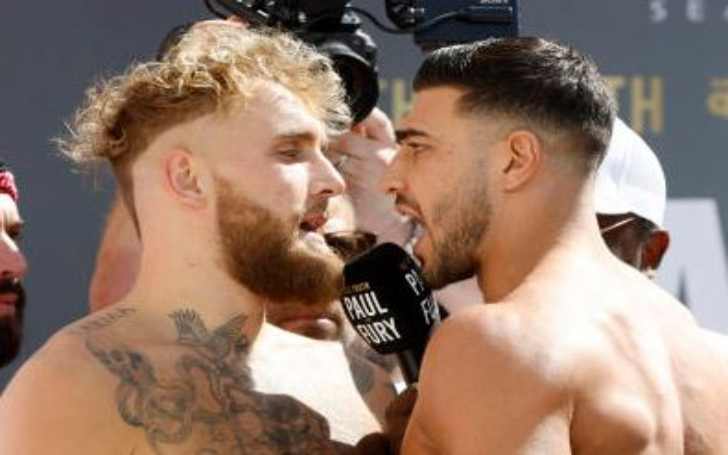 Jake Paul is an American professional boxer and social media personality with a wide range of popularity. From his vine, he rose to prominence and later doubled his fame after portraying Dirk Mann in Bizzardvark.
In August 2018, he began his boxing career and has fought with several known names from the industry. Throughout his career, he has been part of massive controversy due to his unexpected deeds for fun and popularity. Now let's know more about the YouTuber Jake Paul and find out amazing facts.
Jake Paul Losses His First Loss Against Tommy Fury! Fury Vs. Paul
After several successful battles with many boxers worldwide, Jake Paul faced his first defeat. Paul took an L by the Love Island star, Tommy Fury. Fury vs. Paul happened after an almost two-year-long online beef.
The Jake vs. Tommy bout was scheduled on 18th December 2021, which didn't happen due to an injury. However, the fight took place between the former UFC Welterweight Champion Tyron Woodley and Paul instead.
Paul and Woodley fought a rematch in Tampa, Florida, where the social media star KO Tyron was in the 6th round of the game. ESPN even awarded the KO as knockout of the year. Later, Fury and Jake's fight was again scheduled on 6th August, which was also canceled due to travel issues.
It was announced that Hasim Rahman Jr., an American professional boxer, would fight Paul but canceled due to weight issues. On 26th February 2023, the main event between two reality stars happened in Saudi Arabia with Mike Tyson as a guest.
Tommy bagged the bout via split decision, but both gathered massive applause. Millions tuned in to watch the brawl between Jake and Fury. Despite the Loss and broken arm, the YouTuber gathered positive responses from the crowd.
Joining MMA With the Professional Fighters League
The hardworking personality, Jake Paul, started his boxing career as an amateur by fighting Deji Olatunji, the brother of the KSI. Paul won through technical knockout in the fifth round. Paul made his pro debut in 2019 by fighting fellow YouTuber, AnEsonGib. Jake bagged the fight through TKO.
Paul then fought with professional basketball player Nate Robison and One Welterweight Champion Ben Askren. Both matches went on the YouTuber victory list, which helped him shine in his boxing career.
With the success of his sports career, it was announced that he had signed a multi-year deal with Professional Fighters League. Paul is training in Brazilian Jiu-Jitsu to make his MMA debut with ADCC. We can see Jake tackling his MMA career with strides thanks to his incredible skills.
Who is YouTuber Jake Paul Dating? Know About His Relationship Status
YouTube star Jake Paul is often part of the massive buzz for his career. Paul equally generates a spotlight from his relationships and affairs. Currently, he is in a romantic relationship with his girlfriend, Julia Rose. She is an American reality star best known for appearing in MTV's Are You The One? Also, she is an Instagram star with over 1 Million followers.
Taking a deep dive into Jake's love life, the duo started their sweet romance in late 2019s! Paul revealed the start of his relationship with Rose in the Night Shift podcast. Then the boxer introduced his girlfriend to the world through a vlog. Despite so much love, the pair faced several ups and downs.
Julia and her boyfriend, Jake, often feature in one another's social media posts, where they are seen spending quality time. However, since late 2022s, they haven't uploaded pictures. This made everyone think about the end of Paul and Rose's romance. But the celebrity couple hasn't yet confirmed the news. Also, they had still photos of one another in their respective Instagram grid.
Divorced With Social Media Star, Tana Mongeau
Jake Paul and social media star Tana Mongeau were the most highlighted internet couple in the past. The former duo started their love journey in April 2019 and had a great connection. Soon they began appearing in several public places together, showcasing their sweet romance. They even featured in one another's social media and doubled their popularity.
After dating for only two months, Jake and Tana decided to wed. In June 2019, the boxer proposed to his love of life on a romantic date that was not believed by their fans called it fake. On 28 July 2019, the pair announced their marriage to their haters and supporters alike.
They accepted one another as lifelong partners on a boozy Las Vegas night. Several media claimed that the wedding was not legit and their marriage was not licensed. With so much going on in their love life, they announced their split in January 2020.
Lavish Lifestyle of Professional Boxer, Jake Paul
For the social media star turned boxing prince is living a lavish lifestyle. Paul is accustomed to luxurious cars, watches, shoes, and dresses are his daily used products. Jake enjoys an estimated net worth of $40 Million as of 2023. Paul made all of this possible with his incredible YoutTube and boxing career.
Through boxing events, merchandise, YouTube, and brand endorsement, he makes over $20 Million annually. That made him one of the highest-paid social media stars in the globe.
In 202, Paul made $38 Million, according to Forbes, making him the 46th highest-paid athlete. Jake's 2023 is still going smoothly. Moreover, he earned over $3 Million unforgettable fight with Fury.
Jake Paul Sold California Mansion with Almost Million Dollar Loss
For a 15,000 sq foot Calabasas mansion, he paid $6.935 Million in 2017. The home is an absolute masterpiece with a three-story entry. And Paul's place is full of Italian tiles. Along with that, it includes eight bedrooms with a wood accent master bedroom.
In January 2021, he listed that particular property for $7 Million. Three months later, in April, he sold it with an almost million-dollar loss of $6.15 Million. The boxing stars also own several homes around the states worth multi-million. As of now, Jake is enjoying a lavish lifestyle.
For More Content, Visit Glamour Fame
-->