YouTube Stars Tana Mongeau And Jake Paul Are Officially Married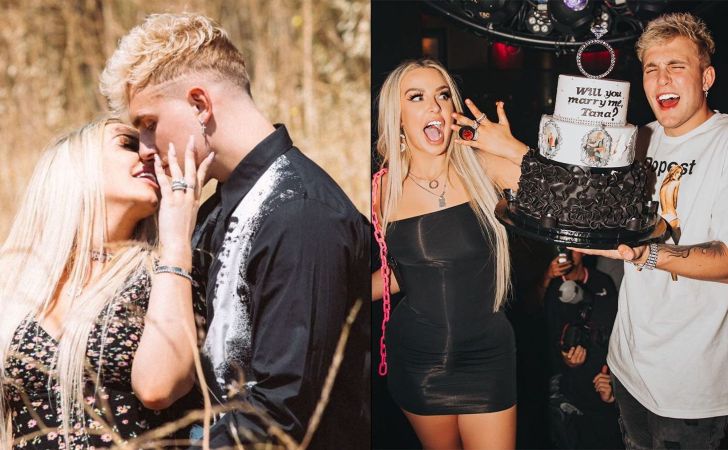 Sorry girls, Jake Paul is officially married to Tana Mongeau.
The famous Youtuber, Jake Paul, and the brother of Logan Paul, is 'Officially' married to Tana Mongeau.
It was only last month Paul proposed Mongeau as she was celebrating her milestone birthday in Las Vegas, the 22-year-old youtuber brought Mongeau on stage at Drai's Nightclub and popped the question.
The newlywed couple tied the knot on Sunday, 28 July 2019, in an unpleasantly jarring pomp which saw the pair's cadre of friends fly out to Las Vegas for the occasion.
Also See: YouTubers Jake Paul and Tana Mongeau Says They are Engaged; Is it true?
Tana posted plenty of Instagram stories showing her and Jake as they were getting ready for the big night.
The couple did not stop sharing the picture until they finally boarded for the flight to Sin City with their friends. The newlywed couple with their friends was seen having a wild time as they prepared to tie the knot.
And could you believe it, the couple live-streamed their big day, however, fans who wished to watch, had to pay as it was a PPV (pay-per-view) streaming of the wedding.
Tana Mongeau took to Twitter and officially announced her fans they (Jake and Tana) "had officially gotten married."
Also Read: Jake Paul And Tana Mongeau's Engagement Claimed To Be 'Fake' After Video Emerges
The American Internet personality further went on explaining how a 'FIGHT' broke out at the ceremony.
The 21-year-old American singer wrote, "Someone just threw a glass of champagne at jake and I at the f**king altar holy f**k HAAHAHAHAHAHA. jana don't need no press," she tweeted. "Wow. just married. honestly made it better.... to slow dance while they scream. i love you @jakepaul."
Recommended: Bella Thorne Splits from YouTuber Tana Mongeau but is Still with Boyfriend Mod Sun after Dating Both Simultaneously
People can come up with some weirdest ideas to celebrate, but anyways, this was the first marriage for both the star and we could not be any happier for them.
-->