YouTubers Jake Paul and Tana Mongeau Says They are Engaged; Is it true?
Published Wed Jun 26 2019 By Chester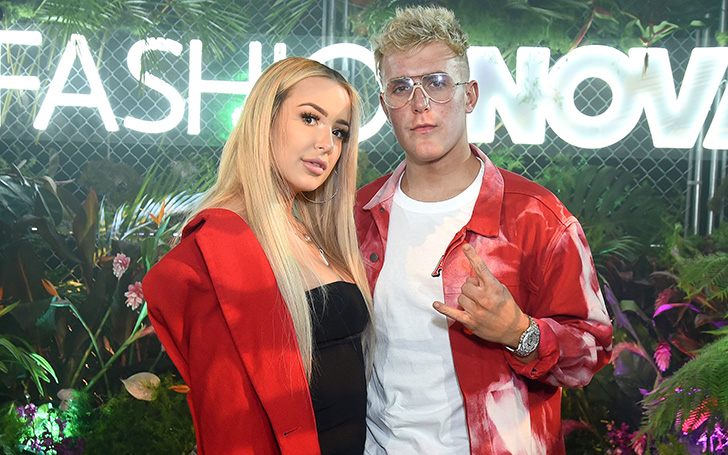 Are Youtubers Jake Paul and Tana Mongeau really engaged! Learn, the real fact.
During the weekend, Youtube stars Tana Mongeau and Jake Paul announced the auspicious yet shocking news about their engagement.
It has not been even a month since the two lovey-dovey shared those special three little words and the news about their engagement pops in!
The news did not only raised the brows of millions of their fans but also led majority of people come with various questions, is it for real, are they really engaged? Well before we jump into their relation and come up with any conclusion, let's find out if they are really engaged.
Well before we dig, let us enlighten you with a short description of the two adorable love birds.
Who is Tana Mongeau and Jake Paul?
Well, Tana is a Youtube personality who often posts intriguing contents on his official self-titled youtube channel. The 21-year-old star is also a rapper who has delivered some of the hit songs like 'W' and 'Hefter'. She has around 4.5 million subscribers and counting.
SOURCE: Seventeen Magazine
On the opposite, Paul also shares the same profession as her love. He is also a Youtube content creator who often posts vines, naughty videos of them doing goofy stuffs. Moreover, he is also a musician with some of his hits like 'Jerika', 'I Love You Bro' and others. Paul firstly came into prominence for playing the role of Dirk on the Disney Channel series 'Bizaardvark'.
Is their engagement real?
Well, on Monday 24, June 2019 the partner in crimes announced the news of their engagement sharing on social media. Tana Mongeau twitted,
"Jake just proposed me" Soon after the news was shared it was then viral all over the internet leaving fans bamboozled.
Backing up a bit, Paul proposed Mongeau past weekend while two were in Vegas for Mongeau's 21st birthday where he gifted her a Mercedes-Benz.
Well the fun and excitement filled party turned out to be more special as 'Litmas' hit maker proposes the love of his life Tana with a surprise cake iced "Will you marry me, Tana."
Check out the surprise proposal!
On Monday, Mongeau took it to her Instagram saying the two were engaged showing off her new ring and the surprise post.
People were understandably suspicious but Mongeau tweeted that she was not joking posting multiple tweets which reads,
Another Tweet the star posts,
When critics came with Jake's previous controversies citing his unruly and inappropriate behavior, Jake took to his Twitter,
Since the news is now confirmed by both the stars, and Tana series of posts testimonies that it's more than just a drunk dialing.
Well, we would like to congratulate both the stars for their engagement and wish for a prosperous life ahead.
-->