James Corden Claims Chubby People 'Never Have Sex' On TV Or In Films
Published Wed Apr 03 2019 By Andrew
Chubby people not provided romantic roles on small or big screen claims James Corden.
James Corden recently put forward a claim that "fat" actors are not provided with leading roles in romantic films and television programmes.
During an appearance in David Tennant's podcast, the Late Late show host said "chubby" actors were stereotyped as funny friends while denied privilege for starring romantic roles.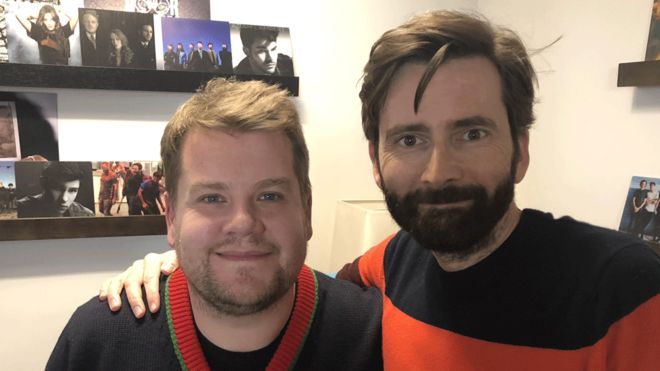 James Corden and David Tennant engaged in some fulfilling conversation.
SOURCE: BBC
He confined in the former Doctor Who star, stating that if aliens were to visit this planet, they would definitely believe that full-bodied people "never really fall in love" from the way they are represented in TV and films.
Don't miss: Florida Model Sentenced To Four Years Probation For Repeatedly Kicking Her Dog
Corden said during the talk,
"You never have sex, certainly no-one ever really finds you attractive. You'll be good friends with people who are attractive and you'll often be a great sense of comfort to them, and that's really how it feels."
He added,
"As you get older, you'll probably be a judge in something or you'll be dropping off a television to a handsome person in a sitcom."
Wondering what was the inspiration behind Corden writing Gavin and Stacey? He revealed having not been provided a chance to shine in romantic roles was one of the major factors.
Also read: Emilia Clarke Told Her Mother The Ending of 'Game of Thrones'
He expressed,
"I had no idea if I'd be able to write. It came about because I had done a film with Shane Meadows, I'd done a Mike Leigh film and done Fat Friends on ITV."
The talk show host further elaborated,
"And now I was in this play, which was the play to see [The History Boys]. And I was in this play with seven other boys who were at a similar age and a similar place in our careers."
As James confesses about his thoughts on chubby people not provided romantic roles, fans can't help but feel for their favorite TV show host.
-->