Did James Corden Undergo Weight Loss? Find Out All About It Here
Did James Corden Lose Weight? Read The Complete Facts Here!
Widely known from CBS's late-night show, The Late-Late Show With James Corden, and its recurring sketch Carpool Karaoke, James Corden is best known as a host and an actor, singer, comedian, and producer.
Born to Malcolm and Margaret Corden, his father was a musician in the Royal Air Force band, and his mother was a social worker. Corden claims following a drama course, it took him eight years to land his first job, a one-line part of the 1996 musical Martin Guerre.
Apart from his career, people are also interested in his personal life. Lately, they have been curious about his gradual weight loss in just two months. Corden took it upon himself to share the secret with everyone. Continue reading to find out.
How Much Weight Did James Corden Lose?
The late-night host has kept his struggle with the weight public up till now. Growing up a chubby kid, Corden admits to feeling insecure because of his weight. The 42 years old has been on a journey to drop some pounds and embark upon a healthier lifestyle for years, but with little result.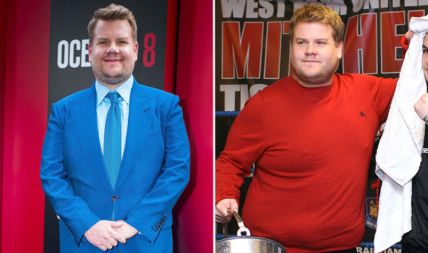 James Corden credits WW (weight watchers) for his incredible weight loss.
Photo Source: Express
Corden says, "I've done every single diet in the world. I've done them all and what I've realized is the notion of going on a diet is wrong," he had joined WW, formerly called Weight Watchers, in January. The host claims WW changed his life. Corden is married and has three kids; he shares that his kids were the main reason he tried hard to drop some weight and set an example of a healthier lifestyle.
Check Out: What is Josh Duggar's Net Worth in 2021? Here's the Breakdown
Talking with Oprah Winfrey earlier this year, Corden said, "With WW, it's a different story, I can eat what I love, and the app everything, it keeps me focused. And guess what? I'm down 20 pounds since the start of this year."
James Corden's Married Life and Children!
A winner of nine Primetime Emmy Awards, Corden married his wife Julia Carrey in September 2012 in Somerset, England. Carrey was an aspiring actress and a TV producer at the time. The two reportedly met through their mutual friend, actor Dominic Cooper. Corden tells he made a bold move when he first met Julia, and it worked.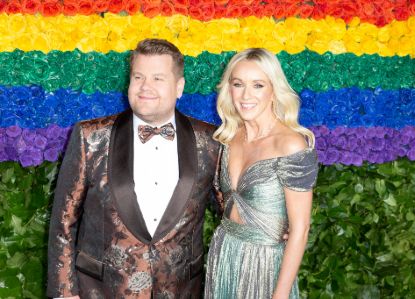 James Corden married TV producer Julia Carrey in 2012, and the duo today shares three kids.
Photo Source: Al Bawaba
The duo met when they were mere aspirants in Hollywood with big dreams. The late-night host tells his wife has been instrumental in his career. The couple is doting parents to three children, namely, Max, 10, Carey, 6, and Charlotte, 3. The Corden family currently lives in their £19 million five-story home in Malibu beach.
James Corden Faces Major Backlash!
Fans have taken on Twitter to express their reproval against James Corden as the host for the upcoming 'Friends Reunion.' As the date for the most-awaited sitcom Reunion was announced, fans couldn't have been more thrilled.
James Corden to host the upcoming Friends Reunion, and fans aren't happy.
Photo Source: Pinkvilla
But when the news popped that Corden is the decided host for it, fans described it as a buzzkill. One wrote, "I'm sorry if this isn't brand new information but why in the fresh hell is JAMES CORDEN hosting the part of the Friends Reunion?"
Don't Miss: Did Kevin James Undergo Weight Loss? Find Out All About It Here
While many thought it was unfair for Friends fans and the sitcom's many Alums to appoint Corden as the host, considering he had no connections with the show in any way. Fans pointed out that Paul Rudd, Brad Pitt, Bruce Willis, Reese Witherspoon would've been better optioned than Corden.
For more information and news on your favorite stars, stay connected to Glamour Fame.
-->