Jamie Foxx's New Girlfriend Sela Vave Is Just 21; When Did They Begin Dating?
Published Mon Sep 16 2019 By Chester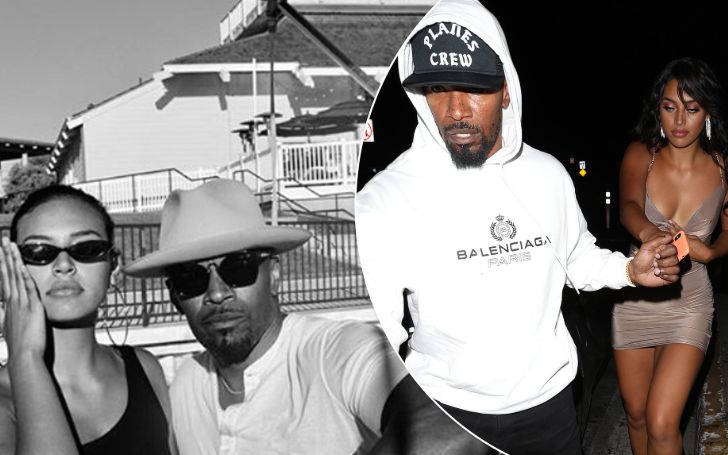 Learn the facts between the bewildering relationship of rapper Jamie Foxx with his new sexy talent-artist Sela Vave.
The internet is gossiping over the unusual chemistry between the 51-year-old actor/singer Jamie Foxx dating the 21-year-old model Sela Vave.
Jamie, who recently ended up his six-year-relationship with Katie Holmes is trending all over for his alleged relationship with new girlfriend Sela. In fact, the head over heels are not shying away to express their affection despite their age gap; but in a goofy and suspicious way.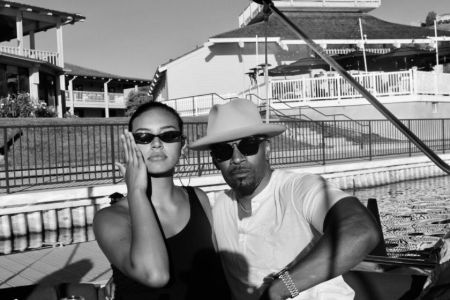 SOURCE: Sela Vave Instagram (selavave)
Taking to her Instagram, alongside the racy snap, the actress shared few remarkable words which read, "I am so grateful to this man! Thank you so much @iamjamiefoxx for everything you do and for believing in me. #feelingblessed 🙏🏽"
On the other hand, Foxx exclusively shared about his feelings for Sela in an interview where both the 'couple' appeared together in LA's Power 106 FM. The clip later was later shared by Sela on July 20, Saturday.
'Blame It' hitmaker described his baby girl sharing few mesmerizing words which reads,
I had the amazing opportunity to be on air @power_106 and talk with @justin_credible @iamjamiefoxx @daveophilly and @jyoungmdk it's seriously such a blessing to be surrounded by and learn from some of the best in the business. I'm constantly in awe of their talent.
Over the timeline, the rapper initially tried to shut all the gossips about them citing he does not date a girl who is same as her daughter. But witnessing all their snaps and moments, who won't gossip about them!
When Did Jamie Foxx & Sela Vave Begin Dating?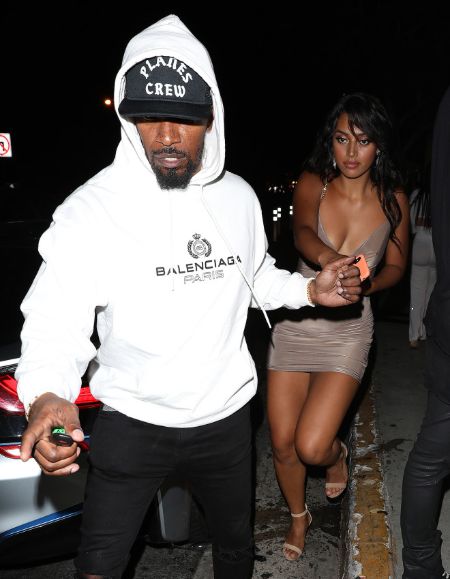 Foxx spotted leaving the Bootsy Bellows nightclub with Sela Vave.
(SOURCE: MEGA)
The speculations and gossips started after the lovey dovey were spotted together at the Bootsy Bellows nightclub in L.A. on August 17, Saturday.
And interestingly it was days before US Weekly confirmed about the rapper ending his relationship with Kate. As per sources by Page Six, Holmes was heard discussing the situation with some friends saying they had been together for months now.
But both Jamie and Vave seems to be still hiding their feelings under the rock from the mass and media outlets.
Instead Foxx backfired the rumors saying
When I met Ed Sheeran, I didn't know him from Adam. He slept on my couch for six weeks. He ended up going on to do great thing. Nick Cannon was 13 years old. He used to sleep in my old house. [When] he was 13, my sister used to let him come in 'cause he was partying too hard. Before Ne-Yo was Ne-Yo, he would come to the crib. Everybody come to my crib — no matter who you are.
The 'Just Mercy' actor continued, "There was a young lady by the name of Sela Vave. I did the same thing with her. When I met her, my friend introduced me to her."
The moment Foxx saw her he said, 'This girl is amazing.' So, she's on my steps, singing Beyoncé, broken down, she's playing the guitar. I said, 'How the f–k? When did this happen?' So we took her under our wing."
Apart from all the tittle-tattle, Foxx really seemed to be helping Sela to turn her dream into reality. As she shared some snaps of her working on a studio.
Source: @selavave Insta Highlight.
So, guys what are your opinion towards their mystifying relationship?
Are they cooking something? Seems like it though. Stay tuned and connected to find updates on the news.
-->