Jamie Otis and Doug Hehner of 'Married at First Sight' Revealed Sex of Their Baby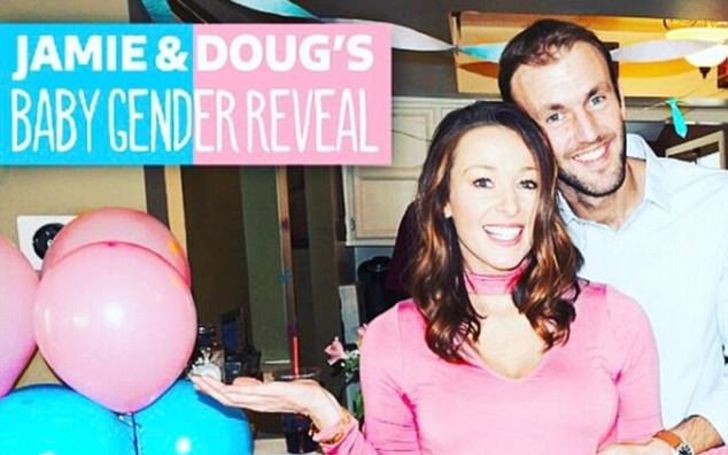 Jamie Otis and Doug Hehner are going to welcome baby number second.
Jamie Otis and Doug Hehner are sure excited about their second baby. The celebration just does not stop for the 'Married at First Sight' couple. The two recently hosted a gender reveal party with friends and family.
The couple who got married in 2014 during the season one of the 'Married at First Sight' welcomed their first baby, Henley Grace, in 2017, and now after two years, they are expecting a second child.
Watch: Official Baby Gender Reveal!
The couple also took to YouTube and shared a six-and-a-half-minute video on their gender reveal party. During which we found out, the couple will have a boy.
As seen on the video, Henley picks the colored egg and hands it to mother; Jamie then breaks the eggs on Doug's head, which was messy but revealed the gender of their second child.
"It's a boy!" Jamie yells and cheers erupt from the pair's family and friends.
Jamie said, "Doug instantly cried tears of joy. Our first baby was a boy, but we lost him at 17 weeks. Of course, he loves our daughter, but he's wanted a baby boy so badly for so long. This is truly an answered prayer for us."
Jamie, who had faced miscarriage earlier, faced it again after Henley was born. The reality star disclosed she had lost another baby at ten weeks in January 2019.
Watch: *WACKY* Gender Prediction Tests!
Jamie said, "For me, I can honestly say I was, and I am still just praying for a happy and healthy baby. I didn't care if it was a boy or girl -- please just stick and be healthy. Of course, Doug wants that too, but he was begging God for a boy who'd stick and be healthy. With our last boy pregnancy, I was planning the 'gender reveal' around this time, and then literally, a week and a half later, I delivered him. Far too early to survive. And it was the most excruciating experience of our lives."
Jamie continued, "With this pregnancy, we've seen the fertility specialist from the very beginning and graduated to our OB. I've had zero bleeding/cramping with this pregnancy, so I am confident it is a healthy baby -- at least I try my best to stay confident. I am so excited to be able to carry a baby again but also "a little scared."
Certainly, this news brings a lot of joy to the couple; moreover, Henley will have her baby brother that will just make the family perfect.
For more information on your favorite celebrities' lifestyle, stay tuned to Glamour Fame, and don't forget to sign up for the newsletter.
-->