J.D. Harmeyer's Wife Jennifer Tanko - How is their Married Life?
J.D. Harmeyer is a well-known actor and director (born in December 1979). If you ask us, the movie 'Supertwink' is the most recognized work of him.
Recently, J.D. Harmeyer is famous as a media producer of 'The Howard Stern Show.' However, we are not here to discuss his career, as we all know, it is exceptionally good. There's something more interesting to know about this amazing person. Let's find out about his married life.
J.D. Harmeyer is Married to Jennifer Tanko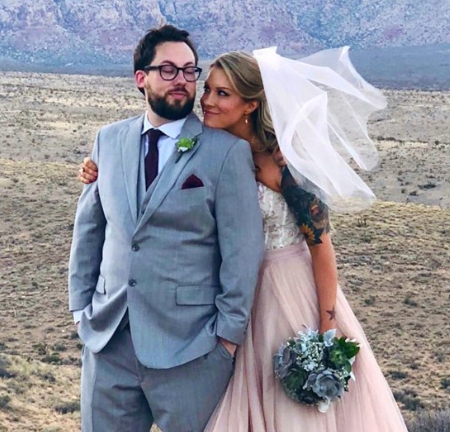 J.D. Harmeyer and Jennifer Janko tied the knots on August 25, 2019.
Source: Instagram
J.D. Harmeyer and Jennifer Tanko Harmeyer tied the knot in 2018. While there was no exact date when they started dating, J.D.'s colleague, Howard Stern, always used to drop hints about his love life. According to the reports, the couple moved in together in 2016.
After a year, the couple announced their engagement in February 2017. Again, Howard helped his pal, Harmeyer, to draft his vows for a wedding on air.
Recommended: Who is RHOC star Gina Kirschenheiter Dating?
The actor/director, however, did not invite his 'The Howard Stern Show' colleagues to the nuptials. But all the members sent their best wishes to the couple on their special day.
According to the reports, the couple decided to go far away from the regular crowd and went to Las Vegas to tie the knots on August 25, 2018. The couple invited only ten guests, including their family.
J.D. Harmeyer and Jenn Tanko were Recently on Their Honeymoon
J.D. Harmeyer and Jenn Tanko were on trip recently.
source: Instagram
Recently, J.D. Harmeyer and Jennifer Tanko were on a trip to California in September 2019. It seems the couple was on their honeymoon year after their marriage.
While Jenn enjoyed being on the sun, as she was seen jet skiing and sunbathing at the beach, J.D. was in a different mood. He just sat there fully clothed at all times.
Also Read: Workin' Moms Star Jessalyn Wanlim - Facts About Her
When asked why he joined his wife on the fun, J.D. replied he did not want to show off his body because it's not that great. The director, however, enjoyed his visit to Napa with his wife.
The couple even bought a $100 bottle of red wine as a souvenir, which they are certainly going to place on the cabinet devoted to their burgeoning collection of wine bottles.
The couple began their trip from New York and stayed at the new TWA Hotel at New York's JFK Airport. Later, they took a hike to Yosemite National Park. By what it seemed, the couple enjoyed their trip.
J.D. Harmeyer and Jennifer Tanko are the Polar Opposite, but They Make the Cutest Couple
J.D. and Tanko makes the cutest couple.
Source: Instagram
While it's apparent J.D. Harmeyer and Jennifer Tanko are polar opposite as Jenn is a CrossFit trainer, teacher, yoga instructor, gym enthusiast, J.D. is never likes to move his body. He barely takes a walk on the park, and he really doesn't care about diets at all.
If you check Jenn's Instagram account, you will be surprised to see how active person she is. After seeing her posts, you might be left wondering how did they even end up together. However, Jenn is happy for what she has got, and even J.D. seems to enjoy Tanko's company, so the couple seems to be in a good place.
The pair enjoys dates together, the two are pretty much occupied with their own things, and they support each other for that. All we can say is, the two make the perfect couple despite their differences.
For more information on your favorite celebrities' lifestyle, stay tuned to Glamour Fame, and don't forget to sign up for the newsletter.
-->