Jeffree Star Tattoos - Learn the Story and Meanings
Published Tue Dec 24 2019 By Alizeh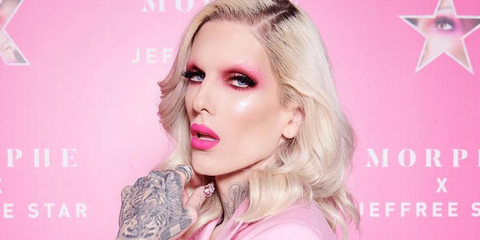 The American makeup artist/Youtube beauty guru Jeffree Star is known for his extravagant persona and controversies. Before being famous on YouTube, Jeffree was Myspace-famous.
Jeffree used Myspace to promote his music career, eventually becoming the most followed person on there by 2006.
Star launched his beauty brand in the fall of 2014, and each product has been nothing short of viral ever since.
'Jeffree Star Cosmetics' today offers a range of lipstick, eye pallets, highlighter, concealer, and other beauty products; the makeup brand is up there in the list competing with famous brands like Kylie Cosmetics, Fenty, Mac and others.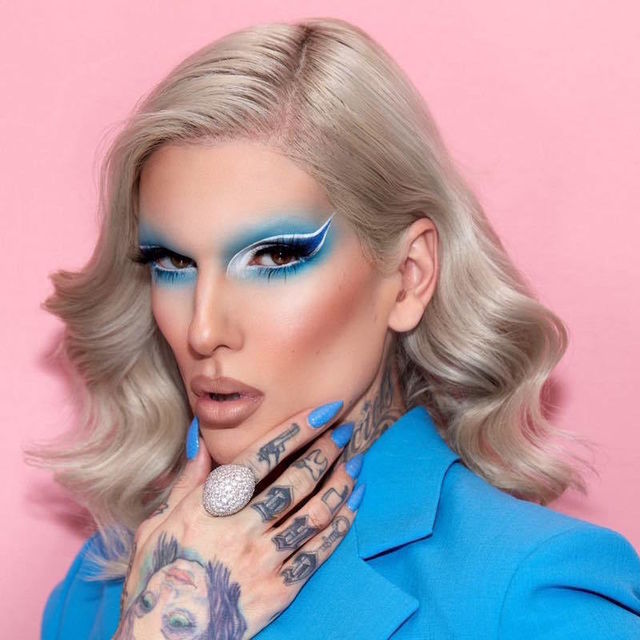 Jeffree Star Photoshoot.
Source: Revelist
Not only is he known for his skills when it comes to makeup, but he's also recognized for his singing, modeling, acting, and, of course, his celebrity friendships and feuds.
Another prominent thing about Star is his tattoos, which covers his body. Star has over 100 tattoos on his body, so let's dive into the string of symbols on Jeffree and know what it means.
Jeffree Star Tattoos
Starting with the portrait tattoos Star has on his chest area from left to right are of Actress Audrey Hepburn on the left, Nirvana singer Kurt Cobain and Elvis Presley. Star also has a portrait of his grandmother on the neck, cat women on his right arm, Johnny Depp as Edward Scissorhands, Princess Diana, The Mona Lisa, Girl from Wednesday Adam and other multiple portraits of celebrities.
Star's chest tattoos.
Source: Inkedcartel.com
Patrick Bateman from American Psycho on the right side of his rib cage. He loved the movie Jaws; it has one of the most iconic movie posters in the history of American culture.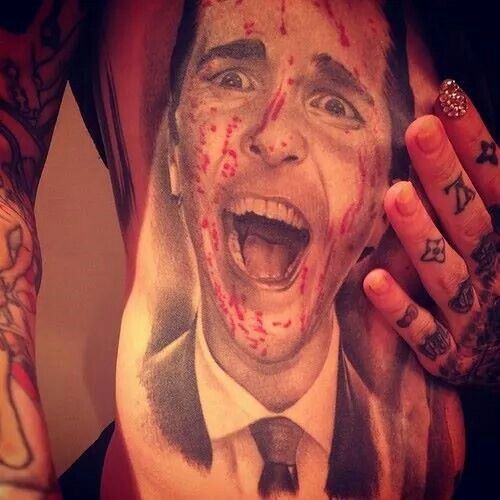 Jeffree's Patrick Bateman Tattoo.
Source: Pinterest
The tattoo right above Jeff's private area reads REDЯUM. Jeff named one of his liquid lipstick lines after it. Star also has a Pennywise Tattoo.
Jeffree star Arm tattoos
On his right forearm, Jeffree got a matching tattoo with his best friend Brittney that says #TAAC. TAAC stands for "There's always a catch." Star got a 666 tattoo while having a party at Kat Von D's tattoo shop, and everyone understood this tattoo even Kat Von D. On his right elbow, Jeff got an unfinished tattoo of a lollipop sucker. It supposed to be a rainbow-like the ones from the circus, Disneyland, or carnivals.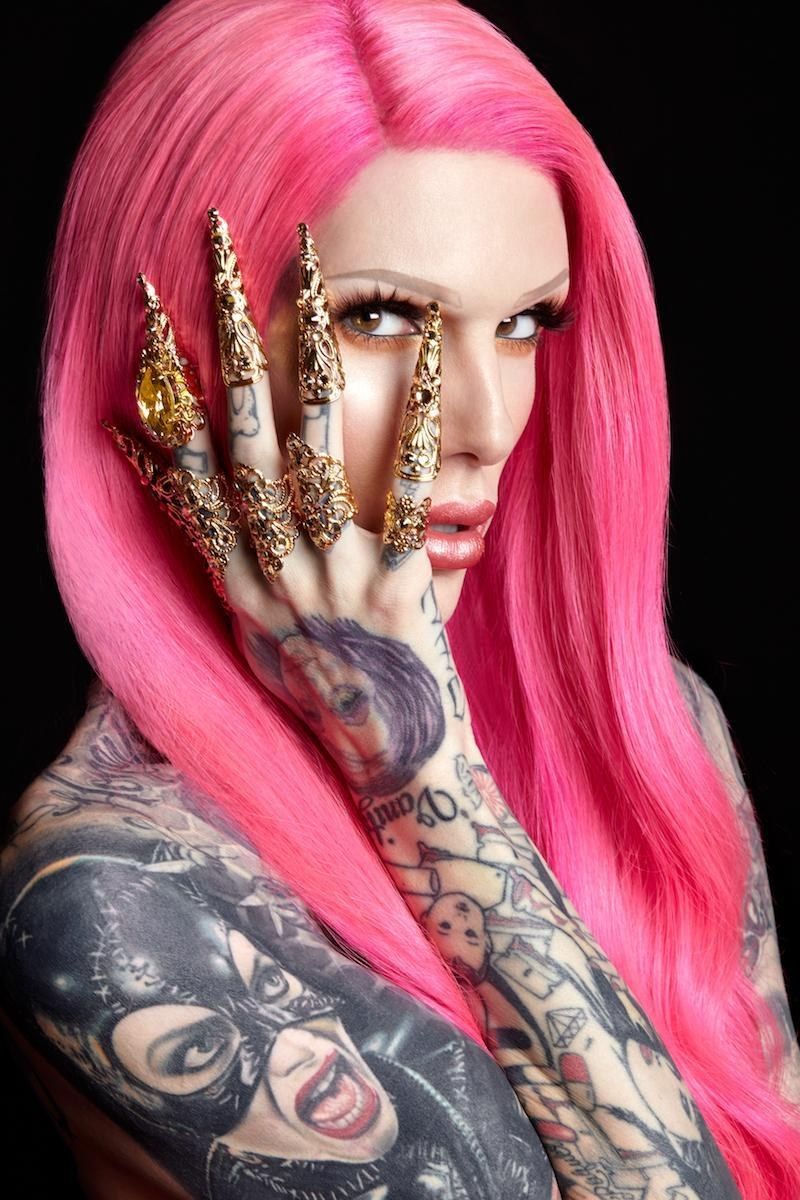 Jeffree star's full sleeve tattoo.
Source: Pinterest
One of his favorite tattoos is the iconic MAC Lipstick on his right arm. Jeff got his first ever job at MAC when he was 18; the real tattoo symbolizes the journey that he is on right now with his beauty products.
Jeff got the word Vanity tattooed on his right wrist and the side of his hand.
Jeffree star's hand tattoos
Star's got a tattoo of tiger and cat on his hands which are symbols of power and strength. These represent a free spirit or independence. Along with these positive connotations, the tiger can also symbolize danger, vengeance, or punishment.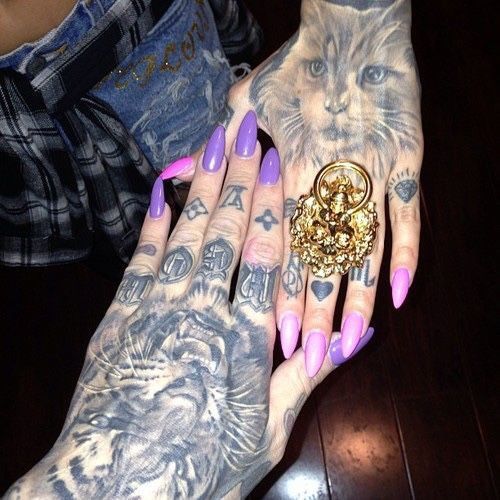 Jeff's Hand Tattoos.
Source: Pinterest
Jeff got the word "Fame" tattooed on his right hand. He got it in the memory of the singer David Bowie.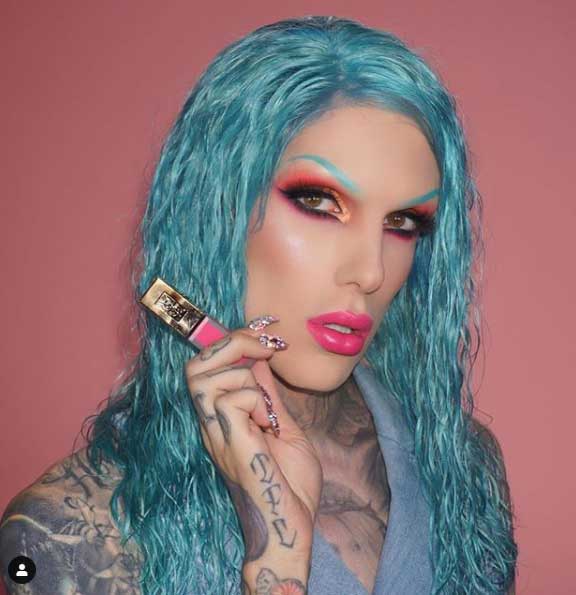 TFC Tattoo.
Source: Tattoomenow
The artist has TFC on his hand; TFC is the acronym for Top of The Food Chain. One of Jeff's music artist friend Hi-Tone created this catchphrase for his brand. It is a reminder for him to grow more internally to be on top of his game and be the best of him.
Jeff Star's Knuckle and finger Tattoos
Star's knuckle tattoos say, "Cat's meow." That's what his grandma used to call him. She meant him being a little shit by it.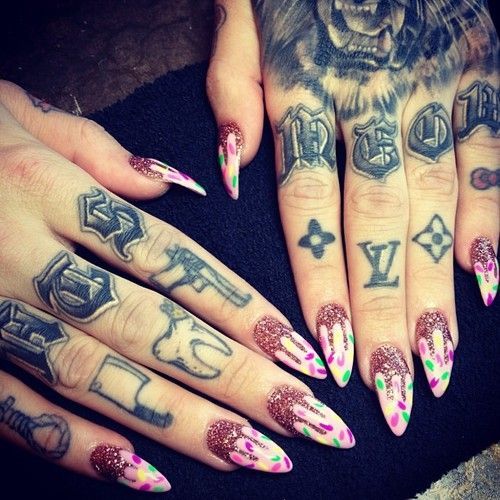 Jeffree Star's Knuckle tattoos.
Source: Pinterest
On his finger, Jeff got some tiny tattoos of a Rope (from the game clue), butcher knife, tooth, a gun, and ice cream. The rope is from the board game called Clue.
Watch: Jeffree star explain his Tattoos

The butcher knife is for the very first song he ever wrote, "Eyelash Curler and Butcher Knife." The tooth is for all the crazy dental work he had got. The gun is a Desert Eagle for his dad, who used to be a marksman.
Jeffree's sugar addiction
Jeff's love for sugar is very evident in his videos and tattoos. He expresses his love for sweets almost all the time while munching on candies and getting inked.
The artist on his left neck has a double scooped ice cream with the word 'Delicious' over it. Also, the youtuber got a black Pomeranian and named him delicious as well.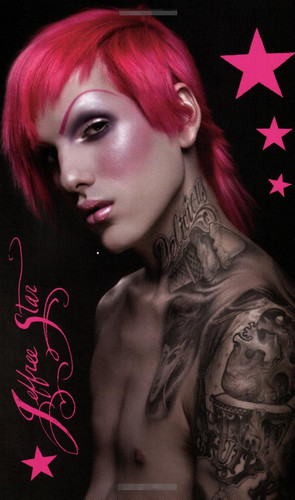 Jeff's 'Delicious' Tattoo.
Source: Fan pop
Jeff's got a little ice cream on his thumb, the lollipop, and other tiny ones that represent his love for sweets.
The truth behind Jeffree Star's Tattoos
The 34-year-old has always been a badass with a lot of confidence and over the top reactions to things. Star's never afraid to clap back at people. However, when Youtuber Shane Dawson started a series with Jeffree called 'The Secret World of Jeffree Star, ' giving us all a peek at Star's life. In the finale, Star disclosed a very dark secret about himself.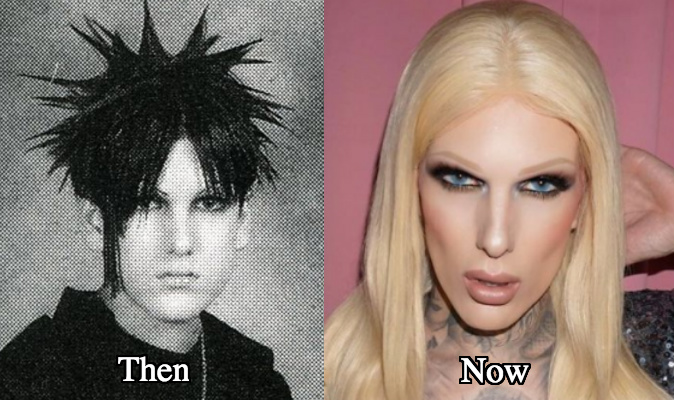 Jeffree in his highschool days and now.
Source: Larkin grp
When Dawson and Star visited Star's old apartment, they both sat and discussed Star's emotional past. Star explains that he spent his high school years wearing full sweaters and pants, even in 90-degree weather. But none of his classmates ever bothered to ask him why.
The reason he was always fully clothed when he was young is that he was cutting his entire body with X-Acto knives, razors, and even butcher knives. Later, when he overcame that dark period in his life, he decided to tattoo his whole body to cover the scars.
Find out: Is Jeffree Star 'Lying' About His $2.5M Robbery? Fans Seem Convinced!
He also has scars on his wrist and covered them with a tattoo of a young Jeffree Star, a.k.a. Jeffrey Lynn Steininger. Star further adds that his whole body is covered in scars because back then, he didn't know how to express his feelings.
Star explains that he is not ashamed of it and hasn't done it actively in 10 years. It was a coping mechanism for him because he didn't feel any emotions.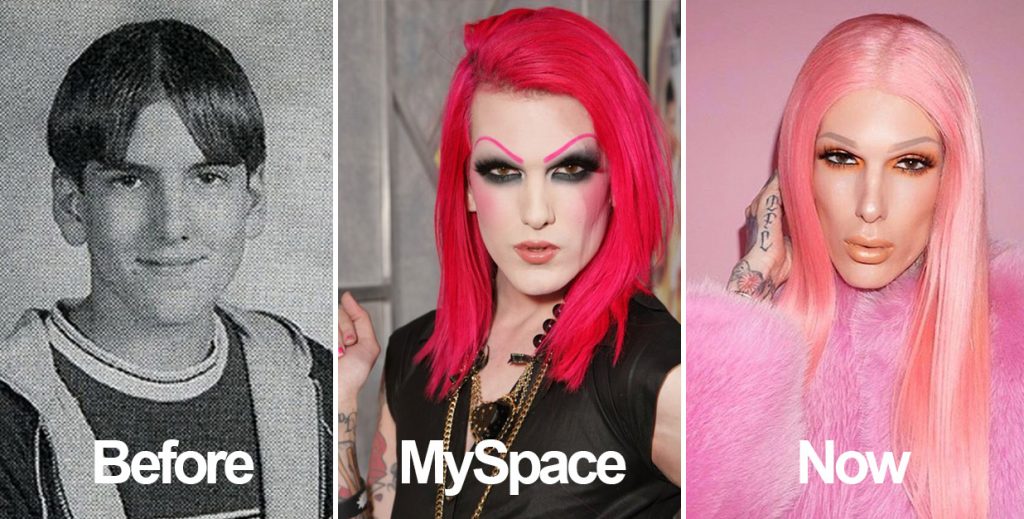 Transition of Jeffree Star.
Source: Mogul Pedia
A lot of his scars are now faded, but some were so deep that they went into his muscles and bones. And in the video, he removes his pants and shows that there are around 5,000 scars on his legs.
Covering up his body with tattoos is like a reborn for Star from a painful past. Star is scared to talk about cutting himself as he doesn't want people to use it against him.
Watch: Truth about Jeffree's Tattoos
It takes a lot of courage and strength to open up about a painful past and let people know what he went through. However, Star is an inspiration to those who are going through a tough period.
Jeffree and Kat Von D beef
Katherine Von Drachenberg, aka Kat Von D, the American tattoo artist who used to run a show 'LA ink' on TLC, was best friends with Jeffree before Star became a Youtube sensation. However, their friendship ended in nasty terms; Star still throws shade on Kat at times.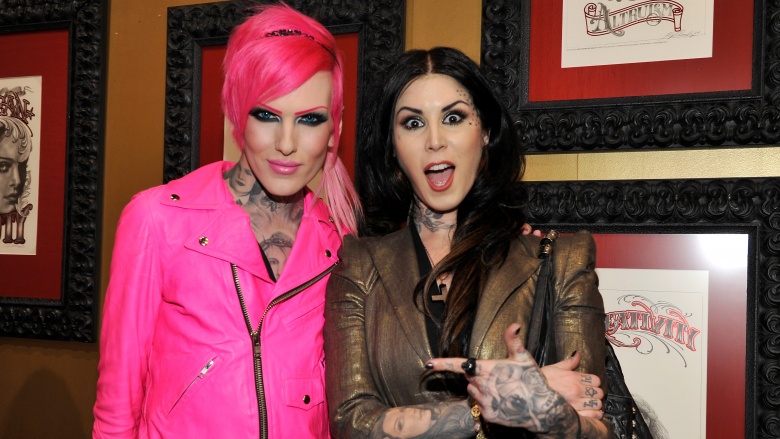 Jeffree Star and Kat Von D.
Source: nickiswift.com
Over the years, Von D and Star were seen together on many occasions, and they seemed like genuine friends. On July 19, 2016, seemingly out of the blue, Von D made a public post about Star and posted it across all of her social media platforms, including Facebook, Instagram, and Twitter. In the scathing post, Von D included a photograph of Star with a bold, banned symbol over his face.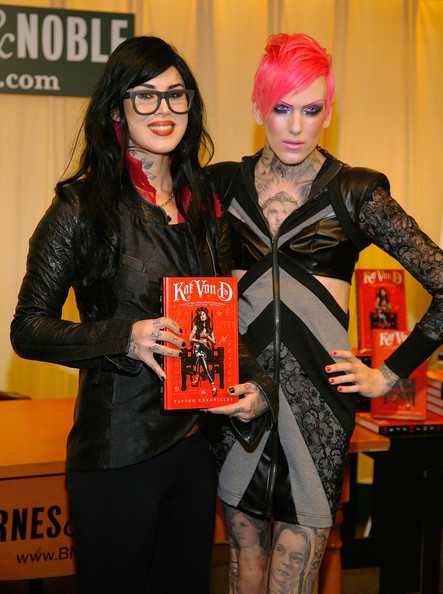 Jeffree and Kat von D on Kat's book launch.
Source: Zimbia
Von D had plenty of other reasons to end the friendship. Von D claims she is mostly responsible for Star's makeup line and that she set up the meetings with distributors for him.
She notes that he would not be where he is today without her help. She also says that she disagrees with the way Star lives his life and the way he treats others. Von D further explains that Star will go out of his way to attack people by whom he feels intimidated while asking others to join him in his vitriol.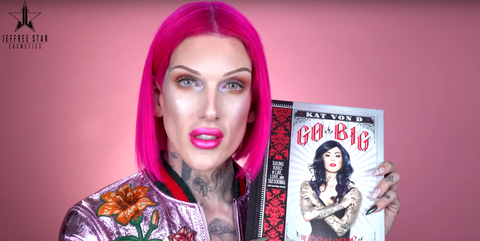 Jeffree reviewing Kat Von D's makeup.
Source: Youtube
Kat takes jabs at Star for promoting his makeup line is vegan and cruelty-free, something Von D is outspokenly passionate about while developing makeup lines that are not, in fact, vegan.
The beef was pretty controversial, which also, in a way, hyped up Jeffree and his brand.
Jeffree's had his fair share of beef with big brands like kylie cosmetics, kim kardashian's brand, Two faced makeup line, Nikita Dragun's (Dragun Beauty)
Jeffree X Shane
Youtuber Shane Dawson released his first makeup line 'Conspiracy' under the Jeffree star cosmetics banner. Dawson started a youtube series 'The beautiful world of Jeffree Star' where Jeffree talked all about his extravagant life and let people have a peek inside his world.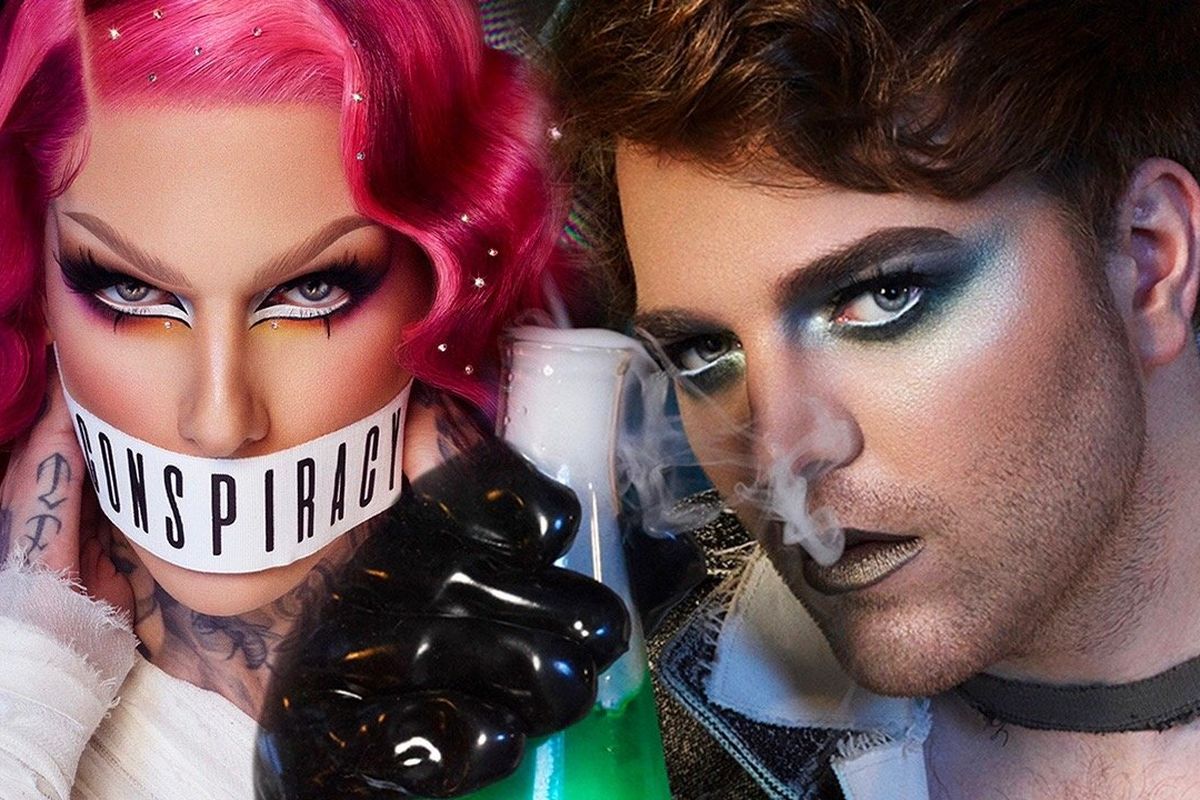 Jeffree and Shane for Conspiracy Palette.
Source: The Verge
Star notes that the release shattered a record for Jeffree Star Cosmetics (JSC), with 1 million total eye shadow palettes sold, including the flagship Conspiracy Palette as well as a smaller Mini-Controversy Palette in roughly 30 minutes.
Also Read: How Long Nathan Schwandt Is Dating Internet Celebrity Jeffree Star? Are They Planning To Get Married?
As a result, while most influencer collabs develop as limited launches, the Conspiracy Collection is becoming a permanent addition to the JSC family.
The beautiful world of Jeffree Star
In the present time, Jeffrey's net worth is $50 million; He has gained over 9 million subscribers and over 1 billion views as of 2018. Today Star focuses on his makeup line along with other business ventures like his investment in Real estate and marijuana business.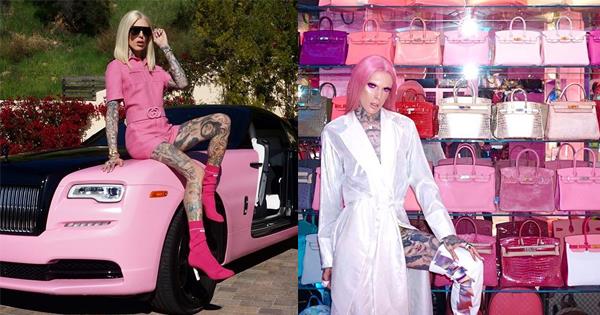 Jeffree star's Barbie inspired Rolls Royce and some of his expensive collection of bag.
Source: ELLE Australia
Star is known to be one of the expert beauty gurus on youtube. The artist is not afraid to express his opinions, and people listen when he does.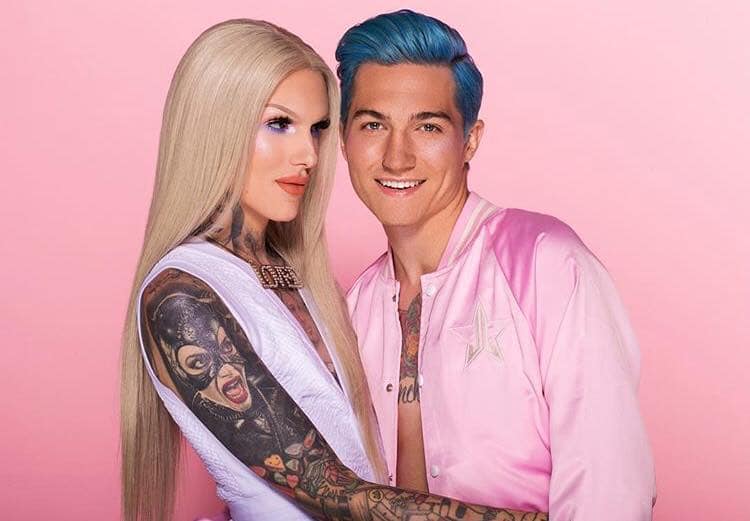 Jeffree Star with boyfriend Nathan.
Source: Pinterest
The 34-year-old has built an empire for himself, with his million dollars make up brand and other successful businesses. A lot of people hate Jeffree, but we can't deny one thing that when Jeffree Star spills tea, all of us are all ears.
Tune into Glamourfame.com for more stories on your favorite celebrities
-->