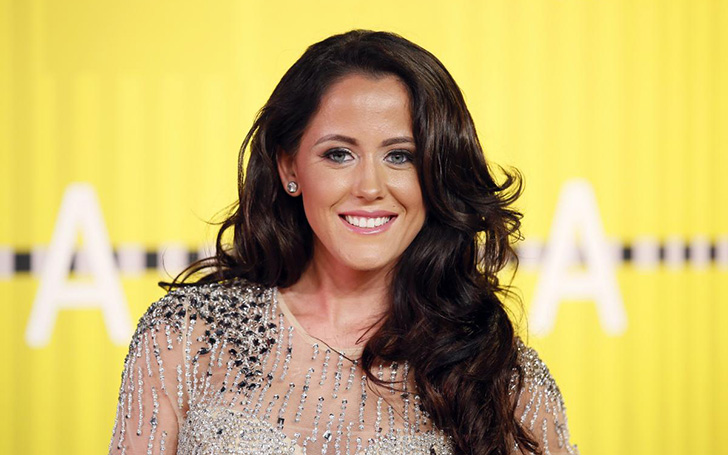 Teen Mom star Jenelle Evans is not having kids anymore.
Teen Mom star Jenelle Evans who is married to David Eason is officially done expanding her family.
The 27-year-old who rose to fame as a teenage mom on 16 & Pregnant opened up about her life as a mom of three.
"Life is pretty complicated at the moment, but I love it and wouldn't trade my role as mom."
The parent of sons Jace and Kaiser and a daughter Ensley, reveals it's pretty hectic to take care of kids but with the help of her husband David it gets easier.
The two however aren't planning for the fourth child at all.
Jenelle disclosed she and her husband David talked about it recently and how complicated things can get with Kaiser and Ensley together. That is the reason why they are done.
In addition to their one daughter together, they each have two kids from previous relationships.
Don't miss: Abbey Clancy Rocks Baby Bump In Taupe Gown At Fabulous Fund Fair In London
While little Ensley's big brothers have welcomed the newest addition with open arms, Evans is still fighting for the shared custody of her sons while making sure the family stays united.
The mom of three makes sure she gets Jace every weekend and have Kaiser every other weekend. During that time, Jace is constantly around all the kids and family until he goes back to her mom's on Sunday nights. She also tries to take family photos lately of everyone together so that no one will feel excluded from their family.
Read more: Michelle Duggar Provides Marriage Advice for Newlyweds
Meanwhile, Jenelle is undergoing the custody battles with both her mom, Barbara, over older son Jace and her ex, Nathan Griffith, over younger son Kaiser.
The Read Between the Lines author Jenelle is hopeful next month's court date will be the one in which she gets her son Jace back from her mom.
"Jace doesn't have a 'side.' He loves me and my mother equally and that will never change. I'm ok with that, too. I tell Jace and explain that me and my mom try to get along, but sometimes it just doesn't work out.
The duo got married at their North Carolina home on September 23, 2017. A month before their nuptials, Jenelle described her wedding as "laid-back" with a "rustic Southern theme."
Also see: Teen Mom 2 Star Jenelle Evans Splits from Husband David Eason- Valentine's Day, Guns, Domestic Violence, Affair, Cheating. See the complete timeline!
Although the pair are decided not to expand their family anymore, they, however, take parenthood as a team. Jenelle praises her husband for being such an amazing companion.
"David is amazing with my children. He loves to make sure to tell them the importance of school, staying out of trouble, worrying about being a kid. David also likes to make the kids go outside to play versus being stuck inside playing video games, which Jace absolutely loves to do. He's perfect to me."
Their relationship apparently doesn't seem to be on good terms as both Evans and Eason changed their relationship status to "Separated" on Facebook on February 16. Jenelle also posted a picture of herself with the caption: "Single AF" with a shrug emoji.
Similarly, Eason also changed his relationship status on social media to single.
However, according to Us Weekly, "They are fighting ... but they aren't broken up."
Their relationship might be on a rollercoaster and things might be going rough but their relationship is not over yet.
-->