Jennie Garth And Tori Spelling Opened Up About An Explosive Fight Involving Shannen Doherty
Published Fri Aug 09 2019 By Travis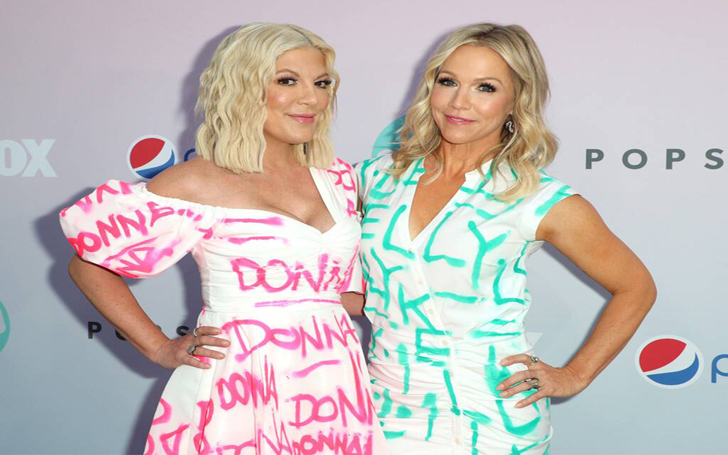 Jennie Garth talked to Andy Cohen about coming to blows with Shannen Doherty.
The teen drama Beverly Hills 90210 revealed their share of fights off-screen, but it turns out there was a huge bust-up between Jennie Garth and Shannen Doherty who left Tori Spelling "shaking" in her room.
Jennie and Tori were both together on Watch What Happens Live With Andy Cohen and when Andy asked about incidents on set Garth revealed, "I can only remember one incident, and that was when, yeah, we took it outside." She talked about what happened, "I'm a midwestern girl. I spent some time in Glendale, Arizona, and that makes you tough."
Garth said Tori was a peacekeeper during the time and she kept them apart because she loved both of them. Garth also said both of the girls were "young" and "so stupid," and they let things get out of hand.
Watch: Jennie and Tori talk about the almost fight on the set
"I'm a midwestern girl. I spent some time in Glendale, Arizona, and that makes you tough," Garth said. Then Andy proceeded to ask who the one who won the fight was, Garth said the guys on set held both of them back before they came to blows.
While the two were getting all up on each other's faces, Tori said, "I stayed in my dressing room when it was happening, shaking."
The two guests on the show were tight-lipped about the reason for the fight, and they kept saying it was a "stupid" reason they almost came to blows. Garth tried to hold back, but she was finally ready to share what happened with the help of Spelling.
Well, the real reason for the bust-up was, "You guys were teasing each other and she, like, pulled your skirt up."
Yup! It sounds like a stupid reason for people to almost come to blows. Teasing each other should be a way to stop from physical things to happen, but things seemed to get out of hand after a while.
"We were teasing, yeah, I didn't care for that. Like who does that? I wouldn't do that to someone," she explained. "I'm pretty sure I got in her face. We are just both powerful, Aries women. We don't back down no matter what."
People working in close proximity disagree some times while too much time with each other can often do more harm than good. Which is what seems to be the case here - two friends almost came to blows because the relationship strained to the point of breaking.
All the girls seem to be friends again because they seemingly made amends. Jennie said, "You know, you have to embrace everything, even the bad things. So, I think we were all on board to look at people's perceptions of us and flip it and take the power back."
Also Read: Top 5 Facts About 'Pretty Little Liars' Star Sasha Pieterse
The guys are all back together for a six-episode reboot which premiered on 7 August 2019. You can watch the next episode of the reboot on 14 August only on Fox.
-->