Is Jennifer Aniston Pregnant? Explore Details of Her Married Life and Relationships
Published Sun Dec 30 2018 By Jessica
Actress Jennifer Aniston is reportedly pregnant with ex-partner's child.
The Friends actress Jennifer Aniston is declared to be pregnant with a former husband's child. The rumors came after the actress attended an event where can be seen with her hand lying over her tummy. As a matter of fact, her tummy appears to be a little big in the picture.
It was only a matter of time before the news of the pregnancy surfaced all over the media and social networks. Gossips began stating Jennifer was pregnant with ex-husband Brad Pitt's child.
Jennifer Aniston for a photoshoot
SOURCE: Wallpapers Den
However, the actress finally opened up on the rumors, stating whether she is pregnant for real or not.
You may also like: Miley Cyrus and Liam Hemsworth Confirm Their Status As Husband and Wife; Details of Their Wedding
Over the past two decades, after Jennifer's Hollywood career began, she established herself as one of the most successful actresses in the industry. In fact, she is even considered as one with huge fans followings, fame, and net worths.
However, in terms of her relationship and finding her true love, Jennifer kept having a rollercoaster journey on it. Being in more than 10 failed relationships is no joke at all.
Jennifer Aniston at an event
SOURCE: Global News
And when her recent pregnancy rumors floated around, Aniston was announced to be pregnant with an ex's child, although the actress is currently completely single. The actress answered with frustration on the rumors.
Also read: Forest Whitaker Files For Divorce From His Wife of 22 Years Keisha Nash Whitaker
When Jennifer was recently asked if she wished to ban any words, then she replied:
"I would say, I think the best one would be a picture of me with a hand over my stomach, saying 'Finally Pregnant!"
After confirming that she is not pregnant, the 49 years old actress who earlier opened up on having a successful married life and children also criticized the tabloid media for judging her body harshly. She stated:
"I mean, it's like they take a picture of you and create this story. If your body is in a normal moment of having had a bite or two, or you're having a moment of bloat, then there's arrows circled around your stomach, telling you that you're pregnant.
She added again:
"And it's like, actually no, it's just my body."
Furthermore, in an interview with Glamour Magazine, Aniston revealed that the idea of having children frightens her.
Only in 2017, Jennifer divorced from her husband Justin Theroux after around seven years of togetherness. Jennifer and Justin first met on a movie together where they appeared and worked as co-actors. The two got engaged in 2012 and married in 2015.
However, her marriage with Justin was not her first. Her relationship with actor Brad Pitt comes under one of her popular affairs. Jennifer and Brad were married for five years before they ended their relationship in divorce in 2005.
Also read: Charlotte Crosby Enjoyed Quality Time With Boyfriend Josh Ritchie on Christmas and Boxing Day
Likewise, Jennifer dated Charlie Schlatter with who she worked with on a sitcom called Ferris Bueller. After her affair with Charlie ended, Jennifer started dating another actor Daniel McDonald from 1990 to 1994.
Aniston is also known for dating Comedian and Director Jon Stewart at the beginning of the 90s. However, the exact time is not known so far.
Actress Jennifer Aniston with former husband Brad Pitt

SOURCE: CelebsNow
Then Jennifer reportedly dated Counting Crows frontman Adam Duritz in 1995. But, since her relationship with Adam couldn't last either, Jennifer then found her new love interest none other than Tate Donovan from 1995 to 1998.
After the demise of her romantic life with Tate, Jennifer met co-stars Paul Rudd who she bumped into on the set of The Object of My Affection.
The actress then dated Vince Vaughn after her divorce with Brad for nearly two years from 2005-2006. It is then rumored that the actress also had an affair with Matthew Perry, her co-actor in friends. But, there exists no strong evidence of their affair.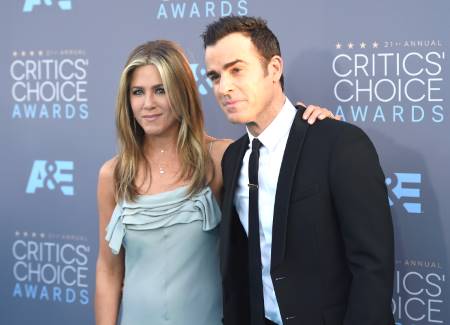 Jennifer and ex-husband Justin Theroux
SOURCE: Time Magazine
Similarly, Jennifer was spotted holding hands with British Model Paul Sculfor in 2007. But, their dating rumors were never confirmed.
After dating actors for so long, Jennifer then dated country singer John Mayer from 2008 to 2009. Sadly, her love life with the singer couldn't last long either. Later, the actress was stated to share a thing with Gerard Butler from 2009 - 2010, but the two denied the reports of their relationship.
Before meeting her second husband, Justin Theroux, Jennifer was frequently caught photographed with Harry Morton.
-->