Miley Cyrus and Liam Hemsworth Confirm Their Status As Husband and Wife; Details of Their Wedding
Published Thu Dec 27 2018 By Jessica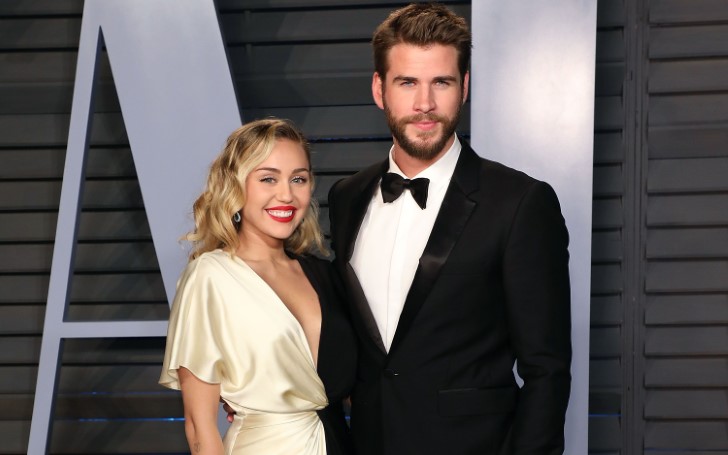 Miley Cyrus and Liam Hemsworth are officially husband and wife. Both the couple confirms their marriage.
After meeting almost a decade ago on a film set, going through one break up, dating two other people, and finally finding their way to each other again, singer Miley Cyrus and actor Liam Hemsworth finally make their relationship official as the two tied the knot last week on 23rd December.
Although we already mentioned the news of their secret marriage before Christmas, some fans didn't buy it calling it just rumors. But, say no more, because both the couple confirms it now. Read further below to find out more about their secret wedding ceremony.
Miley Cyrus and Liam Hemsworth filming for The Last Song

Miley, 26 and Liam, 28 both confirmed the news of their marriage and wedding through social media. The newlywed couple recently posted pictures of their wedding where they can be seen hugging and kissing each other.
After Conrad Jackcarr, a close friend of the couple shared a few sneaky pictures of the two from their wedding just a few days ago, the news of their marriage surfaced everywhere on the internet.
CAPTION: Wedding pictures shared by Mr. and Mrs. Hemsworth on their Instagram

Miley took it to her Instagram just a few hours earlier captioning one of the intimate wedding pictures with:
"10 years later ....."
In another kissing picture of the two, Miley wrote:
"This is probably our one - millionth kiss ...."
Likewise, her now-husband Liam posted a picture as well on his Instagram and Twitter where the two embrace each other in a hug. He captioned the wedding picture with:
"My love" followed by a love emoji.
The 7 Things singer is seen wearing a sleeveless white dress gown designed by Vivienne Westwood. The dress is an ivory silk satin corseted draped gown in white. The wedding gown cost Miley an amount of $8,600. Miss Cyrus put her hair in a soft wavy curl.
See also: Supermodel Heidi Klum Is Finally Engaged To Her Musician Boyfriend Tom Kaulitz
Whereas, Mr. Hemsworth simply wore a black suit and pant, followed by a black pant and a pair of white snickers.
Following the wedding, author Nicholas Sparks who inspired the film The Last Song through his book of the same title, where the two first met as the co-actors, expressed his happiness over the wedding on Twitter. The writer quoted a wedding tweet of Miley with:
"This makes me so happy. Congratulations @MileyCyrus and @LiamHemsworth. #TheLastSong"
Well, we hope Mr. Sparks knows he is not the only one. We unite with him on this too.
You may also like: Danielle Jonas Reveals The Best Gift From Husband Kevin Jonas
It only seems like yesterday when Liam talked about marrying and being engaged to Miley. In 2012 the actor said in an interview:
"and well, we read together and fell in love...... and got married, we're not married yet.. but we will be"
The wedding pictures of the couple now surpassed over 5 million likes. Furthermore, Miley's fellow Disney friend Demi Lovato who made headlines after collapsing due to a drug overdose liked the pictures on Instagram.
As a matter of fact, one fan on Twitter wrote on Twitter appreciating the wedding:
"stories like miley cyrus and liam hemsworth makes me believe in fairytales and true love, just the idea that met and fell for each other then they separate and years later found again because they're soulmates, it's so beautiful and magical"
Now, if you excuse us, we will be watching The Last Song and cry as we listen to When I Look At You.
-->