Jennifer Aniston Talks About Her Plane's Terrifying Emergency Landing
Published Fri May 31 2019 By Chester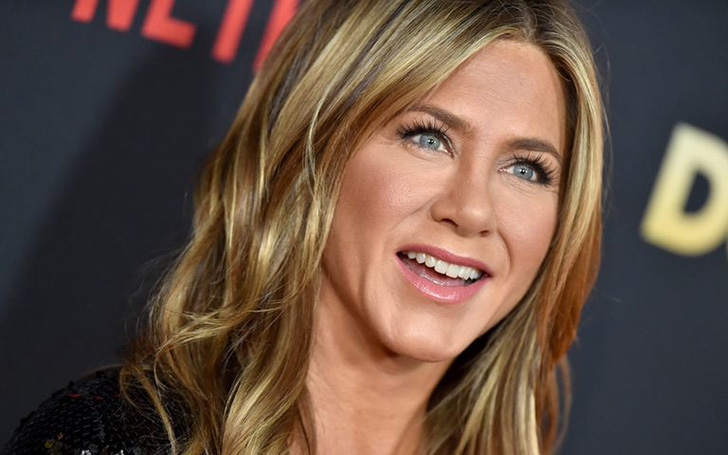 'Friends' leading star Jennifer Aniston talks about her life-threatening emergency plane landing experience.
Recently Hollywood star Adam Sandler and Jennifer Aniston are busy on promoting their new Netflix movie 'Murder Mystery'.
The duo stopped by 'Jimmy Kimmel Live' show for their upcoming movie promotion as a special guest at 'Thursday Game Night' episode where Jennifer, 50, opens about the incident.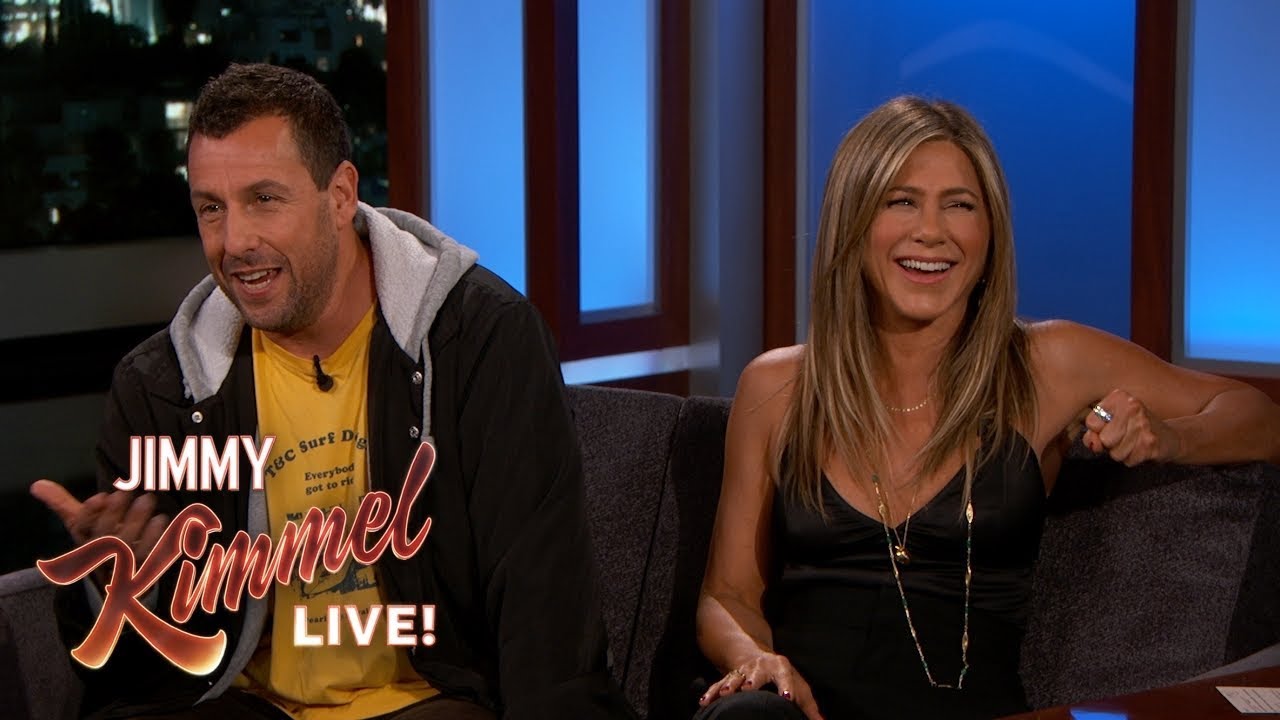 The longtime friends Jennifer Aniston & Adam Sandler Step Out for 'Jimmy Kimmel Live: Game Night' Episode!

SOURCE: Jimmy Kimmel Show
The story narrates back from February when Aniston and her longtime BFF and 'Friends' co-star Cortney Cox along with Jimmy Kimmel's wife Molly McNearney were on a private flight to Mexico for Aniston's star-studded 50th birthday.
Aniston reminiscing the event, recalled, "It was one of those things where on the takeoff, on the taxi, we heard an explosion."
Jimmy Kimmel and Friends co-star shares a close relation.
'Horrible Bosses' star initially heard the loud noise sound similar to a pothole as if "it was a car big enough to go over the Grand Canyon." Everyone on the plane found the sound weird but Anniston was very frightened and all in sweats as she revealed that she has "real fear of flying".
On the other hand, Courtney wasn't afraid at all because her dad was a pilot. Later she adds the goosebumpy news from jet staff, "We take off and, two hours in, the flight attendant comes over to me and she says, 'The pilots would like to talk to you.'
Emiliano Sala's Ex-Girlfriend Berenice Schkair Has Written a Letter on Her Social Media After Plane Disappeared >>>
All frightened Jennifer turns to her best friend Dre and requests to talk with the pilot because she didn't have enough braveness to talk with the pilot.
'Just Go With it' star shared that Dre comes after a 10-minute-long conversation and conveys "Well, we've turned around, we're actually going back to California. They found some debris from a wheel on the runway, they think it's from our plane.'"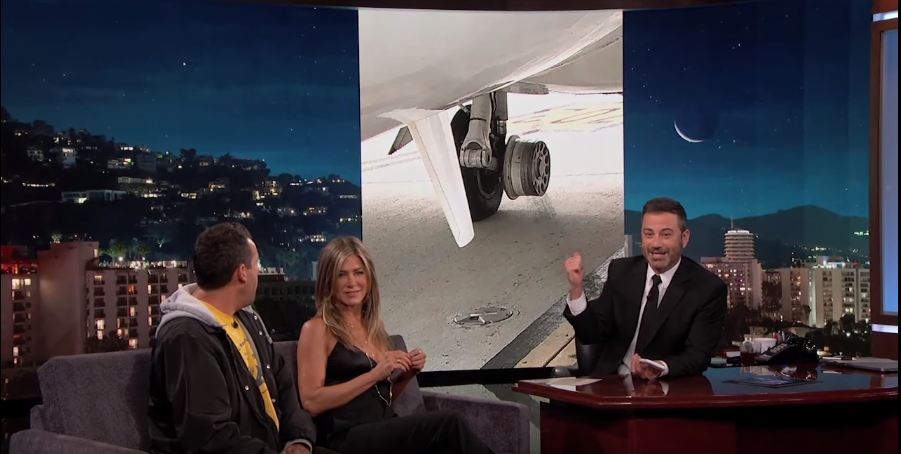 The private Jet wheel on the runway.
SOURCE: Jimmy Kimmel Show
Jeniffer adds, soon as they heard the news, everyone in the jet started texting their beloved ones. Kimmel adds that he also received a text from his wife, Molly who was on the plane.
Jennifer Lopez Has Left Epic Records To Join L.A. Reid's Imprint Hitco Entertainment >>>
Jimmy was also the one receiving the texts, he got the text written, 'Jimmy, I love you and I love Jane and you've always been an incredible husband,'"
Check Out: Jennifer Aniston & Adam Sandler on Friendship, Adam Levine & Emergency Landing
Fortunately, the ladies were able to land safely and eventually made it to Cabo, but it was definitely a scary moment for Aniston and her friends.
Private Plane Carrying Jason Momoa Made An Emergency Landing After Engine Fire Scare >>>
However, it turned out to be one of the experiences the artist will likely never forget. Stay tuned and connected to find more intriguing news of your favorite celebrities.
-->