Jesaaelys Ayala: The Enchanting World of Daddy Yankee's Beloved Daughter
Jesaaelys Ayala Gonzalez is a popular name in the world of the internet. She is a Puerto Rican makeup artist and Social Media influencer. She is widely recognized as the second-born daughter of the renowned reggaetón artist Daddy Yankee, who has earned fame for his chart-topping hits like "Gasolina," "Con Calma," and "La Santa."
In her inspiring journey, Jesaaelys Marie Ayala González courageously shared her struggles with weight issues and low self-esteem. At one point in her life, her weight was 227 pounds which led her to face several health problems. With the unwavering support of her family and friends, she embarked on a life-changing transformation.
Is Jesaaelys Ayla Gonzalez Married?
Jesaaelys Ayala González's life is filled with more than just makeup tutorials and Instagram posts; she is also deeply in love! Jesaaelys is in a loving relationship with a man named Carlos Olmo, a talented Puerto Rican photographer and creative director known for his creativity.
Although the couple reportedly started dating in November 2017, they chose to keep their relationship private until about a year later in 2018 when they decided to make it public.
Engaged to Fiance, Carlos Olmo
Since then, Jesaaelys and Olmo have been openly expressing their affection for each other on social media. Their Instagram pages are filled with posts where they proudly showcase their love for one another and share heartwarming messages.
Their love story has now reached a new milestone as they are engaged. In June 2021, Olmo proposed to Jesaaelys, and she joyfully accepted. They have been happily together since the engagement, and their fans eagerly await the sound of wedding bells, as their wedding celebration is expected to take place soon.
Parents' Wonderful Love Life So Far
Jesaaelys Ayala González's parents, Daddy Yankee, and Mireddys González, tied the wedding knot at a very young age. At that time both of them were in their teenage. Despite being born in the same year, Daddy Yankee was born on February 3, 1977, while Mireddys was born on January 19 of the same year.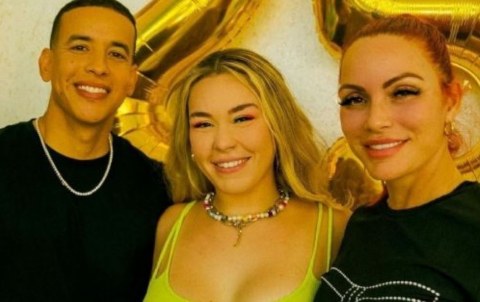 The exact timeline of their dating is not widely known, as Daddy Yankee has chosen to keep his personal life private and rarely discusses it in public interviews. However, in 1995, when they were both 17, the couple decided to tie the knot with the blessings of their families.
Since their marriage, Daddy Yankee and Mireddys González have remained committed to each other. Mireddys has been a strong pillar of support for her husband's music career and even became the manager of his record label, El Cartel Records, which he founded in 1997. The couple's relationship is characterized by mutual support and love for each other.
Get To Know About Jesaaelys Ayala Gonzalez's Siblings
There has been some confusion regarding Daddy Yankee's oldest child, as some sources claim it is Jesaaelys, while others believe it is Yamilet Ayala González.
She is more low-profile compared to Jesaaelys. In 2013, Daddy Yankee shared a heartfelt Facebook post in Spanish, celebrating her graduation. He mentioned that it was a challenging journey after becoming a parent at a young age, but with God's help, they succeeded.
Daddy Yankee and Mireddys also have a son named Jeremy Ayala González, who has gained significant attention on Instagram with over a quarter of a million followers.
He enjoys sharing photos of himself having a good time, but he rarely mentions his famous father. However, back in 2017, he did post a picture with Daddy Yankee, affectionately calling him his "old man."
Life as Social Media Influencer and Makeup Artist
Jesaaelys Ayala González, daughter of reggaetón artist Daddy Yankee, gained popularity on Instagram by sharing her travel experiences and exploring different cultures and nature. Within a year, she amassed over 1.2 million followers, becoming a social media influencer.
Jesaaelys collaborates with various businesses, promoting products like cosmetics and skincare for companies such as BPerfect, e.l.f, ColourPop, and Benefit. Additionally, she is a makeup artist and tutor, offering virtual and physical training sessions to her followers.
On her YouTube channel, she showcases her makeup routine, reviews products, and shares travel vlogs, delighting her fans with engaging content.
Also See: Who is Kouvr Annon? Some Interesting Facts About the Social Media Influencers.
Know About Jesaaelys Age
Jesaaelys Ayala Gonzalez, born on June 18, 2000, in San Juan, Puerto Rico, is the daughter of famous Puerto Rican singer and songwriter Daddy Yankee (Ramon Luis Ayala Rodriguez) and her mother is Mireddys Gonzalez. She is currently 22 years old.
Height, Weight, and Body Transformation
Jesaaelys Ayala González, the social media sensation, stands at a height of 5 feet 8 inches and weighs approximately 65 kg. She has beautiful brown hair and her eyes are also brown in color.
While she hasn't shared her precise overall body measurements, she continues to captivate her followers with her stunning appearance on social media.
Followers in Instagram
Jesaaelys Ayala González is an active social media user with multiple accounts. Her Twitter account, @TeamJessa, has around 73 followers. On Instagram, her account @jesaaelys has a massive following of over 1.7 million fans. She also maintains her own Facebook page.
In addition, on YouTube, she has gained popularity with over 35.4k subscribers. Her strong presence on various social media platforms showcases her widespread popularity and influence in the online community.
How Rich is Daddy Yanke'e's Daughter?
For Sure Jesaaelys Ayala Gonzalez grew up with a silver spoon. But her work has helped her to achieve new heights. Her estimated net worth is around $1.5 million, as reported by various publications.
She earns money through brand endorsements on her Instagram and Facebook accounts. It is said that she makes approximately $22,000 for each sponsored promotion on her Instagram page.
Additionally, Jesaaelys generates income from YouTube, as she has monetized her channel. Her social media presence and successful partnerships with brands have played a significant role in adding to her financial success.
Follow Glamour Fame For More
-->