Jessica Hecht Net Worth - Find Out How Rich 'The Sinner' Actress Is
Published Thu Apr 02 2020 By Bran
Here are the net worth details of 'The Sinner' actress Jessica Hecht.
Remember Ross Geller's ex-wife's lesbian lover, Susan Bunch on Friends? The actor who played the dynamic role was none other than the Princeton based Jessica Hecht. Beyond the all-time greatest sitcom, she featured in some other top TV shows such as Breaking Bad, 'Greys Anatomy,' and 'The Good Wife.' The 54-year-old spent more than two decades in the entertainment industry and in return acquired great fame and fortunes.
Born on June 28, 1965, Jessica Hecht is a married woman since 1995 to an Emmy winning director, Adam Bernstein. Furthermore, the broadway actress is a mother of two adorable children. So, without wasting much time, let us delve into the net worth detail of the admiring actress.
Jessica Hecht's Net Worth Makes her a Millionaire
Years of hard work paid The Sinner actress Jessica Hecht quite a well. Taking things into numbers, she amasses a staggering net worth of $3 million as of 2020. And the primary source of such a soaring income undoubtedly was her reasonably successful acting career.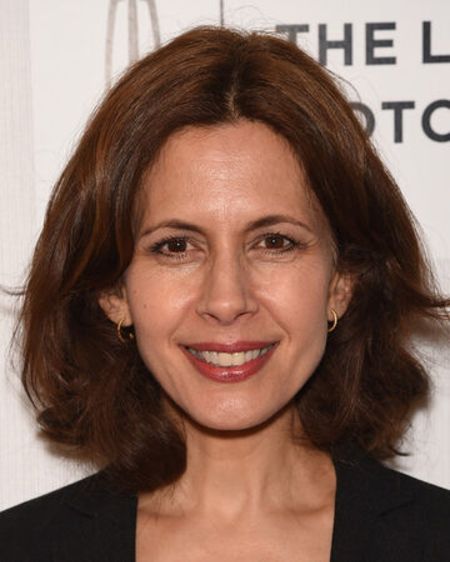 Jessica Hecht owns a staggering net worth of $3 million as of 2020.
Photo Source: Fandom
Jessica Hecht remains quite private about revealing her salary, but it's quite reasonable as well. However, making our estimate, she surely makes far more than $39.40 per hour, the average salary of an actor in the United States. The actress lives a lavishing life traveling around fancy places in her free time.
Also See: Ben Zobrist Rakes in Millions of Dollars Every Year; What about His Wife Julianna Zobrist Net Worth?
While the Friends star Hecht is a millionaire, her film director husband Adam Bernstein is no less. Well, the married couple's match should be made in heaven because it can't be a coincidence how their net value matches with one another too. Surprisingly her beau, Bernstein, also owns a staggering net worth of $3 million as of 2020.
Jessica's Successful Career in TV Shows and Movies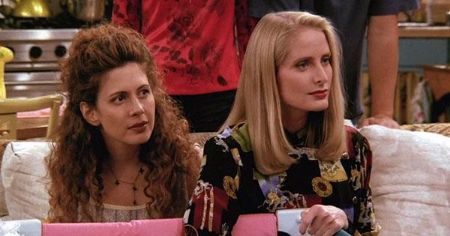 Jessica Hecht portrayed Susan Bunch in Friends.
Photo Source: Attitude
Making millions out of acting isn't easy unless you are as good as Jessica Hecht. She rose to prominence after featuring in the recurring role of Susan in Friend in around 12 episodes. Surprisingly, she even auditioned for the lead character of Monica Geller on the show. Ever wondered how things would have changed entirely if that went through?
You May Also Like: Mark Stevens, American Venture Capitalist and Golden State Owner Enjoys A Huge Net Worth; Find Out His Source of Earning
Besides Friends, Jessica further went on to play the regular role of Janeane Percy in the 1995's 'The Single Guy.' The diva also contributed her versatile skill set in Hollywood in movies like 'J. Edgar', 'Fair Game,' and 'Anesthesia.' In fact, the actress was quite active in 2019, featuring in two different movies, named 'The Sunlit Night' and 'A Beautiful Day in the Neighborhood.' Likewise, the actress is the main cast of 2020's 'The Sinner' as Sonya Barzel.
Jessica's Lives in A House at New York
Unlike most of the television stars, Jessica Hecht lives at her stylish apartment house in New York City. The actress from Friends bought that apartment with her husband Adam when the seller just lost a contract. Consequently, the couple thought of capitalizing such a opportunity to buy the house on the special day, which happened to be Christmas Eve.
Recommended: Former White House Communications Director Hope Hicks Earns a Huge Salary; What is Hope Hick' Net Worth?
The celebrity duo took the expertise of the experienced architect, Meg Chapman, to redesign their house before moving in. It comprises of a large living room, where the entire family prefers spending most of the time. Surprisingly, their kids don't really use their bedrooms and prefer sleeping in the big room itself. Similarly, they have enlarged their master bedroom and added a floral pattern wallpaper. In addition to that, it includes black-and-white tiles.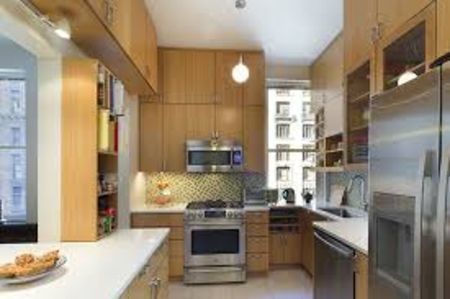 Jessica Hecht listed the Manhattan apartment for sale in 2015.
Photo Source: Variety
Jessica's husband Bernstein is one of those guys who admires the mid-century modern taste, so they went on to adapt it to their residence. Despite living a busy life as an actress, she always tries to make time for her family. Interestingly, Jessica is still there to make muffins and biscuits for her children in the early morning.
The actress from The Sinner listed the apartment at Manhattan for a whopping $3.3 million.
For more news and updates about your favorite stars, please stay connected with us at Glamour Fame.
-->