Ben Zobrist Rakes in Millions of Dollars Every Year; What about His Wife Julianna Zobrist Net Worth?
Published Thu May 16 2019 By Jessica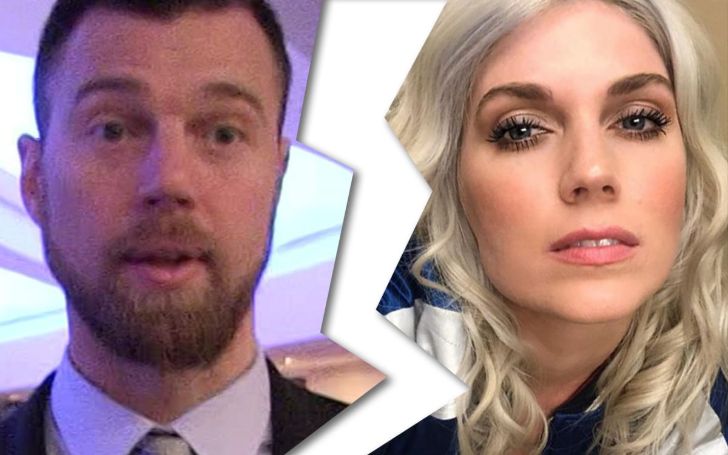 Learn the net worth detail of millionaire Ben Zobrist's wife Julianna Zobrist.
Recently, news broke out that Chicago Cubs star Ben Zobrist filed for divorce with his wife of fourteenth years, Julianna Zobrist at the Williamson County in Nashville on Monday.
Zobrist, who is on leave from his club team since 8th May and still has not informed his manager whether he intends to return or not, claims his wife Julianna committed infidelity outside their marriage, whilst Zobrist who separately filed for the divorce in Cook County refuses to address on the reasons.
Through his baseball career and business endorsements, Ben successfully made millions to sustain him and his family's survival. But, what about Julianna? Now that they're getting divorced, will the 32 years old singer be able to financially aid her kids by herself?
Julianna Zobrist Career.
Julianna Zobrist performing at the Wrigley Field in 2016.

SOURCE: MLB
Unlike Ben who is a professional Baseball player, Julianna is a Christian singer.
Julianna Zobrist, a pianist was inspired to start her singing career after she received a keyboard and microphone as gifts from Ben on their wedding day.
From turning her poems to songs to performing at school, churches, charities, conference, Juliana musical career started flourishing so well that her talent was admired by many.
Recommended: What Cars Does Football Icon Cristiano Ronaldo Own? Details Of His Impressive Car Collection!
A few years later after performing and sharing religious messages in the name of Jesus, Julianna Zobrist finally released her first Ep, 'The Tree' in January 2009 followed by the second EP, 'Say It Now' in 2012.
Julianna released her first gospel studio album titled 'Shatterproof', in 2016.
Considering the fact that her singles; 'The Dawn' and 'Alive', both charted on the Billboard magazine charts at number 30 and 48, being listed under the top 10 independent singer that should be signed to 365 Days of Inspiring Media; a Christian Music label, and having performed the national anthem for the Kansas City Royals and 'God Bless America' in 2016 for the World Series at Wrigley Field, Zobrist has been very successful with her professional career.
Also See: Where Is Josh Duggar Now? What Does Josh Duggar Do For A Living?
Julianna Zobrist'S Net Worth
Julianna Zobrist wearing Vetements top and pink Balenciaga boots.
SOURCE: Julianna Zobrist
Juliana's wealth surely doesn't reach as near to her husband's net worth, but by judging the extravagant life, the designers' clothes and the lavish cars she has managed to afford, it's safe to say Juliana's has earned a great fortune.
More accurately, Julianna Zobrist's net worth is estimated to be over a million dollar.
However, reports accumulate that since Julianna and Ben are legally separating, Julianna's net worth could be on the rise. If the pair follows the law of divvying their combined wealth and property among them, Julianna could make an estimated amount of more than $15 million.
American Christian singer Julianna Zobrist and husband Ben Zobrist.
SOURCE: SPA
This is also because Ben Zobrist's net worth is $52 million and he is bound to make $12 million and more next year as he is on the final year of his contract with his club.
In 2014, Julianna and Ben also released an autobiography called 'Double Play' based on the couple's athletic, musical and faith life. And, the couple made a hefty amount from the book that it can't be just simply ignored while parting their wealth.
Don't Miss: What Is Jim Bob Duggar's Net Worth? How Much Does He Make Per Episode?
Meanwhile, following the news of the couple divorce, Julianna who shares three children; Blaise Royal Zobrist,3, Kruse Allegra Zobrist, 7, and Zion Benjamin Zobrist, 10, with Ben has deleted her Twitter and all of the baseman' pictures from her Instagram.
-->