Musician Julianna Zobrist and Husband Ben Zobrist Files For Divorce Separately; Ben Accuses her Of Extra Marital Affairs
Published Thu May 16 2019 By Alice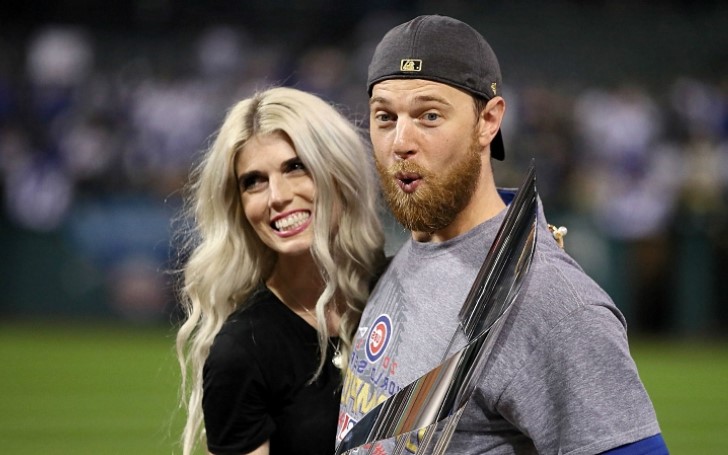 Cubs star Ben Zobrist accused wife Julianna Zobrist of extramarital affairs.
Christian singer Julianna Zobrist and her MLB star husband Ben Zobrist planned to separate their ways after 13-plus years of marriage.
The duo who was once considered as an iconic couple, even Parade magazine declared them and their three children as the "All-American family" in a June 2017 cover story, filed for divorce separately in separate states on May 13, 2019.
Also Read: 'Little People, Big World' Star Amy Roloff Opened Up About What She Regrets About Her Divorce From Matt
Motivational speaker Julianna filed for legal separation in Cook County and didn't provide a reason for seeking the divorce in her filing. The subsequent settlement could see quite an upturn in Julianna Zobrist net worth.
Furthermore, Julianna deleted her Twitter page and removed several photos alongside her husband. The 37-year-old author even hired 'Berger Schatz' attorney Karen Krehbiel, who represented billionaire CEO Kenneth Griffin during his 2014 divorce.
Julianna Zobrist and Husband Ben Zobrist Files For Divorce Separately
SOURCE: The Big Lead
On the same day as Julianna's filing, Chicago Cubs player Ben filed a complaint about divorce from his wife, Julianna, this week in Williamson County where the couple keeps an offseason home in a Nashville suburb.
The document says Ben Zobrist hopes the parties will enter into a marital dissolution agreement and permanent parenting plan, or for a judge to enter an order of legal separation and have the two live separately, "unless they can reconcile."
Recommended: Larissa Lima And Colt Johnson Finalize Divorce But There's A Catch!
The three-page filing also contends his wife "has been guilty of inappropriate marital conduct which renders further cohabitation impossible."
"Husband is unsure if the marriage can be salvaged," the filing adds.
Ben took leave of absence a week ago due to "personal reasons". Manager Joe Maddon, whose association with Zobrist dates to 2006 with the Rays, wasn't sure when the valuable infielder-outfielder would return.
Julianna and Ben with their kids.

SOURCE: Parade
The couple tied their knot in Iowa City, Iowa, Julianna's hometown and are blessed with three children Zion Benjamin (February 1, 2009), Kruse Allegra (September 19, 2011), Blaise Royal (November 6, 2015).
Ben was known for using his popstar wife's songs as his walk-up music while Julianna scheduled tour dates around his schedule and sang at some of his games. Most notably, Julianna sang "God Bless America" prior to Game 4 of the World Series in 2016, a game that the Cubs lost.
The couple who once maintained a "six-day rule," vowing never to be apart for more than six days has decided to part their journey for the lifetime.
-->