Jessica Simpson's Fans Are Not Best Pleased By Possible Baby Name
Published Tue Jan 22 2019 By Tess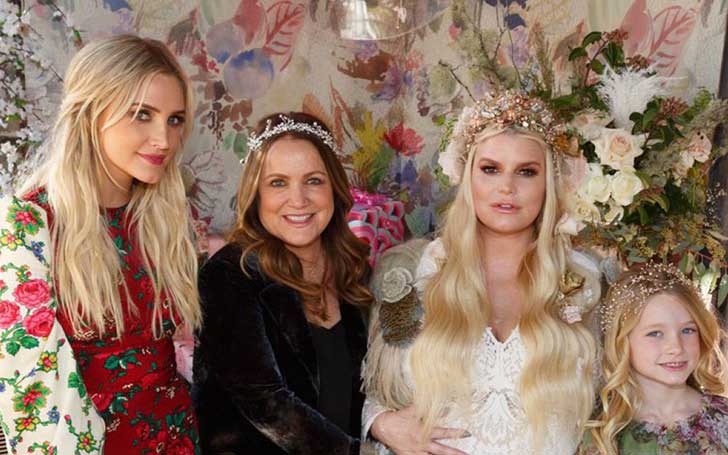 After Jessica shared her baby name, fans couldn't help but share their opinions.
In a matter of weeks, Jessica Simpson is about to welcome her third child- a baby girl and the name she picked for her baby outraged some fans.
While celebrating the baby shower over the weekend, photos from the party hinted as to what Simpson plans to name the newborn.
In an Instagram post from the party, the fashion entrepreneur poses with her 6-year-old daughter, Maxwell both in a floral ensemble in front of a neon light sign.
She further captioned the mother-daughter photo, Birdie's nest' which arose the curiosity as to what's the name she picked for her baby.
Read more: Pete Davidson Addresses His Mental Health Battle As He Returns To SNL
One of her fans addressed this query in the comment section:
"Do we think the babies name will be Birdie?!"
Though it seems like a logical assumption, not everyone is excited about the possibility.
Don't miss: Kim Kardashian Makes Peace With Taylor Swift As She Listens To Her Music
Considering the possibility, critics went as far as to say it would have a negative effect on the kid's long term future.
Jessica's fans also had few things to say about the potential baby name.
"Please tell me that poor baby is not going to be named Birdie," wrote one fan.
Whereas another added,
"Ahhh that has to be the name ❤️."
And the most diplomatic comment of the year goes to,
"If it is Birdie I actually think it's kinda cute. Y'all are rude and opinionated. FYI it's not your baby or your business."
Simpson however, isn't a newcomer to getting grief over her baby names. Earlier, Simpson and her husband Eric Johnson raised eyebrows when they named their first daughter Maxwell Drew, with critics claiming it was too masculine for a little girl.
Also read: Hailey Baldwin Accused of 'abusing' Her Dog as She Films Herself Shaking The Pooch
Well, for now, these are all speculations and the 38-year-old singer is yet to formally announce the name of her upcoming daughter.
Jessica and her husband Eric is already a parent to two children, including a daughter and a five-year-old son, Ace.
-->