Pete Davidson Addresses His Mental Health Battle As He Returns To SNL
Published Mon Jan 21 2019 By Jessica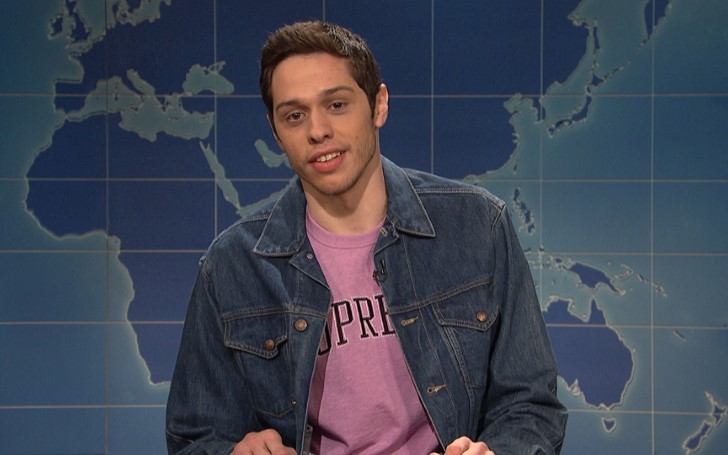 Ariana Grande's ex-boyfriend Pete Davidson addresses his mental health on SNL new episode.
On his return to NBC's Saturday Night Live on Saturday, comedian Pete Davidson openly addressed his battle with mental health issues after previously sharing an alarming message revealing a suicidal note that stated he didn't want to live anymore.
This episode marks as Davidson's first appearance on TV since the suicide scandal.
Alongside Pete included the special guests of the show, John Mulaney and his co-anchor Colin Jost.
The last time Davidson appeared on the show was on 15th December when he introduced Miley Cyrus and Mark Ronson.
You may also like:Kim Kardashian Makes Peace With Taylor Swift As She Listens To Her Music
Despite sharing his suicide note on the internet last month, including the mental health issues he struggled with, the Comedian looks fresh and glad to be back on his job.
The show begins as Colin introduces Pete:
"Here to talk about a very important experience he had over the holidays is Pete Davidson."
Jost then asked him:
"How are ya, Pete?"
To which he responds:
"I'm great, as you know, I've had a really crazy month, and I wanna talk about something that matters a lot to me."
Knowing what he meant, Jost asks again:
"OK, mental health?"
Getting back to his job, Pete says funnily:
"No, the new Clint East movie, The Mule"
Then Mulaney joins Pete at the Weekend Update section to talk about their admiration for the film.
…to talk about 𝗧𝗵𝗲 𝗠𝘂𝗹𝗲... #SNL pic.twitter.com/1mScf3PN9w

— Saturday Night Live - SNL (@nbcsnl) January 20, 2019

Looking happy and healthy, Davidson joked about his mental health crisis on the show.

It started when Mulaney states:
"I have been spending time with Pete to try to show him you can have a comedy that is not insane. A sober domestic life"
Then Pete joked:
"After observing John's life, I publicly threatened suicide."
The 25 years old further continues:
"I'm sorry. I shouldn't make that joke. It is funny though."
Prior to his jokes, guest Mulaney then comforts Pete.

He assures him:
"You are loved by many and we are glad you are okay."
However, the comedian and his funny remarks still don't stop there.

Pete then knowingly addresses his ex-girlfriend, Ariana Grande as he replies:
"I didn't mention her once."
Moreover, both Mulaney and Davidson extends their jokes on the show.
Don't miss:Kourtney Kardashian Looks Gorgeous As She Poses In Striped Robe While Her Stylist Glams Her Up
After the recent SNL episode aired on TV, many fans appreciated Pete and the whole cast 's humor.

As a matter of fact, one person on Twitter suggested for Mulaney and Pete to host the 2019 Oscars.

Twitter user Chris Hayes tweeted:
"John Mulaney and Pete Davidson should host the Oscars. This is the duo I never knew I needed."
After his romance kindled with her pop star ex-girlfriend Grande, and his suicidal notes, Pete made various headlines and gossips in Hollywood.
Also read: Selena Gomez To Collaborate with Singer Julia Michaels After Release From Rehab
In addition, as per reports, the comedian even sparked rumors of dating actress Kate Beckinsale during the Golden Globes Awards last month.
-->